ALMATY -- Speculation is growing over the mental state of Russian President Vladimir Putin following his decision to invade Ukraine and threaten nuclear war, as fighting intensifies and casualties on both sides mount.
Since the start of the invasion two weeks ago, more than 11,000 Russian military personnel have been killed, the General Staff of the Ukrainian Armed Forces said Thursday (March 10).
The Pentagon estimated March 4 that between 2,000 and 4,000 Russian soldiers had been killed.
Russia has not given an update since March 2 when it announced 498 troops had been killed.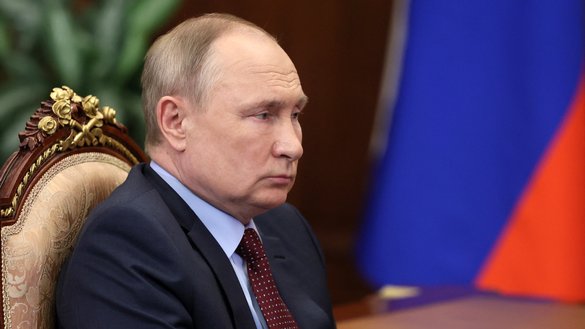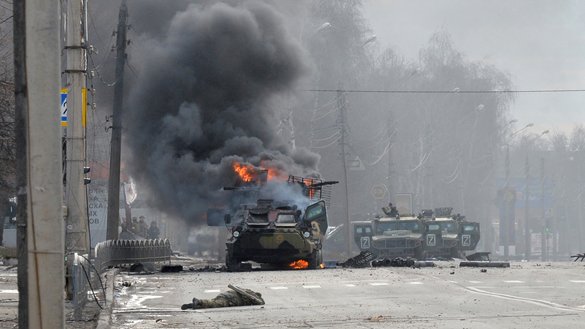 Meanwhile, more than 2.3 million refugees have fled Ukraine, according to United Nations (UN) figures issued Thursday.
'Angry and frustrated'
Putin's eccentricities have increasingly come into the foreground in recent weeks.
A meeting with French President Emmanuel Macron hosted by Putin at the Kremlin in early February became the butt of numerous jokes and internet memes after photographs showed the two leaders sitting on opposite sides of a 6-metre-long table.
"Every time the Russian Pinocchio lies, his table gets longer," Islam Kurayev, an Almaty-based political analyst, quipped on Facebook Monday.
With Putin's decision to invade Ukraine appearing irrational to outsiders, US intelligence officials have branded the Russian leader as angry and isolated, craving global clout and frustrated about how his war in Ukraine has not gone to plan.
The man who has led Russia for 22 years has been "stewing in a combustible combination of grievance and ambition for many years", Central Intelligence Agency (CIA) Director William Burns told US lawmakers on Tuesday.
He called the invasion of Ukraine a matter of "deep personal conviction" for Putin, his latest defiant clash with Europe and the United States.
"I think Putin is angry and frustrated right now. He's likely to double down and try to grind down the Ukrainian military with no regard for civilian casualties," Burns said at a congressional hearing on global threats.
With Putin under immense pressure, his circle of close advisers is getting "narrower and narrower," he said.
In such a system, "it's not proven career enhancing for people to question or challenge his judgment".
Nuclear 'blackmail'
Analysts warned of the potential for Putin to lash out, especially noting an elevated nuclear threat.
"Today's Russia remains one of the most powerful nuclear states," Putin said in a long and rambling speech addressed to Russian citizens and friends on February 24, announcing the start of the so-called "special military operation" in Ukraine.
"In this context, there should be no doubt for anyone that any potential aggressor will face defeat and ominous consequences should it directly attack our country," he warned.
Four days later, Putin escalated the threat when he raised the danger of a nuclear catastrophe by putting Russia's nuclear deterrent forces "into a special mode of combat service".
"This sort of provocative rhetoric ... is dangerous, adds to the risk of miscalculation [and] should be avoided," State Department spokesman Ned Price said February 28.
"We have long agreed -- the United States and the Russian Federation -- that a nuclear use would have devastating, devastating consequences," he said.
"Putin's nuclear sabre-rattling" has put the West on notice, US Director of National Intelligence Avril Haines said Tuesday at the congressional hearing on global threats.
"We assess Putin feels aggrieved the West does not give him proper deference, and perceives this as a war he cannot afford to lose," she told the panel.
The invasion has produced "a shock to the geopolitical order with implications for the future that we are only beginning to understand, but are sure to be consequential".
Haines described Putin's move as "extremely unusual".
"We have not seen a public announcement from the Russians regarding a heightened nuclear alert status since the 1960s," she pointed out.
Putin is using nuclear "blackmail" to keep the international community from interfering in his Ukraine invasion, said Beatrice Fihn, executive director of the International Campaign to Abolish Nuclear Weapons (ICAN).
"Not only is this meant to instil fear in the whole world; it's also meant to scare anyone from helping in Ukraine," she told AFP Tuesday.
The nuclear threat "is now being used in an extremely malicious and evil way, to... enable an illegal invasion of a country that doesn't have nuclear weapons," she added.
Neo-Soviet ambitions
Putin has longed "to be the guy that helps recreate the Soviet Union", US Undersecretary of State for Political Affairs Victoria Nuland told Congress in a separate hearing Tuesday.
She called Putin an "obsessed", paranoid leader who has created a "bed of lies" and tested the very foundations of international law.
"Over the years, President Putin's imperial ambition has grown and he is dissatisfied with the last 30 years of Russian history," she said, noting that Putin, a former KGB officer, saw the disintegration of the Soviet Union as a personal defeat.
With Putin's intentions laid bare by the war, and his recent comments suggesting Ukraine is not a legitimate nation independent from Russia, "I think his interior mind is now out there for everybody to see," Nuland added.
In Kazakhstan -- which as part of the former Soviet space has had its own share of Kremlin threats and nuances -- citizens are making their own assertions.
Almaty resident Sergey Duvanov, director of the Kazakhstan International Bureau for Human Rights, attributes Putin's psychological problems to his background as a KGB agent in the Soviet era.
"As part of the Soviet ideology, KGB agents by definition viewed the West as the main evil and main enemy of their country," he told Caravanserai.
"In Putin's case this has taken the shape of a phobia and paranoia, as though the Western states are trying to destroy Russia, and today we're seeing the frightful consequences of this maniacal obsession," he said.
Putin's increasingly erratic behavior is fueling fears in Central Asia that the Kremlin will engage in stepped-up hybrid warfare tactics in the region.
Russia's hybrid warfare strategy comprises five key areas: economic, energy, political and militaristic pressure, accompanied by disinformation or information warfare.
Kazakhstan has already been subject to these tactics, but many observers see this spreading further in the region, especially as Putin becomes increasingly isolated.
"After Russia deals with Ukraine, its appetites will turn toward Kazakhstan," said Murat Kastayev of Almaty, general director of the consultancy DAMU Capital Management.
'Cockroaches in his head'
Putin, "with his cockroaches in his head", is completely unfit to be a president -- a position in which he has power over the fate of millions, not to mention the authority to use nuclear weapons, said Aigul Bimurzina, a psychologist in Almaty.
"Under no circumstances should a person like that have access to the nuclear button," she told Caravanserai.
Putin's "various mental disorders" have only intensified over the years, she added.
"For many years he has been living in a permanent, irreconcilable fight with the 'enemy', which he considers to be the West, and under these circumstances he constantly lies, is afraid, hides, manipulates and sometimes orders killings," Bimurzina said.
"He wants to constantly receive confirmation that he's relevant," she said.
"If he sees that he's not, he seethes with fury, and that's when he's capable of doing horrible things that a mentally stable person would never do under any circumstances."
Putin's shutdown of independent media outlets and crackdown on dissent, including imprisonment of those who use the word "war" to describe the events in Ukraine, are totally out of step with today's norms, said Diana Okremova, director of the Almaty-based NGO Legal Media Centre.
"We're living in an era of advanced information technologies, yet Putin continues to use absurd, barbarous methods and a form of propaganda that modern society won't accept," she said.
"There's no doubt that he has a mental disorder," she said.