Recent reckless incidents in Syrian airspace highlight Russian pilots' unprofessionalism and their flagrant disregard for international law, and such behavior risks major miscalculations, especially after the Kremlin's invasion of Ukraine, observers warn.
On February 12 and 13, "three US Navy P-8A aircraft experienced unprofessional intercepts by Russian aircraft" in international airspace over the Mediterranean Sea, the Pentagon said in a statement.
"While no one was hurt, interactions such as these could result in miscalculations and mistakes that lead to more dangerous outcomes," Pentagon spokesman Capt. Mike Kafka said.
The United States contacted Russian officials through diplomatic channels to express concerns, he said.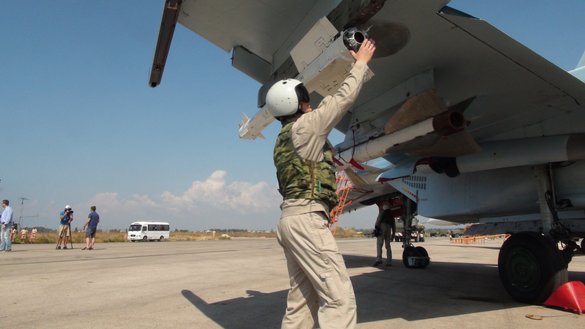 "The United States will continue to operate safely, professionally and consistent with international law in international waters and airspace," Kafka said. "We expect Russia to do the same."
The initial reporting indicates this was followed by another encounter between US and Russian Sukhoi (Su)-35 fighter jets, a defence official told CNN.
CNN earlier reported that US fighter jets and other coalition aircraft escorted three Russian aircraft in eastern Syria on February 15 when the Russians flew into coalition-restricted airspace.
A Russian cargo aircraft, accompanied by two Tu-22 Backfire bombers flew across Iraq into the Eastern Syria "security zone" without giving sufficient advance notification to the coalition, according to two US officials with direct knowledge of the incident.
The security zone extends from Deir Ezzor to the Iraqi border, and flying over it requires prior notification of the US forces.
"When the United States warned the Russians it needed more advance notice, the Russians said they were proceeding," the officials said.
"That led to US F-16s and coalition aircraft flying alongside the Russians briefly until they left the area."
Continued provocations
Russian pilots have a long history of airspace provocations ever since Russia intervened in the Syrian civil war in 2015 on the side of President Bashar al-Assad.
In April 2020, in two separate incidents, Russian Su-35s intercepted a US Navy P-8A over the Mediterranean Sea, conducting high-speed inverted manoeuvres and coming within 7.5 metres of the US surveillance aircraft, the Navy said.
"The manoeuvres were unsafe and jeopardised the safety of the pilots and crew," it said.
A month later, the Navy said two Russian Su-35 aircraft intercepted another Navy P-8A over the Mediterranean, in an encounter that lasted 65 minutes.
The encounter was "unsafe and unprofessional due to the Russian pilots taking close station on each wing of the P-8A simultaneously", it said.
The most recent episode comes amid rising tensions with Russia over its invasion of Ukraine on February 24.
The Swedish Armed Forces said four Russian fighter jets on March 2 had entered Sweden's airspace to the east of the island of Gotland in the Baltic Sea.
Russia is "gambling" in Syria's airspace as it continues to provoke the US Air Force, observers told Al-Mashareq in early 2018 after another series of provocations by Russian pilots.
In 2015, the United States and Russia signed a "deconfliction" agreement to co-ordinate airspace over Syria and avoid midair incidents.
The agreement also stipulates a specific protocol to resolve any disagreement or conflict by top military officers from both sides that are peers in military rank, said Egyptian military analyst (ret.) Maj. Gen. Abdul Karim Ahmed.
Under the terms of the agreement, the parties are to guarantee their movements do not clash in terms of timing and geographic location, he said, and are to work together to ensure aircraft are not targeted by defence systems of either side or that of the Syrian regime.
However, American pilots say the Russians are prone to ignoring the conventions of air safety, the Wall Street Journal reported in 2017.
"Planes world-wide carry transponders that emit a four-digit code allowing air-traffic controllers to identify them, a practice called squawking. Russian planes over Syria don't squawk, and they appear as an unidentified bleep to allied radar installations," it said.