KYIV -- Russian troops who have abandoned their tanks and vehicles amid their invasion of Ukraine might see their own dumped equipment turned against them, say analysts and officials.
Russian troops are believed to have sustained heavy material losses and casualties since the start of the invasion on February 24, with the Ukrainian military claiming on Thursday (March 17) that Russia has suffered about 14,000 casualties.
Other Russian losses include 444 tanks, 201 artillery systems, 108 helicopters and 86 aircraft, the Ukrainian general staff posted on Facebook.
Russia has not updated its March 2 announcement of 498 troop deaths.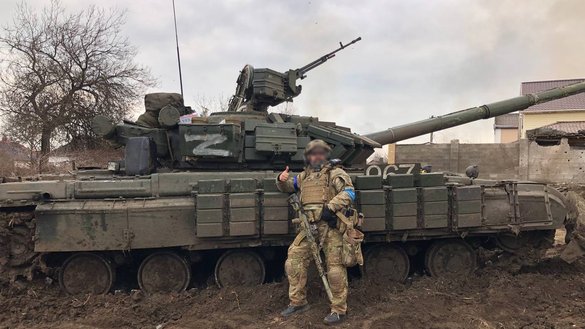 At least some of the lost Russian vehicles have either been stolen by Ukrainian civilians or seized by Ukrainian forces.
Videos and photos posted on social media show Russian tanks abandoned or stuck in the mud but otherwise functional.
Tractors can be seen hauling away Russian armour in several videos.
Oleksiy Arestovich, an adviser to the Ukrainian president's chief of staff, on March 3 issued a video statement asking anyone who seizes enemy equipment to handle it carefully and to deliver it to Ukrainian forces.
"Keep in mind that [the enemy equipment] could be put into operation and serve the good cause of the Ukrainian armed forces and fend off the aggressor," he said.
"But in order for it be put into operation, it must be returned to logistic services, its combat capabilities must be restored, it needs to be repainted, the radio needs to be updated, and all sorts of good things need to be done," Arestovich said.
A legacy of the Soviet era
The Ukrainian army is benefiting from its familiarity with Russian equipment, since both armies share Soviet roots, according to Valerii Riabykh, an analyst at the Defence Express think-tank.
"We have troops who are familiar with the specific features of this equipment. We can quickly carry out diagnostics and repairs," he said.
"There have already been a few cases of Ukrainian soldiers capturing enemy T-72 tanks. The Ukrainian army uses the same tanks," Riabykh told Caravanserai.
In one example, Ukrainian forces defending the besieged city of Mariupol said on March 7 said they had destroyed enemy equipment, grabbed a T-72 tank and begun using it themselves.
"Ukrainian soldiers are seizing [Russian hardware] in large quantities, including the enemy's logistics columns with ammunition, fuel and [other] supplies," he said.
"The Ukrainian army can make use of all of that. After all, the weapons the Russian army uses overlap with what the Ukrainian army uses."
"There is now more equipment standing idle, hidden in the bushes through our beloved province, than people who know how to drive it," Vitaliy Kim, the governor of Mykolaiv province, said sarcastically on March 3 in a video address.
Troops defending the province found in just one day three Shilka self-propelled anti-aircraft systems, one Tigr light armoured vehicle, two infantry fighting vehicles, three tanks and several ZIL trucks, he said.
With the exception of the Tigr, a relatively new vehicle, all of the other systems are Soviet-era designs, said Ihor Romanenko, a military analyst.
"With new developments or modifications of the old equipment, things are somewhat more complicated. You can't just start using this equipment immediately in combat," he said.
"First, Ukrainian engineers study it and draft instructions for using it efficiently in combat, and only then can it be transferred to the armed forces," Romanenko told Caravanserai.
The process of studying the confiscated equipment has already begun at one of the military factories of the state-owned Ukroboronprom corporation, the Ukrainian Defence Ministry said on Twitter on March 3.
The post, which included a photo of captured Russian Tigr vehicles, said they were practically new with low mileage and new engines.