KYIV -- Russian prisoners of war (POWs) have confirmed that the Kremlin has been committing war crimes as part of its invasion of Ukraine.
Three Russian airmen captured by Ukrainian forces told a news conference on March 11 that they were thrown into battle like cannon fodder and given orders to deliberately attack civilians. Although much video evidence shows Russian destruction of civilian targets, the trio, being POWs, likely was under duress.
European Union (EU) and other Western officials have long accused Russian forces of committing war crimes since the start of the invasion on February 24.
The EU's foreign policy chief on Monday (March 21) called Russia's attack on the Ukrainian port city of Mariupol "a massive war crime", as a string of member states pushed for sanctions on Moscow's key energy sector.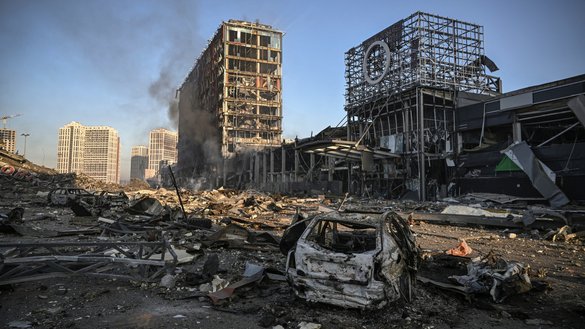 Almost 350,000 people are trapped without water and electricity in the port city, which has been bombarded by Russian troops for almost a month.
"What's happening now in Mariupol is a massive war crime, destroying everything, bombarding and killing everybody," Josep Borrell said at the start of a meeting of EU foreign ministers in Brussels.
German Foreign Minister Annalena Baerbock echoed the forceful condemnation of Russia's bombing of civilians in Ukraine.
"The courts will have to decide, but for me these are clearly and unequivocally war crimes," she said.
"It makes it all the more clear that we, as the European Union, that we as the world community who believe in a rules-based international order, must clearly isolate this regime."
Ukraine rejected a Russian ultimatum to surrender Mariupol on Monday.
Elsewhere, in northwest Kyiv, at least six people were killed in the bombing of the Retroville shopping mall and residential district on Monday, AFP reported.
'A terrible order'
Russian troops captured by Ukrainian forces have said they had orders to deliberately attack civilians.
Ukrainian forces on March 5 captured three Russian airmen in Mykolaiv province.
Russian navigator Alexey Kozlov said at a news conference in Kyiv on March 11 that he was thrown into battle like cannon fodder, having been assured that the Ukrainian army was completely incompetent.
"My command sent us on a combat mission without informing me about any air defence systems in Ukraine, specifically in Mykolaiv province. That is, they deliberately sent us to certain death," Kozlov told reporters at the news conference, which Ukrainian officials posted on YouTube.
Meanwhile, Russian pilot Maxim Krishtop publicly confirmed that he and his comrades were ordered to deliberately bomb civilians.
"High-explosive 'dumb' bombs weighing 250 and 500kg were used against civilian targets in Kharkiv," he said.
"The destruction radius is 60 metres. The monstrosity of the orders, criminal orders, is simply terrifying. In any case, an order can be disobeyed."
"But I showed weakness and cowardice, and carried out this order. A terrible order," Krishtop confessed.
CNN on March 11 also interviewed the three prisoners, noting that they did not appear to be under duress.
"It's not just to demilitarise Ukraine or defeat the Armed Forces of Ukraine, but now cities of peaceful civilians are being destroyed," Krishtop told CNN.
He said he was aware of attacks in places like Mariupol, including one on a children's hospital on March 9.
"It was a horrifying fact, not just because it is a crime. It's vandalism. You cannot forgive such things. To bomb a maternity ward?" he said.
"It's the most perverse... form of neo-Nazism, neo-fascism. Who could think of such a thing?"
"It's not really up to us, who to bomb, what to bomb. It's a command," Kozlov said.
Such news conferences have aroused the ire of human rights organisations. "The International Committee of the Red Cross (ICRC) has made clear that any material that allows viewers or readers to identify individual prisoners should not be transmitted, published, or broadcast," Human Rights Watch said in a statement last week.
'An informational dictatorship'
The comments by Russian POWs come amid an unprecedented crackdown on free speech in Russia.
Russian President Vladimir Putin on March 4 signed into law a bill introducing jail terms of up to 15 years for "fake news" about the Russian army.
The bill set out jail terms of various lengths and fines for those who publish "knowingly false information" about the military, with harsher penalties to hit when dissemination is deemed to have serious consequences.
Russian media have orders to publish only information provided by official sources, which call the invasion a "special military operation".
State-controlled broadcasters have meanwhile reinforced government narratives about nationalism in Ukraine and Moscow's claim that Ukrainian soldiers are using civilians as human shields.
The new law directly violates the European Convention for the Protection of Fundamental Rights and Freedoms, according to Yuriy Demchenko of Kyiv, a partner in the Litigation Group law firm.
"This convention has Article 10 -- Freedom of expression. Essentially, all journalism is based on it. Russian members of parliament are relying on the second part of the article, which states that freedom of expression may be limited for national security purposes," he told Caravanserai.
"According to this law, any information that does not match the official position of Russia's State Duma and Ministry of Defence is fake," he added. "This is nonsense in today's society. Until now, such a law has been used only in North Korea and partly in China."
"Russia is looking more and more like the Soviet Union," Yevhen Mahda of Kyiv, director of the Institute of World Policy think-tank, told Caravanserai.
"Now [Russian authorities] will come up with their own internal internet and at last close the iron curtain," Mahda said.
Mahda is convinced that soon the Kremlin will silence mothers of Russian soldiers, just as they did eight years ago after fighting near Ilovaisk and Debaltseve, when the Russian army clashed with Ukrainian units.
"At that time, they [Russian officials] used money to silence the relatives of dead Russian soldiers, paying out all sorts of compensation. If that doesn't work, then you can make threats," said Mahda.