ALMATY -- Ethnic Russians in Kazakhstan are taking to social media to voice their discontent with "fake news" emanating from Russia about Kazakh oppression against them.
Alexandra Myskina of Almaty, a journalist for the Caravan newspaper, in a Facebook post on March 9 called for an online "flash mob" to demonstrate that Russian speakers in Kazakhstan are not oppressed and do not need protection.
She called on ethnic Russians in Kazakhstan to come together to resist the propaganda war orchestrated by Russia and not to allow it to "destroy the peace of multi-ethnic Kazakhstan".
In the post, which includes a photo of Myskina wearing traditional Kazakh clothing, she dubbed the flash mob "Kazakhstan Is My Paradise".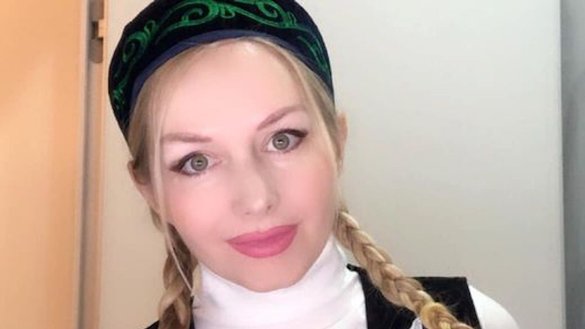 "What is it that some people want to save the Russians in Kazakhstan from? From a full dastarkhan [feast table], from the embraces of the apashka [old woman] who raised us since we were in diapers, from the boundless wisdom and kindness of the great Kazakh people," Myskina wrote.
Ethnic Russians are willing to study and are studying Kazakh because "we love our Kazakhs with all our heart and soul, we're happy that new schools are opening, and the fact that they're Kazakh isn't a problem for us", she wrote.
'Fake news' coming out of Russia
Myskina's post was a reaction to Russia's aggression in Ukraine and Moscow's claims of Kazakh oppression against its Russian-speaking population.
Russian forces invaded Ukraine February 24.
Myskina told Caravanserai in an interview she started the flash mob in response to "fake news" coming out of Russia.
She pointed to a January interview of Gennady Zyuganov, the leader of the Russian Communist Party, that recently re-emerged in Kazakh media.
In an interview with the radio station Govorit Moskva (Moscow Speaks) on January 11, Zyuganov alluded to a Russophobic policy in Kazakhstan that demanded "special attention".
The interview became widely known in Kazakhstan only two months later.
"More than 3 million people have fled Kazakhstan: Russians, almost all the Germans, Ukrainians, Belarusians, Tatars. This totally Russophobic policy is very dangerous," Zyuganov said at the time, without citing evidence or a time frame.
Zyuganov made numerous unbacked assertions in the interview.
All the cities and industrial facilities in northern Kazakhstan were built by the Russians, "so we need to solve the problems holistically", he said.
He urged Russian authorities to pay heed to the situation in former Soviet republics and to take action.
The government in Kyiv is "bombarding Donbas", he said, calling the alleged shelling a sinister red flag. He also called the situation in Kazakhstan a new, "major wake-up call".
"That's why we need to take urgent steps in our country," he said.
"There will be no official protest" to the Kremlin since Zyuganov was not voicing Moscow's official position, Kazakh Foreign Minister Mukhtar Tileuberdi told journalists March 10.
However, past comments by Russian officials have suggested that Kazakhstan should not let down its guard.
In an article last November in the state-run newspaper Rossiyskaya Gazeta, Russian Foreign Minister Sergey Lavrov accused Kazakhstan of "xenophobia targeting Russian-speaking citizens" and threatened to take crucial "prompt action" should "dire situations" arise.
'My motherland and my home'
Such claims are unfounded, say ethnic Russians in Kazakhstan.
Kazakhstan is the target of a propaganda war by Russian political strategists, said Myskina.
"We must not stay silent -- tacit consent must not take hold in our multi-ethnic Kazakhstan," she said.
Slava Nerush, director of the Chesnok.kz event planning agency in Almaty, took part in the "flash mob" by posting a message on March 9 telling Zyuganov not to "save" him or his family.
"Keep in mind that the Kazakhs are my brothers, Zyuganov. In 47 years neither I nor my family have had any bad experiences with Kazakhs."
"Kazakhstan is my motherland and my home," Nerush wrote.
Russian politicians should "be as careful as possible with [your] statements", or better yet, "keep your mouths shut", he added.
"I pray to God that the nightmare of war spares my country, and that the horror and pain Ukraine is experiencing now come to an end," Nerush said.
Fima Ivanov, a showman and former TV presenter from Almaty, posted a photo March 10 of himself in traditional Kazakh clothing sitting at a table with friends and enjoying the Kazakh dishes beshbarmak and boortsog.
"My Kazakhstan!" Ivanov wrote in Kazakh.
"I completely support Alexandra Myskina. You're amazing. In Moscow people called me a Kazakh, and I'm proud of that!"
'What do we need Russia for?'
Alexey Lodochnikov of Nur-Sultan, a professional musician who plays the dombra -- the Kazakh national instrument -- and speaks fluent Kazakh, posted a video March 10 taken with a Russian friend named Kristina.
"Some Russian members of parliament and other public figures are saying that we Russians who are here are allegedly being forced to learn Kazakh. But all of us who live here know that's not true," Lodochnikov said in perfect Kazakh before turning to Kristina and asking her, "Do we need to move to Russia?"
"What do we need Russia for? Life is also good for us in Kazakhstan," Kristina answers in Kazakh.
Russian politicians should first familiarise themselves with the true state of affairs for the Russian-speaking population in Kazakhstan before making inflammatory statements, said Evgeniy Zaitsev, a blogger from Taldykorgan, Almaty province, who also took part in the "flash mob".
"We live in peace and harmony with Kazakhs and other ethnic groups, we're friends, we visit each other's homes, we've been one big melting pot for many years, and we don't have and we've never had any problems," Zaitsev told Caravanserai.
"But it's as if Russian officials are trying to create problems for us. Who asked them to butt in?"