DOHA -- Germany has committed to "fast track" the construction of two liquefied natural gas (LNG) terminals as part of a new long-term deal with Qatar as it looks to reduce dependence on Russian gas, the Gulf state said Sunday (March 20).
German Economic Affairs Minister Robert Habeck secured the accord during talks in Doha with its emir and energy minister, who have been pressing European nations to strike long-term deals to guarantee their supplies.
European states have turned to Qatar in recent months as they seek an LNG alternative to Russian gas.
Germany imported about 55% of its natural gas from Russia before the invasion.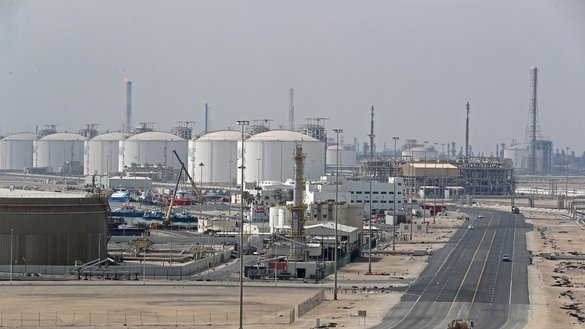 Some of Gazprom's gas comes from Central Asia. Besides relying on Russian gas fields, Gazprom buys gas from Kazakhstan, Turkmenistan and Uzbekistan and re-exports it to Europe.
"On the one hand, we need more liquefied natural gas, temporarily and in the short term, and we want this to arrive at our own German terminals," Habeck said in a statement before his departure.
"On the other hand, we must now speed up the transition from conventional natural gas to green hydrogen," he added.
Qatar and the United Arab Emirates (UAE) are of "central importance" in achieving those goals, he said.
Fast-tracking LNG terminals
In a meeting between Habeck and Energy Minister Saad Sherida al-Kaabi, "the German side confirmed that the German government has taken swift and concrete actions to fast-track the development of two LNG receiving terminals".
The terminals are being developed in Germany "as a matter of priority to allow for the long-term import of LNG to Germany" with the full support of the German government, Qatar's energy ministry said.
The two sides "agreed that their respective commercial entities would re-engage and progress discussions on long-term LNG supplies from Qatar to Germany".
In Berlin, a German spokeswoman confirmed a long-term partnership had been struck and that companies would "enter into the concrete contract negotiations".
Habeck also held talks in Doha with emir Sheikh Tamim bin Hamad Al-Thani before heading to the UAE to hold talks on oil supplies.
Abu Dhabi National Oil Company (ADNOC) on Monday announced it had signed agreements with counterparts in Germany in order to accelerate and deepen collaboration in clean hydrogen, the Emirati news agency WAM reported.
The agreements build upon the longstanding Emirati-German Energy Partnership as well as the Ministerial Emirati-German Hydrogen Task Force that was inaugurated in November 2021, WAM said.
Habeck recently visited Norway, another gas powerhouse, as well as the current top global exporter, the United States.
Ensuring steady gas supplies
Ahead of his Doha trip, Habeck told Deutschlandfunk radio that Germany had major concerns over securing supplies for next winter.
"If we do not obtain more gas next winter and if deliveries from Russia were to be cut, then we would not have enough gas to heat all our houses and keep all our industry going," he warned.
Habeck Friday said it was imperative to ensure a steady supply stream of supplies but stressed the country must speed up its transition from conventional natural gas to green hydrogen.
"I am convinced that the outcome of the discussions we're having with Norway, the United States, Canada, Qatar will lead us to... more liquefied gas coming to Europe and Germany," Habeck told broadcaster ARD.
Germany aims to end most Russian oil imports by the end of the year, but weaning itself off Russian gas will take longer.