ALMATY -- Kazakh residents are raising concerns as they face an influx of Russians fleeing the economic ramifications of the Kremlin's invasion of Ukraine.
Since Russian President Vladimir Putin launched the bloody assault on Ukraine February 24, Western capitals have frozen Moscow out of the global financial system, tipping its currency into free-fall and pushing the country to the verge of default.
The G7 and the European Union on Thursday (March 25) pledged to block transactions involving the Russian central bank's gold reserves to hamper any bid by Moscow to circumvent Western sanctions.
Washington also unveiled fresh sanctions on Russian lawmakers and defence contractors, while Britain slapped sanctions on 59 more Russian individuals and entities, including the mercenary group Wagner.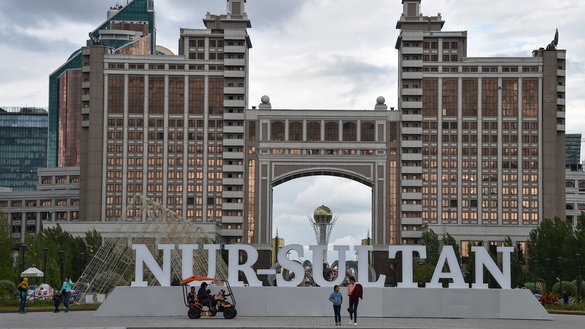 Russian professionals affected by the sanctions have found Kazakhstan an attractive destination because they need only a passport and temporary residence permit to work in the country, Forbes.ru reported March 5.
Mikhail, an information technology (IT) specialist, is one of many Russians who moved to Kazakhstan after Russia's invasion of Ukraine.
A flight from his hometown to Nur-Sultan took only an hour, he told Nur.kz March 11, adding that he chose it because of the nonstop flight and Nur-Sultan's status as the capital.
"We flew in from Omsk a couple of days ago ... we left simply because the services required for our specific work are no longer physically accessible from Russia, and a VPN [virtual private network] does not help,' he said.
"I followed the events [in Ukraine] before, but to be honest, I did not fully believe that what has happened would happen. In Russia, we bought a bag of foreign medicines for our parents while they were still available, and we left," said Mikhail.
"Until recently, I lived in Moscow, but since last week I have been liviing in Almaty," Vadim Novikov told Khabar24 March 13.
"I moved to Kazakhstan because I believe in Kazakhstan's good future, and now I believe in this future more than in the future of Russia," he said.
"After Russia, Kazakhstan is now the richest country in the former USSR, if we don't count the Baltics," Novikov said.
Fleeing sanctions
The sanctions regime has led Russians, including skilled professionals, to rush to various countries, including Georgia, Armenia and Kazakhstan, Nur-Sultan-based political columnist Gaziz Abishev told Caravanserai.
Those who are able and willing to leave Russia often need international infrastructure: Visa and Mastercard cards and access to the entire internet and to foreign brand goods, according to Abishev.
"These are also the people who are in demand on the international market ... web designers, telecom workers, financiers and IT specialists. Their skill level is higher than the Russian economy's average and higher than in Kazakhstan," he said.
"We are not talking about the relocation of millions of Russians ... most likely we can speak of several dozen thousand people and most of them will cluster in Almaty and Nur-Sultan," Abishev noted.
As soon as Russia begins to escape the sanctions, however they end, Russia will happily rush back to their familiar Moscow, St. Petersburg, Yekaterinburg, Novosibirsk and other cities, he added.
The arrival of the Russians could bring new challenges for local residents, Nur-Sultan financier Andrey Chebotarev told Caravanserai.
"First, migration from Russia will affect the real estate market in Kazakhstan. Housing prices in Kazakhstan are lower than in Russia as a whole and even more so than in Moscow and St. Petersburg. Accordingly, an increase in demand from Russians will lead to an increase in prices," he said.
Apartment rentals will also become more expensive, added Chebotarev.
Meanwhile, competition for work will increase because Russians do not need any permits to get a job in Kazakhstan -- under the Eurasian Economic Union (EEU or EAEU), Kazakhstan does not consider them to be foreign labour, he noted.
"Third, entire companies will move from Russia to Kazakhstan -- not to do business here but to use our country as a hub for purchasing foreign goods prohibited for export to Russia, which they can then re-export to Russia," said Chebotarev.
If such economic machinations happen, Kazakhstan risks having sanctions imposed on it, he added.
'Extra problems'
Kazakhs on social media have not been sympathetic to the new arrivals, especially as Moscow's war in Ukraine leads to growing civilian displacement and deaths.
"Why don't they speak out in protest against the actions of 'Putler' but instead flee to neighbouring countries?" Zamira Satekova commented on Facebook.
"Let them fight the regime in their homeland. They give us only extra problems -- competition and higher rents and real estate prices!" Satekova wrote.
Another Facebook user, Indira Yermek-kyzy, urged Kazakhs to "boycott them. Let them stay at home!"
"Don't help the population of the aggressor country to avoid the logical consequences of everything it has done," she added.
"In Russia, they have always been against Asians -- they have systematically harassed and insulted 'people with slanted eyes' and treated 'guest workers' with contempt," she wrote.
"At the same time, they were unable to create anything and simply squandered the decrepit Soviet legacy. So why are we going to feed them and give them work?" she wrote.