MOSCOW -- The head of Ukraine's Luhansk separatist region Sunday (March 27) said it may hold a referendum on becoming part of Russia.
"I think that in the near future a referendum will be held on the territory of the republic, during which the people will... express their opinion on joining the Russian Federation," Russian news agencies quoted Leonid Pasechnik as saying.
"I am sure this will be the case," he said.
Russia invaded Ukraine on February 24, saying it was acting in defence of the self-proclaimed Donetsk and Luhansk republics in the country's east.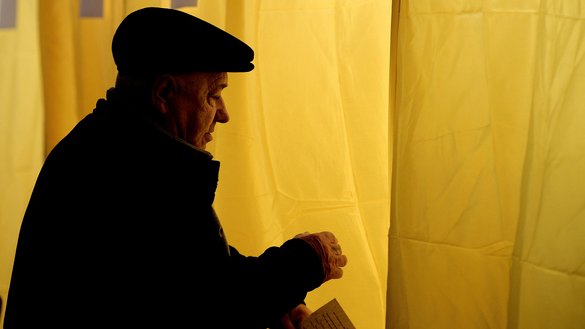 In 2014, an earlier Russian invasion force backed Donetsk and Luhansk separatists who proclaimed "independence" from Ukraine, precipitating a war that continues today.
Russian President Vladimir Putin on February 22 recognised the two regions as independent.
The breakaway regions have every right to determine their own future, said Andrei Klishas, chairman of the constitutional legislation committee in the upper house of the Russian parliament and a Putin loyalist.
"Russia has recognised the sovereignty of the Luhansk and Donetsk People's Republics," he told state news agency RIA Novosti. "The authorities of these republics have the right to make any decisions in accordance with their constitutions."
But not every Russian lawmaker saw the development in the same light.
"I think now is not the right time for this," said Leonid Kalashnikov, chairman of the committee on relations with the post-Soviet Commonwealth of Independent States (CIS) in Russia's lower house of parliament.
"It is hardly necessary to occupy oneself with such questions when the fate at the front is being decided," state news agency TASS quoted him as saying.
Kyiv slammed the proposed vote, with Ukrainian Foreign Ministry spokesman Oleg Nikolenko describing it as part of continued Russian efforts to "undermine Ukraine's sovereignty and territorial integrity".
"All fake referendums in the temporarily occupied territories are null and void and will have no legal validity," he said in written comments to AFP.
Echoes of Kherson
Earlier, Ukrainian officials on March 12 accused Russia of planning a fake referendum on creating a pro-Moscow "people's republic" in the southern city of Kherson. Kherson province touches both the Black and Azov seas.
"Russians now desperately try to organise a sham 'referendum' for a fake 'people's republic' in Kherson," Foreign Minister Dmytro Kuleba tweeted at the time.
Due to "zero popular support", such a referendum "will be fully staged", he said.
"Severe sanctions against Russia must follow if they proceed. Kherson is & will always be Ukraine," he added.
Kuleba drew a parallel with Russia's annexation of the Black Sea peninsula of Crimea in 2014, when it rigged a Crimean referendum on joining Russia after the Kremlin deployed troops there.
The referendum, which the international community rejected, supposedly showed 97% approval for joining Russia with a voter turnout of 83%.
The real turnout, however, was much lower -- 30% -- and of those, only half -- 15% -- voted for the annexation of Crimea, according to a report published and then quickly removed by the website of the Russian President's Human Rights Council, Ukrainian news site TSN.ua reported at the time.
The Kherson plan was following a "2014 playbook", Kuleba said.
Where will the playbook be used next?
Fears about where Russia could employ the same tactics it is using in Ukraine are rampant in Central Asia, especially Kazakhstan, where ethnic Russians are numerous in the northern provinces.
Russian authorities for years have been trying to spin a narrative that Russians in Kazakhstan need "saving".
In an article last November in the state-run newspaper Rossiyskaya Gazeta, Russian Foreign Minister Sergey Lavrov accused Kazakhstan of "xenophobia targeting Russian-speaking citizens" and threatened to take crucial "prompt action" should "dire situations" arise.
Zhyldyz Aliyeva, a reporter for the Almaty newspaper Delovaya Nedelya (Business Week), described Lavrov's article as a wake-up call.
"In the past, the aggressive rhetoric against Kazakhstan came mainly from excitable members of parliament and pro-Kremlin media outlets, but this time we're seeing criticism from Russia's number-two official for international relations -- the foreign minister -- so we can essentially consider this Russia's official position," she said.
Aliyeva cited an interview Lavrov gave in May to Kazakh TV channel Khabar regarding provocative claims by Russian politicians that Kazakhstan's northern territory historically belonged to Russia. At the time, he tried to separate himself from such rhetoric.
Many Kazakhs reject this narrative.
Ethnic Russians in Kazakhstan are taking to social media to voice their discontent with "fake news" emanating from Russia about Kazakh oppression against them.
Alexandra Myskina of Almaty, a journalist for the Caravan newspaper, in a Facebook post on March 9 called for an online "flash mob" to demonstrate that Russian speakers in Kazakhstan are not oppressed and do not need protection.
She called on ethnic Russians in Kazakhstan to come together to resist the propaganda war orchestrated by Russia and not to allow it to "destroy the peace of multi-ethnic Kazakhstan".
"What is it that some people want to save the Russians in Kazakhstan from? From a full dastarkhan [feast table], from the embraces of the apashka [old woman] who raised us since we were in diapers, from the boundless wisdom and kindness of the great Kazakh people," Myskina wrote.
Alexey Lodochnikov of Nur-Sultan, an ethnic Russian and professional musician who plays the dombra -- the Kazakh national instrument -- posted a video March 10 taken with another ethnic Russian friend named Kristina.
"Some Russian members of parliament and other public figures are saying that we Russians who are here are allegedly being forced to learn Kazakh. But all of us who live here know that's not true," Lodochnikov said in perfect Kazakh before turning to Kristina and asking her, "Do we need to move to Russia?"
"What do we need Russia for? Life is also good for us in Kazakhstan," Kristina answered in Kazakh.