ALMATY -- Thousands of Russians -- including high-ranking officials, industrialists and celebrities -- have fled their homeland in the wake of Russian President Vladimir Putin's decision to invade Ukraine.
The mass exodus comes as Russians are facing a crackdown on free speech, a sinking economy, and arrests of anti-war and political protesters.
There are no official statistics on the number of Russians who have left the country since Russia invaded Ukraine February 24, but evidence points to hundreds of thousands.
Speaking in Warsaw, Poland, on March 26, US President Joe Biden said, "200,000 Russians have all left their country in one month."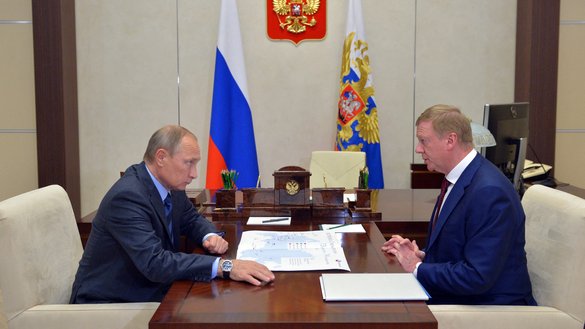 He urged Russians to distance themselves from the war in Ukraine. "You, the Russian people, are not our enemy."
Among the Russian elite who have fled is Anatoly Chubais, who resigned as Putin's special envoy to international organisations for sustainable development and fled to Turkey, Western media reported last week, citing Kremlin sources.
Chubais cited opposition to Putin's invasion of Ukraine in his resignation, making him the most senior Russian official yet to leave, Bloomberg reported March 23.
Kremlin spokesman Dmitry Peskov confirmed to RIA Novosti on March 23 that Chubais had resigned voluntarily.
"Whether he left Russia or not is his own business," Peskov said.
Chubais, 66, was one of the few economic reformers of the 1990s who remained in the Putin government and maintained close ties with Western officials, noted the BBC.
Other officials who want to resign have not been let go so easily.
Putin rejected the resignation of Elvira Nabiullina, chairwoman of the Russian Central Bank, Bloomberg reported on March 23, citing sources with knowledge of the matter.
Putin would regard her departure now as a betrayal, said the sources.
"Nabiullina has thought of resigning ever since the war started. But it would have direct consequences for her and her family," a source told The Guardian on March 12.
'Scum and traitors'
Executives of state-owned companies, such as Aeroflot Deputy CEO for Strategy, Service and Marketing Andrey Panov, have also fled Russia.
Joining them are Kremlin television hosts including Lilia Gildeeva and Vadim Glusker from NTV, and Zhanna Agalakova and Ivan Urgant from Channel One.
Several celebrities have also reportedly left: Russian pop singer Alla Pugacheva and her husband, comedian Maxim Galkin; actresses Renata Litvinova and Chulpan Khamatova; film director Timur Bekmambetov; and singers Nyusha and Vera Brezhneva.
Many of them publicly condemned the decision to invade Ukraine.
Anton Dolin, a Russian film critic and former editor-in-chief of The Art of Cinema magazine, announced his departure from the country on March 6.
"We left," he wrote on his Telegram channel, pointing to "the criminal war in Ukraine, initiated by the leadership of Russia".
"It is impossible to live in a country, even one's native and beloved land, where you are silenced," Dolin said.
The Kremlin has shrugged off such reports.
Artists leaving the country do not "set the mood" and their departures are "not paramount", Peskov said at a news conference March 23.
Putin himself was less cavalier in his attitude.
During a cabinet videoconference March 16, Putin called those who disagree with his policies a "fifth column" and "traitors" who earn money in Russia but have a "slave mentality" embracing foreign countries.
"The Russian people will always be able to distinguish true patriots from scum and traitors and simply spit them out like a gnat that accidentally flew into their mouths," he said. "I am convinced that this natural and necessary self-purification of society will only strengthen our country."
Brain drain
The mass departure of political, cultural and business figures indicates that "Russia today is more fragmented than ever", said Ruslan Nazarov, an international relations specialist from Nur-Sultan.
"While many Russians brainwashed by Kremlin TV channels support Putin's decisions, informed citizens with a progressive mindset understand the absurdity of what is happening," he said.
"But all they can do, or think they can do, is to leave Russia."
Their departure has brought concerns of a brain drain in Russia, as they join skilled Russian professionals who have fled abroad -- including to Central Asia.
Already in early March, the Kremlin was desperately trying to dissuade young information technology (IT) workers from fleeing.
Prime Minister Mikhail Mishustin announced a draft exemption for IT workers at a cabinet meeting on March 2.
"Specialists under age 27 will be exempted from the draft if they are working for Russian IT companies," he said, according to the Moskva24 news site.
While military service is mandatory in Russia -- with more than 250,000 men between the ages of 18 and 27 conscripted each year -- many Russians get out of it through medical or educational exemptions, AFP reported in 2021. Some also simply ignore the summons or pay bribes.
Many of those prized IT workers have already escaped Russia.
Dmitry Maltsev, a programmer from Moscow who in mid-March fled to Kazakhstan, said almost all of his colleagues are in despair and are leaving Russia for different countries, mainly Armenia and Georgia.
"I no longer see a future for myself in Russia," said Maltsev, now in Almaty. "For now, I'm observing things and planning my further actions. All this happened quite unexpectedly."
"Many [Russians] feel that their lives have been destroyed, and no one has a clue what this war is for," he said.
"I wanted to get away from it all. It didn't matter where."