ALMATY -- Recently declassified intelligence and anecdotal reports from sources close to the Kremlin indicate that Russian President Vladimir Putin is enveloped in an environment of mistrust and power struggles following his decision to invade Ukraine.
Putin has been poorly informed on the course of the war in Ukraine and his relations with his own staff have deteriorated, the White House said Wednesday (March 30) on the basis of declassified US intelligence.
"We obviously have information which we have now made public that he felt misled by the Russian military," White House Communications Director Kate Bedingfield said, confirming an earlier statement by a senior US official.
Ukrainian forces have been recapturing territory in recent days -- including the strategic Kyiv suburb of Irpin -- as the Russian offensive appears to have stalled, just over a month after the invasion began on February 24.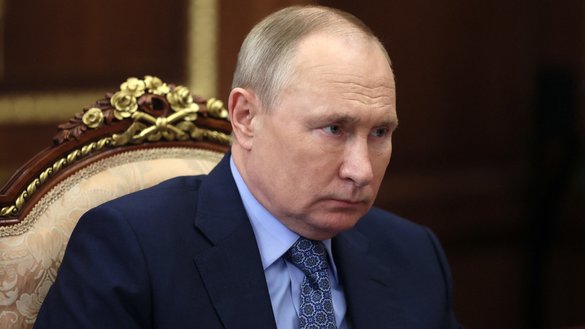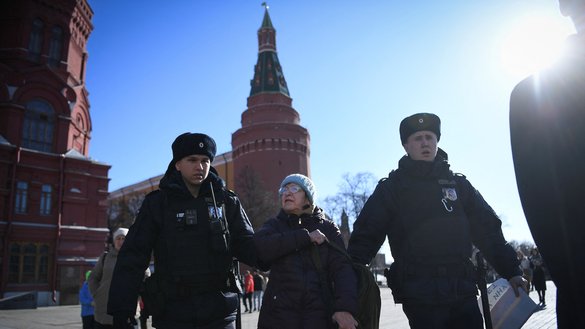 "We believe [Putin is] being misinformed by his advisers about how badly the Russian military is performing and how the Russian economy is being crippled by sanctions," Bedingfield said.
"Putin's advisers are afraid to tell him the truth" about the Russian military's progress and the degree of Ukrainian resistance, Britain's GCHQ spy agency chief Jeremy Fleming said Thursday.
Putin was also unaware that conscripts were being deployed to fight in Ukraine, where Russia has suffered huge personnel and equipment losses, a senior US official, who spoke on condition of anonymity, told AFP.
Asked about the intelligence while travelling in Algiers, US Secretary of State Antony Blinken said that in "autocracies... you don't have people in those systems who speak truth to power".
The reports come as questions arise about Putin's relationship with Defence Minister Sergei Shoigu, who was considered close to the Russian president.
There is "persistent tension between Putin and the MOD [Ministry of Defence], stemming from Putin's mistrust in MOD leadership", the unidentified senior US official said.
The Kremlin denied the intelligence, saying that US and British officials do not "have real information about what is happening in the Kremlin".
"They don't understand President Putin, they don't understand the mechanism for taking decisions and they don't understand the style of our work," Putin's spokesman Dmitry Peskov told journalists.
'A major miscalculation'
Misinformation is the least of Putin's problems, according to some analysts.
A covert power struggle is already going on in the Kremlin, said Anders Åslund, a Swedish economist and diplomat who at different times advised the Ukrainian, Russian and Kazakh governments.
"Putin's regime cannot last for long. It does not serve anybody any longer, not even the tyrant, who must be furious," Åslund tweeted March 24.
The huge losses suffered by Putin's army after getting mired in Ukraine, and Russia being hit with unprecedented, large-scale economic sanctions from the 'collective West' that has rallied against him, clearly show that he made a major miscalculation," Askat Dukenbayev, a political analyst from Bishkek, told Caravanserai.
Putin understands what the consequences could be for him personally if he loses in Ukraine, Dukenbayev said.
He is afraid of suffering the same fate as toppled dictators ranging from Nicolae Ceauşescu of Romania to Libya's Muammar el-Qaddafi, he added, referring to their lynchings by their own people.
Two things threaten to bring down Putin's regime, said Dukenbayev: "anti-war sentiment in Russian society, which is rising because it's tired of the prolonged war in Ukraine, and the public's growing disgruntlement with the economic hardship triggered by the sanctions".
"Time will tell how much patience the people have," Dukenbayev said.
"But Russian history, which is full of examples of mass uprisings -- including the two revolutions that brought down the governing regimes in 1917 and 1991 -- shows that Russians don't have unlimited patience."
Russians are already reaching a breaking point, some claim.
"Among the Russian political and business elite, a group of influential people is forming who are in opposition to Vladimir Putin," the Ukrainian Defence Ministry Main Intelligence Directorate said in a Facebook post on March 20.
The groups seeks to remove Putin from power as soon as possible and restore economic ties with the West, the directorate said.
The Federal Security Service (FSB), represented by its director, Alexander Bortnikov, is involved in the plot, it added.
"Poisoning, a sudden illness or any other 'accident'," could be used to carry out the plan, it said.
Threat to regional security
Putin's isolation at home also comes as countries once seen as friendly to the Kremlin turn their backs on Russia.
Three weeks into Russia's invasion of Ukraine, Uzbekistan announced that it recognised Ukraine's independence, sovereignty and territorial integrity.
It also unambiguously said that it did not recognise the independence of the so-called Donetsk People's Republic and Luhansk People's Republic, which Russia carved out of Ukraine in a 2014 invasion.
Neighbouring Kazakhstan also refused to recognise the independence of Ukraine's separatist regions.
Kazakh authorities have additionally rejected a recent proposal by Moscow to switch the distribution of customs duties of Eurasian Economic Union (EAEU or EEU) member states from hard currency to the ruble.
"In the Republic of Kazakhstan, as well as the Republic of Armenia and the Kyrgyz Republic, the collected import customs duties will be distributed and recorded, as before, in US dollars," the Kazakh government announced on March 18.
Moreover, in Kazakhstan and Kyrgyzstan, calls are growing louder to leave the Moscow-coordinated EEU.
Kazakhstan needs to leave its economic union -- and even more so its military alliance -- with Russia in order to avoid damage to its reputation, Dosym Satpayev, an Almaty-based political analyst and director of the Risk Assessment Group, told Caravanserai.
At the same time, such steps are tied to risks and threats to Kazakhstan's sovereignty and territorial integrity that come from Russia, he said.
The Kremlin has turned a blind eye to revanchist Russian politicians who openly call for seizure of Kazakhstan's northern provinces.
"Right now, Putin is one of the main threats to regional security," Satpayev said.