ALMATY -- Russians who have fled their home country are pointing to the Kremlin's repressive policies and its war against Ukraine as reasons for doing so.
There are no official statistics on the number of Russians who have left the country since Russia invaded Ukraine February 24, but evidence points to hundreds of thousands.
Speaking in Warsaw, Poland, on March 26, US President Joe Biden said, "200,000 Russians have all left their country in one month."
Many of them say they are fleeing unprecedented measures by the Russian government aimed at controlling and brainwashing its citizens.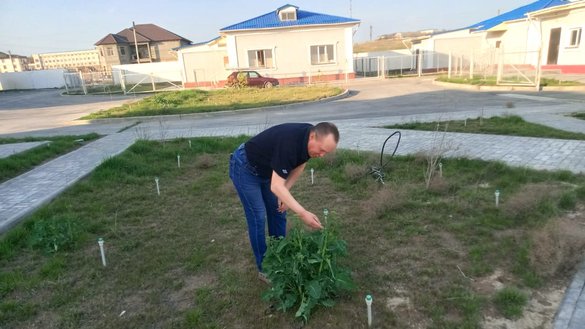 Some of those who remain in cities like Moscow and St. Petersburg told Caravanserai they were forced to "decorate" their offices and cars with the letter "Z" as a symbol of support for the so-called "special military operation".
Journalists have said that managers are checking their social media accounts to find out what kind of content they post or even what posts they have liked. Other citizens report regular police harassment.
"What's happening in Ukraine is like we are reliving stories about the war with Nazi soldiers, who attacked the USSR ... bombed cities, killed indiscriminately and took prisoners," said Vladimir Turov, 47, a taxi driver from Omsk who moved to Kokshetau, Kazakhstan, where his wife's parents live.
"But now 'Hitler' is our country. The whole world is against us. We're outcasts. People abroad are afraid of us," he said.
Inhabitants of Russia itself now live in fear, he added.
"You can't write 'war', or they can put you in jail. You can't correspond online about the war," he said.
"I'm not even talking about rallies, where people are immediately taken away to prison. It has reached complete madness -- in Omsk, [police] stop people on the streets and check their phones: whom have you been writing, what have you read, what did you comment on."
Turov said that police made him show his mobile phone twice while he was in Omsk.
The first time, the police told Turov that they would take him to the police station if he resisted.
"I had to pull out the phone. They poked around on it for about 10 minutes: they read my correspondence in WhatsApp, they checked my text messages and websites I visit. Apparently, they didn't find anything illegal or dangerous."
Turov's wife, who was in Kazakhstan visiting her parents when the war began, urged him to leave Russia immediately.
"Of course, my wife and I are worried about what will happen next ... but it is definitely calmer here than in Omsk," Turov said.
'End of the Russian economy'
Alexander Esmarkh, a Moscow resident with no relatives in Kazakhstan, arrived in Almaty on March 17.
Despite a draft exemption for information technology workers, Esmarkh -- who was working at state-owned Rostelecom -- still decided to leave over Russia's invasion of Ukraine.
"I've never been to Ukraine, but my friends who have travelled to Kyiv, Vinnytsia, Uman and Zaporizhzhia say only good things about their beauty, about the locals and their kindness [to visitors]," he said.
"What our troops have done and are doing to Mariupol, Chernihiv, Kharkiv and Irpin, I consider a crime against humanity," he said.
Those suffering from the aggression of Russian authorities are not only Ukrainian civilians paying with their lives and property but also ordinary Russians, Esmarkh said.
In early March, Esmarkh and his coworkers learned of a new requirement to "voluntarily" transfer part of their monthly salary to the construction of Russian Orthodox cathedrals.
"The accountant directly told me that at least 5% had to be deducted, and that anyone who wanted to could contribute more," he said. "And since our company is state owned, this order came from above."
"And you do whatever you want, but a deduction from your salary is mandatory. Whom will you complain to? To a state court about a state order? Of course not," Esmarkh said.
Some reports have suggested that the funds from the deduction were in actuality going toward pro-Russian Ukrainian refugees who fled separatist-controlled Donbas.
"If I had just read about this on the internet, I would think it was fake. But I myself became someone from whose March salary a deduction was forcibly taken, allegedly for the needs of the church," he said.
That was the last straw for Esmarkh, who left Russia and quickly found a job in Almaty and then later in Nur-Sultan.
He is certain that he will not return to Russia anytime soon.
"In the long term, this is the end of the Russian economy. There will be no famine ... but economic growth from foreign investment won't happen any more," he said.
"Remaining there means sitting and waiting for poverty."
Rejection of Putin's 'toxic policies'
The flow of migrants from Russia will likely further increase, since Russia's prosperity can no longer be counted on, said Russian economist Georgy Surgayev, now living in Warsaw.
"Foreign corporations have left the country and are unlikely to return," he said. "First, by staying, they would lose customers in their main markets -- the United States, the European Union -- who will tell them, 'Sorry, you are operating in [Russian President Vladimir] Putin's country, so we will not buy from you.'"
Second, foreign businesses no longer trust Russia because of Putin's "toxic policies", he said.
"Russian authorities announced plans to nationalise the assets of foreign companies that halted their business there because of the military aggression in Ukraine," he said. "And any investor now fears that if he works in Russia, he may at any moment lose everything he invests there."
"In other words, serious investments will not come to Russia until people are confident that this country no longer poses a threat, i.e., as long as Putin is in power," he added.
In six months, a thorough stratification will begin in Russian society, Surgayev predicted.
"Those close to the state will get rich, the middle class will become poor and the poor will become utterly impoverished," he said. "Many Russians don't yet understand this -- some out of naïveté, some out of fanatical patriotism."
"But for now, foreign corporations are paying their employees in Russia, even though they are not working, but when this stops, there will be a huge group of unemployed people who will be struggling to earn even something," Surgayev said.