TASHKENT -- Uzbek citizens who fled Ukraine amid Moscow's invasion are recounting tales of terror and violence at the hands of Russian forces.
About 6,000 Uzbeks were evacuated via Poland, Kun.uz reported March 19.
Those evacuated included "women with children, college students, and employees, who were temporarily studying or working in Ukraine", said Uzbek Ambassador to Poland Bakhrom Babayev.
Lobar Tukhtayeva, a 22-year-old student, a native of Karshi attending Kharkiv National University, is among the Uzbeks who have returned home.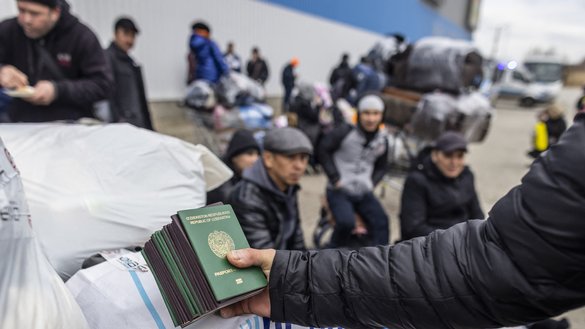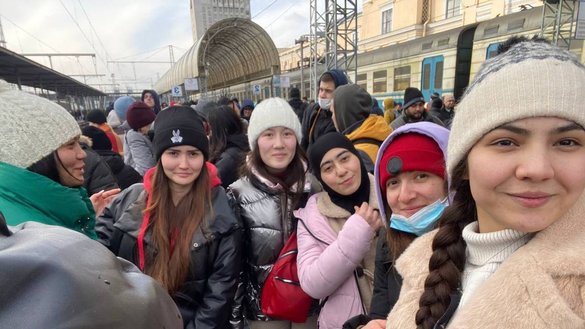 Kharkiv, which lies in northeast Ukraine close to the Russian border, has been heavily damaged since Moscow launched its invasion.
Russian troops may have committed possible war crimes against civilians in occupied areas of Chernigiv, Kharkiv and Kyiv, including rape and summary execution, Human Rights Watch said Sunday (April 3).
"On February 24, my roommate woke me up at 5am," said Tukhtayeva, recalling the beginning of the war.
"We heard shooting and explosions. We got dressed and went down to the basement," she said.
"We sat there for a long time. We were very scared."
Her building again came under fire two days later.
"To protect ourselves from bullets and broken glass, we hung two mattresses each on the headboards of the beds, on the windows," Tukhtayeva told Caravanserai.
"Then we ran out of bread and other food, but we were afraid to go outside. There was shooting there. A building exploded right in front of our eyes."
"Rockets were flying. Their sound and the explosions hurt my ears," said Tukhtayeva.
After five more days in the city, including a few nights in a Kharkiv subway station, Tukhtayeva was able to leave via train.
"At 12.30am, hungry and cold, we boarded the train. We had nothing to eat. We had only water on hand. Due to the lack of seats, we slept right in front of the bathroom. That's how we traveled for four days," Tukhtayeva said.
Tukhtayeva's journey did not end there, however.
She and other refugees were greeted by air raid sirens when they arrived in Lviv, more than 1,000km to the west.
Tukhtayeva and other students from Uzbekistan spent another day and a half outside the croweded station, waiting for a train to Poland. In rain and snow, they warmed themselves by a bonfire.
Russian aircraft began bombing Lviv on the same day Tukhtayeva departed the city.
After reaching Poland and waiting 10 days for a flight home, she flew to Uzbekistan March 13.
"The Russian invasion destroyed all my dreams ... I wanted to stay in this beautiful country after my studies," she said.
"I hate the war and those who started it."
'Everyone was scared'
Shakhrizoda Azimova, 22, another native of Karshi and third-year medical student at Kharkiv National University, told a similar story.
"At 4.40am, on February 24, we all woke up to the dormitory superintendent knocking on every door, shouting for us to get out as soon as possible," she told Caravanserai.
"We all quickly got dressed and went down to the basement. We ended up sitting there until 7pm."
Uzbek embassy staffers then arrived at her dormitory.
"They said, 'Don't worry, we will help you,'" said Azimova.
Still, the students had to spend three days in the basement, where temperatures would drop to minus 8-10°C at night.
Amid lulls in the bombings, the girls quickly ran upstairs to their rooms to eat and grab things before returning to the basement.
"Over these three days, we managed to get out to the store once. The scene was scary: lots of people, no bread, long queues, everything was more expensive all of a sudden. Because of that, one day we drank only water," Azimova recalled.
On February 27, the embassy transported Azimova and 19 other female students to a train station for evacuation to Lviv.
"Uzbeks were not the only foreigners on the Kharkov-Lviv train. Moroccans, Azerbaijanis, Turks, Turkmens … everyone was very scared."
"Girls were crying. We thought if we stayed there, then we would die," said Azimova, who returned to Uzbekistan on March 2.
The way home
In Poland, Uzbek authorities mounted a complex effort to bring the Uzbek citizens home.
On the morning of February 27, the first 30 citizens of Uzbekistan left Lviv province and crossed the Ukrainian-Polish border through the Krakovets-Karcheva checkpoint, according to the Kun.uz report.
By evening, about 400 Uzbeks had gathered at the checkpoint in Poland.
For 18 days, Uzbek consular officers, in concert with the Uzbek embassy in Warsaw, worked at the border checkpoint. The collection point itself offered hot meals, warm blankets and medical assistance for those in need.
The first evacuation plane -- chartered and paid for by the Uzbek government -- flew from Katowice, Poland, to Tashkent on February 25.
In total, 25 of these special flights carried Uzbeks from Poland to Uzbekistan.
At the peak of the evacuation on March 2-4, some 700-800 Uzbek citizens accumulated at the border collection point and at the airport, hoping to return home as soon as possible.
Polish President Andrzej Duda on March 4 visited the assembly point and personally ordered the allocation of buses to transport more than 4,000 Uzbek citizens to the airport for free.
Uzbek Foreign Minister Abdulaziz Kamilov compared the complexity of evacuating Uzbeks from Ukraine with the process of extracting Uzbeks from Syria, Gazeta.ru reported.
"With our comrades from Ukraine, we were able to bring home 6,000 citizens," Kamilov told the Senate on March 5.
The evacuation from Ukraine was not any easier than Uzbekistan's effort to bring back citizens from Syria, Iraq and Afghanistan, he noted.
"People are dying in Ukraine ... but, thank God, we brought 6,000 citizens home safe and sound," he said.
At the time, there were still about 300 Uzbek citizens in Ukraine, according to Kamilov.
"We will find a solution, and we will try to bring them back soon," Kamilov said.