DONETSK, Ukraine -- In a number of towns in eastern Ukraine, where Russian President Vladimir Putin and his military leaders expected the residents to welcome Russian forces with open arms, Ukrainian forces are pushing back fiercely against the invaders.
Russia has removed about two-thirds of the troops it had around Kyiv, mostly sent back to Belarus with plans to redeploy elsewhere in Ukraine, a senior Pentagon official said Monday (April 4).
"We do begin to see them consolidating in Belarus. What we continue to believe is that they're going to be refit, resupplied, perhaps maybe even reinforced with additional manpower and then sent back into Ukraine to continue fighting elsewhere," the official said.
The redeployment comes after Ukrainian forces delivered a strong pushback against the Russians, who invaded Ukraine on February 24.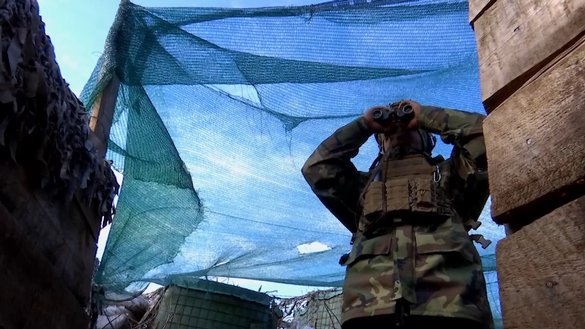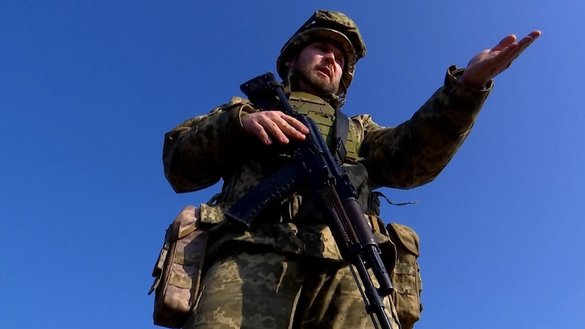 Western military analysts have called the Russians' inability to take Kyiv a significant defeat for the Russians, but Moscow has suggested it wants to focus its military efforts on the country's southeast Donbas region, where Russian forces have joined hands with pro-Russia secessionists.
"We know the Russians are reinforcing and are getting ready to attack," a senior Ukrainian officer on the ground near the village of Krasnopillia in Donbas told AFP on Wednesday.
While the front was stable for the moment, Russian helicopters have increased the number of flights they were making over the area, the Ukrainian officer said, often a harbinger of a large-scale operation.
"We are ready... we've planned some surprises for them along the way," the officer said.
In the face of rising pressure, the forces present seemed confident. "We're waiting for them!" said a lieutenant tasked with reinforcing the positions along the road, giving a thumbs up.
Artillery and armoured vehicles are dug in along the sides of the route. The adjacent forest is scattered with other fortified positions and camouflaged equipment.
Saving Russians?
Along the frontline in the east is New York, a small village in the Donetsk region.
Situated directly on the front formed after Russia's annexation of Crimea in 2014, New York has been a regular target for Russian aircraft and artillery since the beginning of the Russian invasion.
Donetsk and Lunhansk are the two regions whose independence was recognised by the Kremlin in late February, a move that "justified" Putin's unprovoked invasion of Ukraine in its entirety.
Central to the Kremlin narrative is that Russian forces invaded Ukraine in order to save Russians from persecution.
That narrative continues to be debunked across ex-Soviet states, most recently in Kazakhstan, where flash mobs and public gatherings pubicly declare they "don't need saving".
"It's as if Russian officials are trying to create problems for us. Who asked them to butt in?" said Evgeniy Zaitsev, a blogger from Taldykorgan, Almaty province, who took part in a recent "flash mob".
This Kremlin narrative is also being undermined by the fierce resistance of Ukrainians in the regions that allegedly want to join Russia.
'Victory will be ours'
Yuri Kochevenko, like many others in the Donetsk region, now serves in the Ukrainian army and says his town is under its complete control.
"The front where it was fortified in 2015 is now the same; the opponent was unable to move forward," said Kochevenko, an officer in the army's 46th Battalion.
"Our enemy uses barbaric methods. We have [suffered] major losses not directly during combat operations but after cruise missile attacks."
"But our air defence systems work properly. Despite having a total advantage for the [first month of the war], they failed to take full control in the air," he said.
"The most painful thing is that every missile brings new victims, and it is even more unfortunate that [Russian missile warfare] mainly affects civilians," he added.
Russia has a history of deliberate attacks on civilians and civilian infrastructure -- including hospitals -- in Syria and Chechnya.
"What is happening in Ukraine is a repetition of what we have seen in Syria," Agnes Callamard, secretary general of Amnesty International, told AFP in March.
In both Ukraine and Syria, Russian forces routinely bombed hospitals and targeted civilians.
Diplomatic and economic pressure is mounting on the Kremlin in response to its slaughter of civilians in the town of Bucha.
"It is obvious that our enemy is weakening," said Kochevenko.
The Russians are trying to strengthen their positions and gain ground simultaneously, he said, "but we conduct counterattacks on our side, and they are not in vain."
"That's what happens on the frontline in Donbas."
"We have a critical situation in Mariupol. The Russians managed to blockade the city, but the city stands strong, and I believe that it will withstand this siege," Kochevenko said, referring to the besieged port city about 180km to the south.
The outcome of the war now depends not only on arms or number of soldiers but on fighting spirit, he said.
"We are ready to fight to the end; they don't have enough missiles to kill us all," he said. "Three new soldiers replace every Ukrainian killed, so I am absolutely sure victory will be ours."