KYIV -- Russia has lost more than 20 high-ranking military officers, including seven generals, since Russian President Vladimir Putin ordered troops to invade Ukraine six weeks ago, according to officials in Kyiv and others tracking the war's progress.
The losses spell serious trouble for Moscow, which will likely struggle to replace high-ranking officers with decades of experience. The deaths call into question the Kremlin's overall military strategy, analysts say.
The most recently reported death of a general took place at the Chornobaivka airfield in Kherson, where Ukrainian forces have struck the Russian military repeatedly.
"Over the past day, our troops -- as we previously reported and we can now say for sure -- killed the commander of the 49th Combined Arms Army of the Southern Military District of Russia, Lt. Gen. Yakov Vladimirovich Rezantsev," Oleksiy Arestovich, an adviser to Ukrainian President Volodymyr Zelenskyy's chief of staff, said at a briefing in Kyiv on March 25.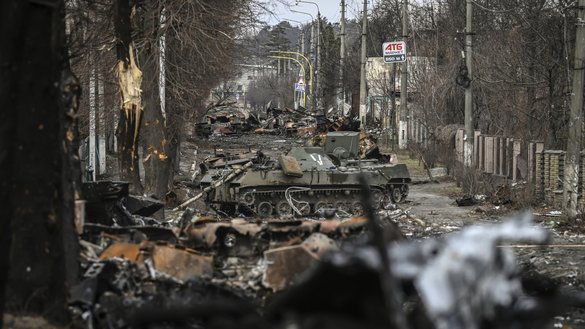 Rezantsev was the seventh general killed in Ukraine, a Western security official confirmed to AFP.
The official noted low morale and growing frustration among Russian forces over the mounting losses.
Another Russian colonel commanding a brigade was even killed by his own troops who ran him over "as a consequence of the scale of losses that had been taken by his brigade", the official said on the condition of anonymity.
Rezantsev had reportedly boasted on the fourth day of the invasion that the war would be over in a matter of hours, according to media reports.
The Kremlin has not confirmed Rezantsev's death, but Russian authorities rarely and reluctantly discuss losses in Ukraine.
Proof usually comes from announcements on Russian social networks that discuss the deaths of commanders or memorial services.
"It's very hard to hide the death of a general. That sort of information generally spreads throughout the whole military very quickly," Andrii Rukkas, a historian at the Taras Shevchenko National University of Kyiv, told Caravanserai.
Russia has given an official toll for its soldiers killed on only two occasions during the conflict. The latest official count, on March 25, was 1,351 deaths.
While Western sources do not confirm Ukraine's figure of 18,900 Russians killed, they say the actual Russian toll is likely several times higher than Moscow's official tally.
'Not a word in Russian media'
Russian officials have confirmed the death of only one general -- Maj. Gen. Andrei Sukhovetsky, who was killed in action on February 28, the fourth day of the war.
Sukhovetsky, deputy commander of Russia's 41st Combined Arms Army of Russia's Central Military District, was killed by a sniper in Mariupol, according to Ukrainian officials.
His death was reported in Russia by a veterans' group on the VKontakte (VK) social network and then subsequently mentioned in a speech by Putin, although not by name.
Sukhovetsky had previously served in Syria, according to news reports.
Meanwhile, Ukrainian forces killed Maj. Gen. Vitaly Gerasimov, first deputy commander of the same 41st Army, on March 7 outside Kharkiv, according to Ukrainian intelligence, which intercepted a radio call between two Russian Federal Security Service (FSB) officers.
Gerasimov also fought in Syria and Chechnya and took part in Russia's annexation of Crimea in 2014.
Gerasimov's funeral took place March 15 in Yekaterinburg, said Leonid Volkov, a close ally of jailed Russian opposition leader Alexei Navalny.
"Will they really bury him in an unmarked grave?" he posted on Twitter March 16. "There isn't a word [about his death] in Russian media."
Maj. Gen. Andrei Kolesnikov, who commanded the 29th Army of the Eastern Military District, was killed in fighting in Mariupol, Ukrainian officials announced March 11.
Kyiv on March 18 reported the death of Lt. Gen. Andrei Mordvichev, who commanded the 8th Combined Arms Army of the Southern Military District. Like Rezantsev, he also was killed when Ukrainian forces destroyed a command post at Chornobaivka airfield, officials said.
In yet other case, Mikhail Razvozhayev, governor of the Russian-occupied city of Sevastopol in Crimea, confirmed the death of Capt. 1st Rank Andrey Paliy, the Kyiv-born deputy commander of Russia's Black Sea Fleet.
Paliy was killed in fighting around Mariupol on March 20, the governor said on his Telegram channel.
The Russian navy did not respond to reporters' requests for comment, according to Radio Free Europe/Radio Liberty's Russian service.
During fighting in Mariupol on March 22, Ukrainian forces killed Maj. Gen. Oleg Mityayev, according to Anton Gerashchenko, an advisor to Ukraine's Interior Ministry.
Mityayev commanded the 150th Motorised Rifle Division and had previously fought in Syria, Gerashchenko said on Telegram.
There are conflicting reports about at least one other pro-Putin general reportedly killed in Ukraine.
Maj. Gen. Magomed Tushayev of the Russian National Guard (Rosgvardia) was killed in fighting outside Kyiv on February 26, Ukrainian officials reported.
However, Chechen leader Ramzan Kadyrov has insisted that Tushayev is alive, saying he took part in a meeting on March 23 and posting a video of a man purported to be him speaking on March 13, according to AFP.
The contrast between reality and what is presented by the Kremlin about the war in Ukraine has prompted many in Central Asia to turn off Russian media outlets.
'Demoralised' Russian army
All of these high-ranking officers were at the front, which analysts say is a basic tactical mistake.
"This is an organisational failure of the command-and-control system," Ihor Romanenko, a military analyst and former deputy chief of the Ukrainian general staff, told Caravanserai.
The death rate among Russian generals and senior military figures is "extraordinary", said Mykhaylo Podoliak, an adviser to Zelenskyy, according to AFP.
"This is a sign of total unpreparedness of the army," he said on Telegram. "All this, no doubt, demoralises the Russian army -- it realises that its top leadership is completely incompetent."
The weaknesses shown by the Russian army in Ukraine -- in particular in intelligence, logistics and tactical errors -- have forced military chiefs to go to the frontlines, said a senior French military official who asked not to be named.
"Orders may not have been well understood or received, units could be disobedient, or there is a major problem with morale," the official told AFP in March. "All this could make the generals go to the front."
The Ukrainian intelligence service has a special operations unit dedicated to hunting down Russian military commanders, the Wall Street Journal reported March 16, citing a source close to Ukrainian President Volodymyr Zelenskyy's office.
The unit's task appears to have been eased by the Russian army using easily intercepted communication tools and obvious strategies, analysts say.
"The fact that they are losing any generals at all demonstrates that Russian command-and-control is extremely weak and its lines of communication have been severed by Ukrainian military success," Colin Clarke, a senior research fellow at the Soufan Centre, a New York-based think-tank, told AFP.
The Russian units "do not pay attention to computer security procedures and are easily intercepted," Alexander Grinberg, analyst at the Jerusalem Institute for Security and Strategy, told AFP.
Moreover, on the battlefield, commanders have been identifiable by the naked eye because of vehicles recognisable by "antennas and other vehicles that protect it", he said.
In the long term, such losses will have very negative repercussions for the whole army, said Rukkas, the professor in Kyiv.
"One thing I can say is that with commanders everywhere, the reserve bench is very short," he said.
A series of critical errors
The Russian military leadership made a series of critical errors from the very beginning, according to Romanenko, the Ukrainian military analyst. The main ones were underestimating the adversary and overestimating its own forces.
Now the Kremlin wants to figure out what is amiss, he said.
"Putin is now determining what went wrong [in the invasion], and he's setting new goals," Romanenko said. "Consequently ... the commanders are moving closer to the front in order to get a grasp on what the problems are, where and why the troops are fighting so poorly, and that's when they become a target for the Ukrainian forces."
Because morale is low among the Russian troops, Rukkas said, the generals need to serve as an example and show the soldiers how to attack.
He gave the example of Col. Sergei Porokhnya, commander of the 12th Independent Guards Engineering Brigade, who was killed near Izyum.
He died while setting up a pontoon bridge, the Russian news site Veteran Bashkortostana reported March 14.
"You need to analyse this more deeply," Rukkas said. "The commander of the brigade is personally installing a bridge. What does that say? That without him the soldiers wouldn't have managed. That means that their troops are in a terrible state -- both psychologically and professionally."
Aside from the commanders killed, there have been considerable losses among officers who are engaged in political work and efforts to encourage troops to move forward.
Tensions are high, Rukkas said, and some of those political officers may have even been killed by their own soldiers.
"They may have taken down the most active ones -- after all, the task of the political officers is to prod the soldiers," he said. "But we're talking about real people, everyone is afraid, and no one wants to go into combat and die."