BEIJING -- More than a month after Russia's invasion of Ukraine, the war appears to be testing the limits of Beijing's support for Moscow both politically and militarily.
Despite urging from Ukraine and the international community, Beijing has refused to condemn the war or to criticise Russian President Vladimir Putin and the Kremlin's policies.
Instead China echoes Russia's talking points in blaming American meddling and NATO expansion for setting the stage for a conflict.
But recent reports of civilian deaths in the Ukrainian town of Bucha -- which Kyiv has described as "genocide" carried out by Russia -- is testing Beijing's "rock solid" friendship with Moscow.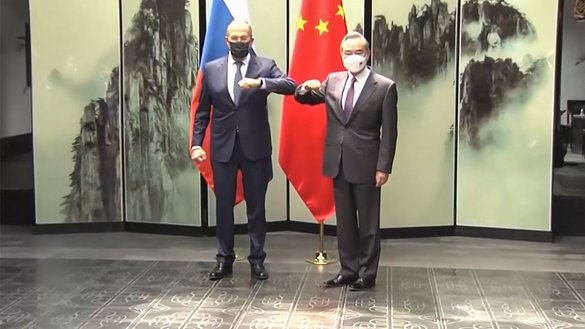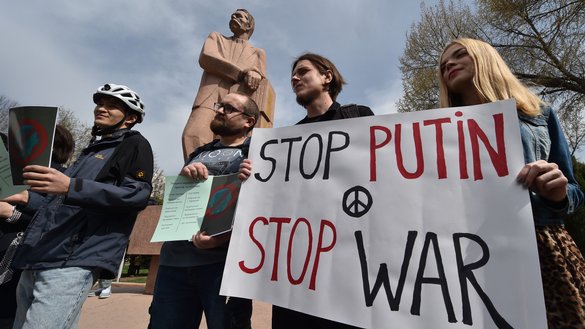 The Ukrainian army retook control of the key commuter town outside Kyiv just a few days ago and said it had found dozens of bodies after Russian forces pulled out.
When asked about the reported discovery of dozens of bodies in mass graves or on the streets in Bucha over the weekend, Chinese Foreign Ministry spokesman Zhao Lijian called the reports "deeply disturbing".
However, he told reporters Wednesday (April 6) at a news briefing, "accusations should be based on facts" as any humanitarian situation should not be "politicised".
China has so far provided humanitarian aid worth about $2.3 million to Ukraine, an amount dwarfed by the contributions of many other countries.
'International pariah'
The reported Bucha massacre has sparked global outrage and prompted the United Nations (UN) General Assembly vote Thursday to suspend Russia from the UN Human Rights Council.
The expulsion confirmed Moscow as an "international pariah", US President Joe Biden said in a searing statement that addressed what he called "horrifying" images from Ukrainian towns like Bucha.
"Russia's lies are no match for the undeniable evidence of what is happening in Ukraine," he said.
"The signs of people being raped, tortured, executed -- in some cases having their bodies desecrated -- are an outrage to our common humanity."
The Kremlin has denied the killings and claimed the images emerging from Bucha are fakes produced by Ukraine -- accusing Ukraine of a tactic used by Russia in the lead-up to the invasion.
Of the 193 members of the General Assembly, 93 voted to suspend Russia from the Human Rights Council.
China was one of only 24 countries to vote no. Others included every Central Asian country except Turkmenistan, Belarus, Cuba, Iran, Syria and Russia itself. Fifty-eight abstained. The remainder, including Turkmenistan, did not participate.
Ukrainian President Volodymyr Zelenskyy also called for Russia to be expelled from the UN Security Council "so it cannot block decisions about its own aggression, its own war".
Moscow and Beijing have often teamed up on the Security Council to support each other and to veto resolutions denouncing Russian atrocities in the Syrian war or China's aggression towards its neighbours.
No limits?
Although the relationship is likely to remain strong, Beijing is treading carefully to protect its diplomatic relationships, analysts say.
Last week, Russian Foreign Minister Sergey Lavrov visited China for a series of discussions.
Before conferring with Chinese Foreign Minister Wang Yi, Lavrov painted a picture of a new world order led by Russia and China.
"We, together with you, and with our sympathisers will move towards a multipolar, just, democratic world order," he said March 30 in a video released by the Russian Foreign Ministry.
"China-Russia co-operation has no limits," Chinese Foreign Ministry spokesman Wang Wenbin told reporters earlier, repeating a line used by Putin and Chinese leader Xi Jinping to characterise ties.
"Our striving for peace has no limits, our upholding of security has no limits, our opposition towards hegemony has no limits," he said.
Meanwhile, on Monday Ukrainian Foreign Minister Dmytro Kuleba spoke on the phone with Wang Yi in the first reported high-level talks between the two nations since March 1.
During the call with Kuleba, which Beijing said was made at Kyiv's request, Wang said China's "basic attitude towards the Ukraine issue is to promote peace talks", according to the Chinese Foreign Ministry.
"The key is how to learn from this painful experience to properly uphold lasting security in Europe," he said.
There is mounting evidence that the Chinese regime learned in advance of Russia's plan to invade Ukraine but cared only about not having it happen during the Beijing Winter Olympics.
The Games concluded February 20, and Russian forces invaded Ukraine February 24.
'China is not a friend'
Kyiv is disappointed by the lack of support from Beijing during the invasion, given Ukraine's history of building China's military, analysts say.
Ukraine has for years supplied China with critical military technology, including China's first aircraft carrier, technology for its naval antimissile radar and advanced jet engines, the Washington Post reported March 9.
"China would not have even a single operational aircraft carrier in service today, if not for that help," said Sarah Kirchberger, head of the Centre for Asia-Pacific Strategy and Security at Germany's Kiel University.
While there were still hopes that Beijing might pressure Moscow to broker a ceasefire, Kyiv's "level of trust is much lower" after the public pact between Putin and Xi ahead of the Winter Olympics in February.
"There was this expectation that if we had Chinese enterprises and Chinese investment in Ukraine, that would prevent Russia from escalating," said Sergiy Gerasymchuk, the deputy director of the Ukrainian Prism Foreign Policy Council, a think-tank in Ukraine.
However, Ukraine has been shifting away from China in recent years, according to Yuri Poyta of the Asia-Pacific section at the Centre for Army, Conversion and Disarmament Studies in Ukraine.
"Now Ukraine can observe who is a real friend in this very critical situation," he said. "And we can assess that China is not a friend. It's not an enemy but not a friend. It's somewhere in between."
'Reputational damage'
China's closeness to Russia has triggered fears that Beijing could be willing to help the Kremlin dodge sanctions or even supply weapons to it.
For decades China primarily purchased arms from Russia, but with rapid recent advances in Chinese military technology and increasing sanctions on Russia, the Kremlin may turn to Beijing for help.
Shortly after the start of the war, Russia asked China for military aid, according to US officials.
Both Moscow and Beijing deny the reports.
But China could aid the Russian invasion by providing basic supplies, ammunition, communications equipment and light weaponry, military analysts say.
Top European Union officials last Friday warned Xi against backing Russia and pushed Beijing to use its diplomatic clout to end the war.
"China has an influence on Russia and therefore we expect China to take its responsibility to end this war and that Russia comes back to a peaceful negotiations solution," said European Commission chief Ursula von der Leyen.
"No European citizen would understand any support to Russia's ability to wage war," she said. "Moreover, it would lead to a major reputational damage for China here in Europe."
Remarkably, in Central Asia, which is dependent still in many ways on Russia, governments and ordinary citizens have been distancing themselves from both Russia and China -- making clear their support for the Ukrainian people and their preference for trade and security ties with Europe or the United States.
The invasion is prompting calls in Kazakhstan for the nation to leave the Moscow-led Eurasian Economic Union (EEU or EAEU).
The Kazakh government permitted a large pro-Ukrainian demonstration in Almaty in early March.
In mid-March, the Uzbek government made clear that it recognises Ukraine's independence, sovereignty and territorial integrity and is committed to finding a peaceful solution to the conflict.