ALMATY -- Citizens and officials of countries once friendly to Russia are increasingly turning against Moscow amid Russian Vladimir Putin's invasion of Ukraine.
The president of Belarus, Russia's main ally in the invasion, on Thursday (April 7) called for Minsk's inclusion in peace talks aimed at ending the "war" in Ukraine, using a term banned by Moscow.
The Kremlin refers to its "special military operation" in Ukraine and insists that the public and media do the same. Using the words "war" or "invasion" in Russia can incur heavy penalties.
Yet Belarusian President Alyaksandr Lukashenka repeatedly chose to use the word "war" Thursday at a meeting with security officials.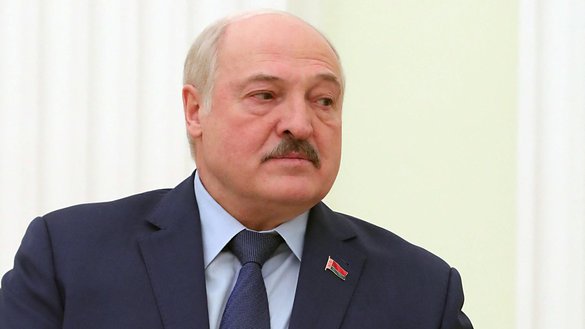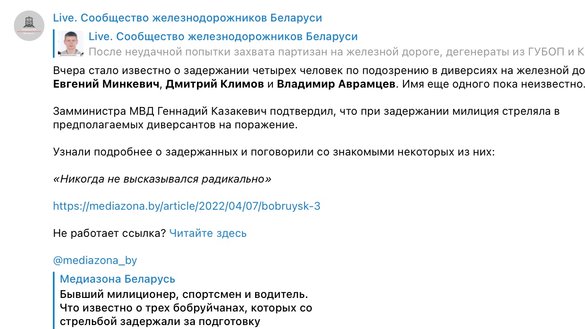 Minsk is not a participant in rounds of peace talks between delegations from Kyiv and Moscow, which have taken place in Belarus and Turkey, Lukashenka lamented.
Belarus has hosted -- but not participated in -- three rounds of peace talks close to the border with Ukraine. It also has allowed Russian troops to use the country as a rear base.
Belarusian citizens are also showing resistance to Moscow's invasion.
Belarusian police last Wednesday said they had arrested four men suspected of sabotaging railway equipment in the country, impeding the delivery of Russian troops and supplies to Ukraine.
The men had damaged and set fire to electric relay boxes and signal boxes near Osipovichi, southeast of Minsk, and also had a device designed to derail a train.
A fourth man was detained April 1 for a "similar crime" in the Borisov region northeast of Minsk.
Belarusian state media reported in late March that a Telegram channel called "Live. Community of railway workers of Belarus", which the Belarusian regime has declared extremist, had posted instructions on destroying railway infrastructure.
'We call it what it is'
Meanwhile in Kazakhstan, another country with close ties to Russia, officials now say they longer want their country's fate to be tied to Moscow.
In late March, Timur Suleimenov, first deputy chief of staff to Kazakh President Kassym-Jomart Tokayev, visited Brussels and met with European Union (EU) officials to discuss the current crisis, sanctions against Russia and their potential consequences for the Kazakh economy.
"[The purpose of the visit was] to demonstrate to our European partners that Kazakhstan will not be a tool to circumvent the sanctions on Russia by the US and the EU. We are going to abide by the sanctions," Suleimenov said March 29 in an interview with EurActiv, a pan-European news publication.
Although Kazakhstan is a member of the Moscow-led Eurasian Economic Union (EEU or EAEU), it also belongs to the international community, said Suleimenov.
As a result, Nur-Sultan is interested in expanding its co-operation with the EU, he added.
Suleimenov acknowledged that Kazakhstan will continue trading with Russia because the economies of the two countries are closely intertwined.
"But we will do our best to control the sanctioned goods," he said. "We will do our best to control any investment from a sanctioned person or entity in Kazakhstan."
Although the Russian authorities have prohibited the use of the word "war" in Russia, he added, "in Kazakhstan, we call it what it is".
On the right side of history
"Of course, Russia wanted us to be more on its side," Suleimenov said. "But Kazakhstan respects the territorial integrity of Ukraine. We did not recognise and will not recognise the Crimea situation [or] the Donbas situation because the [United Nations] does not recognise them."
Kazakhstan does not want to tie its fate to Russia and Belarus and would rather expand its co-operation with European countries and the EU as a whole, he added.
Kazakhstan "is the most westernised country in Central Asia" because Kazakhstan and the West have many values in common, he said.
"The reforms that the president has put forward are pro-European, pro-democratic and hopefully, in three to five years, you will find much more resemblance between us and countries like the Netherlands, France, Poland or other countries of the EU than with authoritarian Asia," Suleimenov said.
Kazakhstan is not willing to suffer isolation for supporting Russia, Kazakh Deputy Foreign Minister Roman Vassilenko also told German publication Die Welt on March 28.
"If a new iron curtain falls, we don't want to end up behind it," he said, referring to the line that divided Eastern and Western Europe during the Cold War.
Kazakhstan plans to implement democratic reforms in order to avoid returning to the Cold War-era political system, he said, while urging Western investors to move their businesses from Russia to Kazakhstan.
'We need to oppose fascism'
Kazakhstan's stance has unsurprisingly drawn the ire of Russian commentators.
In a March 31 interview with the pro-Kremlin news agency Regnum, Mikhail Alexandrov, lead analyst at the Centre for Military and Political Studies at MGIMO University in Moscow, accused Kazakhstan of being an unreliable ally with two-faced leaders.
Russia should re-examine its relationship with Kazakhstan, he said.
The next day, the propaganda newspaper Moskovsky Komsomolets published a sharp critique of Kazakhstan by Vladimir Yevseyev, a military analyst at the Institute of CIS Countries.
In January, Moscow "saved Kazakhstan from a colour revolution", which he falsely accused the United States and Great Britain of instigating.
"If in the future Kazakhstan continues to play at its 'multi-vector' foreign policy, as it did under [former Kazakh President Nursultan] Nazarbayev, it could make the wrong bet," Yevseyev wrote.
However, the position Kazakh leaders have voiced is the correct one, say observers.
"Being lumped in with Putin's government, which is carrying out genocide in Ukraine, is indeed a big risk," said Arman Shorayev, former manager of Khabar and KTK, Kazakhstan's two largest television channels.
"We need to oppose fascism, not be connected with it, and we need to stand with the global community."
To avoid the risk of being hit with sanctions, Kazakhstan needs to leave the EEU because membership does not benefit it in any way, he added.
Striving for the future
Kazakhstan is being driven by pragmatism, according to Urazgali Selteyev, a Nur-Sultan resident and director of the Institute for Eurasian Integration.
"It's all very simple: while Russia is engaged in politics and propaganda, we need to focus on economic objectives and increase trade with countries that Kazakhstan benefits from co-operating with," he said.
Members of the Kazakh business community agree.
Kazakhstan needs to set its priorities correctly and concentrate on developing promising industries, such as information technology, in partnership with Western giants, said Kaisar Isenov, a young entrepreneur and start-up creator from Nur-Sultan who operates from the Astana Hub international technology park.
"It's time to stop tying ourselves to the ill-fated Russian economy, which depends on oil and gas exports,"he said.
"We need to strive for the future -- we have to learn from the experience and expertise of technologically advanced countries, create innovative ventures and diversify our economy."