KYIV -- Hundreds of Belarusians and Russians are betting that Ukraine will come out victorious as it battles invading Russian forces -- and that the victory will spell freedom from Kremlin oppression at home as well.
Hundreds of volunteers from Belarus are fighting in Ukraine as part of a dedicated Belarusian battalion and in other Ukrainian military units, according to Vadim Kabanchuk, deputy commander of the Kastus Kalinouski battalion, the largest pro-Ukraine Belarusian fighting force.
"Several thousand more have applied to join us through our online recruitment tool," he told Voice of America (VOA) by phone March 29.
The battalion -- named after a Belarusian revolutionary who led an uprising against Russian occupation in the 1860s -- began forming in Kyiv shortly after Russian President Vladimir Putin ordered troops to invade Ukraine on February 24.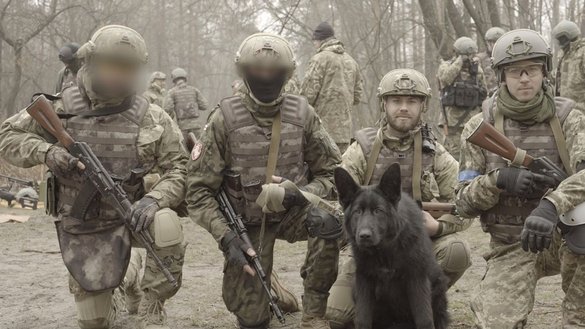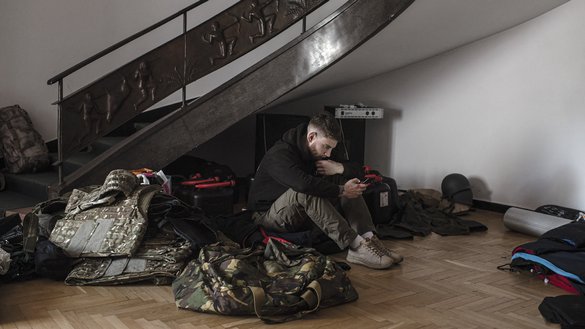 Most Belarusians who volunteer to fight for Ukraine are driven by the belief that Kyiv's struggle is a step towards freeing Belarus from Russian imperialism, said Pavel Slunkin, an analyst at the European Council on Foreign Relations and a former Belarusian Foreign Ministry official.
"They include bloggers, journalists, IT [information technology] specialists, factory workers. All kinds of professions. And they want to see Belarus as a democratic state," he told VOA.
Another benefit is that under Ukrainian law, foreigners who join its military are eligible for citizenship.
Kabanchuk said he is one of several members of the battalion who have been fighting in Ukraine since Russia's annexation of Crimea in 2014.
Although thousands apply to be a part of the Kalinouski battalion, a vetting process is aimed at weeding out potential security threats or infiltrators loyal to Belarusian strongman and Putin ally Alyaksandr Lukashenka.
"Many of the thousands who applied will be rejected after in-person interviews at the Belarusian recruitment centre in the Polish capital, Warsaw, which acts as a first-stage filtration hub for potential fighters," Kabanchuk said. "Others will be rejected as unsuitable after they arrive to the battalion bases."
The Kalinouski battalion publicises its activities on Telegram at @belwarriors.
On March 9 it announced the adoption of the Kalinouski name, and on March 25 the battalion swore an oath of allegiance to Belarus and Ukraine in a video posted to the channel.
In another video posted March 29, it announced it had a new status as part of the Ukrainian military, with members of the battalion holding green booklets that resemble Ukrainian military IDs.
There has been no confirmation of the announcement on websites run by the Ukrainian government and military, but analysts say it is credible.
The Kalinouski battalion is the biggest and "perhaps best organised" of the Belarusian groups fighting for Ukraine, said Franak Viacorka, a senior adviser to exiled Belarusian opposition leader Svyatlana Tsikhanouskaya.
"As of now, they will be fighting not only in one place, not only in defence of Kyiv but all over Ukraine," Viacorka told VOA.
Next stop: Belarus
Other smaller groups of Belarusian fighters also are active in Ukraine.
Tsikhanouskaya on March 31 tweeted a photograph of "a newly formed Belarusian military unit, regiment Pahonia, a part of the [Ukrainian] Armed Forces".
Besides helping Ukraine, Pahonia "aims to set a base for the new professional Belarusian army" in a post-Lukashenka era, Viacorka tweeted March 30.
Shortly after Russia's invasion, Ukrainian President Volodymyr Zelenskyy invited foreign volunteers to join the newly created International Legion.
Pahonia is part of this International Legion, while the Kalinouski battalion is not.
Many members of the Belarusian units fled to Ukraine or other friendly countries in 2020 after Lukashenka violently cracked down on protesters in the wake of widely disputed presidential polls in August that year.
Serhiy Bespalov, a journalist and blogger, fled Belarus after several of his friends were arrested, the Wall Street Journal (WSJ) reported April 7.
"I was pretty likely to be a target," he said.
Bespalov runs several Telegram channels and had no prior military experience. But now he plays a role in drawing new recruits to the Kalinouski battalion.
"As soon as we liberate Ukraine, we will go to liberate Minsk," he said.
Pavel Kulazhanka is another Belarusian who arrived in Kyiv several weeks ago and joined the Kalinouski battalion, hoping for a permanent path out of Putin's reach.
"Without an independent Ukraine, there won't be an independent Belarus," he told the WSJ. "This is the first stop; the second stop is going to be Belarus."
"The very existence of Belarus is under threat now," Viacorka said in the same WSJ report. "When Putin says that Ukrainian statehood shouldn't exist, he means the same about Belarus."
"The fact that Russia's army renounced the idea of seizing Kyiv is also the merit of those Belarusians who made the siege of Kyiv too costly and made the Russian rear insecure," he said.
The battalion engaged in several fierce battles to defend Kyiv -- which Putin expected to fall rapidly but which stayed in Ukraine's hands after about seven weeks of fighting.
Three Kalinouski members have been killed so far, said Kulazhanka.
Russians turn against Putin
The International Legion also has at least one unit of Russians fighting for Ukraine.
In a news conference in Kyiv last week, three members of the Freedom for Russia unit, wearing black balaclavas, said that the Russian army sent them to Ukraine but that they switched sides after being taken prisoner.
"This legion has been created to fight Putin's regime," said a former Russian special forces sergeant, who accused the regime of tricking Russians into attacking Ukraine.
The men declined to provide details about their service with Russian forces or their current roles with the Ukrainian military. They also declined to say how many members the Freedom for Russia group has.
Thousands of Russians are willing to fight Putin's regime, said former Russian lawmaker Ilya Ponomarev, who now lives in Kyiv.
"I know thousands and thousands of people in Russia who desire to fight in this war against Putin's army," he told the WSJ. "They don't want to kill fellow Russians, but they want to kill Putinists, who have become just the same as the fascists of 80 years ago."
Russian soldiers willing to fight for Ukraine are akin to anti-Nazi Germans joining the Allies in World War II, said Ponomarev, who was the only Russian lawmaker to vote against the annexation of Crimea in 2014.
While the Russians fighting for Ukraine's freedom today may not be a large military force, they are politically significant, said Marat Gelman, a Russian art collector and former deputy director of Russia's state-run Channel One TV.
"Once it becomes known how the citizens of Russia helped Ukraine repel this aggressor, it will facilitate dialogue between Russians and Ukrainians in the future," he told the WSJ. "And these people could become intermediaries."
Self-preservation
While Lukashenka has derided the Belarusians fighting for Ukraine, calling them "crazy" and money-driven, he also recently showed signs of rebellion when he called for Minsk's inclusion in peace talks aimed at ending the "war" in Ukraine -- using a term banned by Moscow.
Although Belarus hosted thousands of Russian troops before they poured into Ukraine, Lukashenka has avoided sending his own troops to join Russia's invasion -- a move some say is aimed at political self-preservation.
The Belarusian population is deeply opposed to the war, and local activists have impeded Russian deliveries of troops and supplies by sabotaging railway equipment in Belarus.
If Lukashenka were to send troops into Ukraine, he faces a great risk that some Belarusian forces would surrender and others would turn against him, said Kabanchuk.
"He understands very well that sending troops into Ukraine will speed up the fall of his regime," he said.
Lukashenka reluctance comes as other allies -- including those in Central Asia -- distance themselves from Moscow.
"Of course, Russia wanted us to be more on its side," Timur Suleimenov, first deputy chief of staff to Kazakh President Kassym-Jomart Tokayev, said in late March.
"But Kazakhstan respects the territorial integrity of Ukraine. We did not recognise and will not recognise the Crimea situation [or] the Donbas situation because the [United Nations] does not recognise them."
Although the Russian authorities have prohibited the use of the word "war" in Russia, he added, "in Kazakhstan, we call it what it is".
Uzbekistan has also signalled its support for Ukraine, with analysts warning that Central Asia could be next in Russia's sights.