MOSCOW -- The domestic reality facing ordinary Russians today following their government's invasion of Ukraine has echoes of the dark Stalin years, when not falling into line with official narrative could bring catastrophe.
Opponents of the war are being turned in by children and threatened by politicians and unidentified individuals.
At least four Russian schoolteachers have been "recently turned in by students or parents for antiwar speech", the Washington Post reported Sunday (April 10).
For example, teacher Irina Gen denounced the invasion in her classroom in Penza, but her pupils recorded her remarks, which law enforcement heard.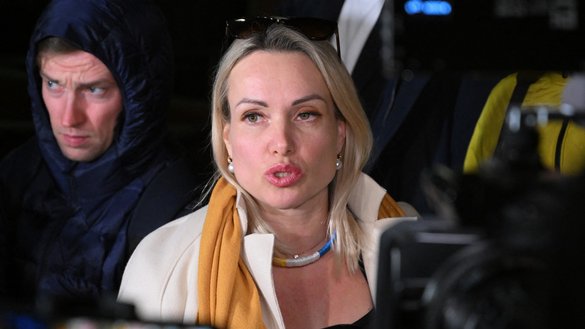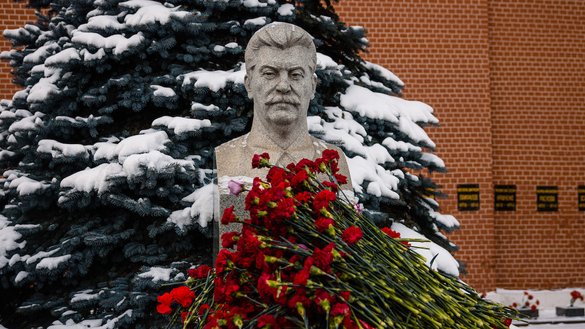 She resigned under pressure in April.
Encouraging children to betray adults was a trademark of Joseph Stalin's regime, which glorified a boy named Pavlik Morozov who, according to legend, turned in his parents for hoarding grain in the 1930s. Other adults in the village supposedly killed him.
Meanwhile, on Monday, the speaker of Russia's lower house of parliament demanded that "traitors" opposed to the war in Ukraine lose their citizenship.
"The vast majority of our citizens supports the 'special military operation' in Ukraine; they understand its need for the security of our country and our people. But there are also those who behave with cowardice, with treachery," said Duma speaker Vyacheslav Volodin.
"Unfortunately, for such 'citizens of Russia', there is no procedure for revoking citizenship and preventing them from entering our country," he said on his Telegram channel.
To illustrate his point, Volodin cited the case of journalist Marina Ovsyannikova, who gained fame in mid-March by holding up a sign saying "No to war" live on television.
Ovsyannikova, who left her job with the Russian public television channel Pervyi Kanal, has become a correspondent in Ukraine and Russia for the German daily Die Welt.
"Now she will work for a NATO country and justify arms deliveries to Ukrainian neo-Nazis and the dispatching of foreign mercenaries to fight our soldiers ... And she'll defend sanctions against Russia," Volodin said.
Volodin's statements illustrate the increasingly hostile climate in Russia confronting any voice opposed to Moscow's invasion of Ukraine, under way since February 24.
The Russian intervention has been accompanied by an all-out crackdown in Russia, with thousands of protesters arrested, as well as the closure of NGOs, independent media and several social networks.
After Russian President Vladimir Putin sent troops to Ukraine, Russian authorities introduced legislation to stop individuals from "discrediting" the army or disseminating "false information" about troops.
That supposed crime is now punishable by up to 15 years in prison.
The Kremlin also insists that the public and media call the invasion a "special military operation". Using the words "war" or "invasion" in Russia can incur heavy penalties.
In the latest sign of the crackdown, Vladimir Kara-Murza, one of the main opponents of the Kremlin and its offensive in Ukraine still living in Russia, was sentenced on Tuesday to 15 days in jail for "disobeying police orders".
"Obviously this is connected to politics. There is an objective to put him behind bars," his lawyer said.
Kara-Murza, 40, is a former journalist close to opposition leader Boris Nemtsov, who was assassinated near the Kremlin in 2015, and Mikhail Khodorkovsky, a former oligarch turned critic of Putin.
Disgusted by the oppressive climate in Russia, fearing arrest or conscription, thousands of Russians have fled abroad since the war began.
Information technology (IT) workers, a category whom the Kremlin desperately wants to retain, are finding hospitable new homes in Uzbekistan and in Kazakhstan, as well as elsewhere.
'Traitors and collaborators'
Opponents of the invasion have been demonised, and critics have seen the doors of their apartments smeared with threatening messages.
"In the last several weeks, a list of 'traitors and enemies' has cropped up online, published by the Committee for the Protection of National Interests," the Washington Post reported Sunday, calling the committee "a shadowy group".
Opposition activist Ilya Pakhomov came home late last month to find his Moscow flat's front door daubed with graffiti and a sticker calling him a "collaborator" for opposing Russia's military action in Ukraine.
Pakhomov posted on Twitter a photograph of his front door with the white painted letter Z, used to symbolise support for the invasion of Ukraine.
Also pasted on the door was a sign with his photograph, calling him a "collaborator" and accusing him of public acts aimed at discrediting the armed forces, now a criminal offence.
"Don't sell your motherland," it warned Pakhomov, a supporter of jailed Kremlin foe Alexei Navalny.
"I've seen this kind of thing on social networks; it's clearly a protest organised 'from above'," Pakhomov tweeted March 30.
He added that he was reporting the incident to police but had little hope of a probe.
"I don't see myself as a traitor or collaborator," he stressed. "The traitors are the people who do this crap."
Similar attacks have struck the apartments of several opposition figures.
On March 31, another Moscow activist, Lucy Shtein, tweeted a photo of a similar "collaborator" notice on her front door, adding wryly, "Ok then, whatever you say."
The former editor-in-chief of the Ekho Moskvy radio station, Alexei Venediktov, in March wrote on Telegram March 24 that a pig's head dressed in a wig had been dumped by his front door, while a sticker on the door showed the Ukrainian national symbol of a trident with the word Judensau, an anti-Semitic term.
Ekho Moskvy, which aired opposition views, has shut down over the new law banning spreading "deliberately false information" about the conflict.
A few days earlier, Oleg Orlov, a senior campaigner at the banned Memorial rights group, had his front door tagged "Z" and his photo pasted on with the word "collaborator".
The vandalism occurred while he was attending a court hearing for a solo protest against Putin's military action.
Film critic Anton Dolin wrote on Facebook that his door was also daubed "Z" on the day he left the country, March 6.
'Purification'
The Ukraine offensive will expose "traitors" inside Russia, Putin spokesman Dmitry Peskov said in mid-March.
"In such difficult times ... many people show themselves as traitors ... They vanish from our lives on their own. Some leave their posts; some leave the country. That is how this purification is happening," he said, referring to the thousands of Russians who have fled the country since the military offensive against Ukraine began.
A day earlier, Putin passionately defended his tactics in Ukraine, while railing against what he called a "fifth column and ... traitors" who were "mentally" in the West.
"The Russian people will always be able to distinguish true patriots from scum and traitors and simply spit them out like a gnat that accidentally flew into their mouths," he said.
"I am convinced that this natural and necessary self-purification of society will only strengthen our country."