KYIV -- Svitlana sits in a waiting room at Kyiv's main railway station as she awaits an evacuation train after fleeing her hometown of Chernihiv.
Having arrived April 1 with her two sons, she is among thousands of Ukrainian refugees who have passed through the station -- a hub for those fleeing from the east.
The family has with them just two small backpacks -- only the bare necessities -- as they head to Germany, where Svitlana has relatives.
Volunteers at the station gave Svitlana and her sons food, and doctors provided free examinations.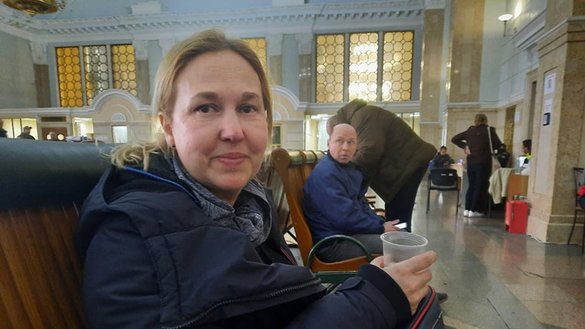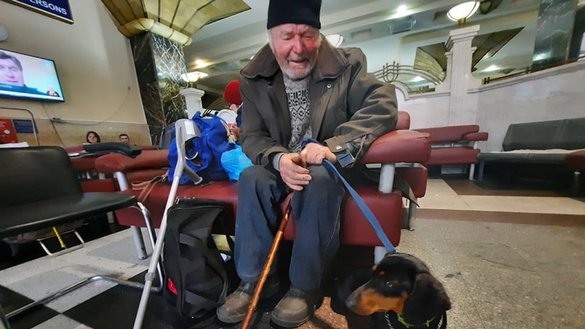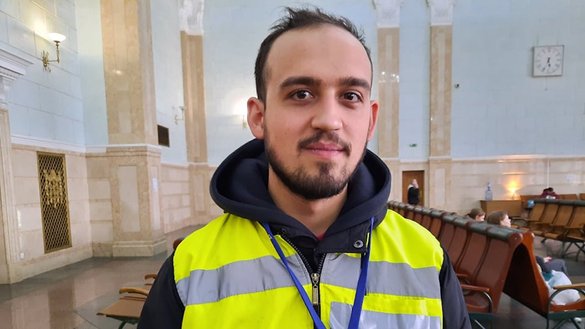 Living through 'pure hell'
Chernihiv had been under fire and surrounded by Russian forces for the past five weeks, Svitlana told Caravanserai.
"We spent five weeks in the basement. We slept on the floor. The shelling didn't stop for a single day," she said.
"So far, about half the population of Chernihiv has fled," she said. "But the elderly and the sick are still there. There are a lot of wounded people ... but it's impossible to give them adequate medical help because there aren't enough generators for everyone."
"It's pure hell," she said.
Russian troops destroyed all the bridges out of the city.
"We were taken across the river by boat. That's the only way you can escape ... There was a bus waiting for us on the other side," Svitlana said.
Chernihiv residents "are organising things on their own and leaving in small groups," she said. "There are no [humanitarian] corridors, and it won't be possible to create any. No one promised us that we'd be able to get here alive."
"The Russians aren't letting people leave," she said. "They're shooting up vehicles that are carrying civilians. As soon as we got on the bus, they also started shooting at us."
"If we had lingered for even a second, we wouldn't be alive right now."
Svitlana's husband, a police officer, remained behind to fight and help those in need.
As she fled to Kyiv, Svitlana received a call from her husband who told her that her mother had died.
"She knew what a big risk my children and I were taking, and her heart gave out," she said. "I can't bury her. I can't say goodbye to my own mother. She stayed in Chernihiv, but we have no way back."
Forced to flee
The United Nations (UN) High Commissioner for Refugees Wednesday (April 13) said that 4,656,509 Ukrainians had fled since Russia invaded on February 24 -- an increase of 40,679 since Tuesday's update.
Women and children account for 90% of those who have left Ukraine, with men aged 18 to 60 eligible for military call-up and unable to leave.
The UN's International Organisation for Migration (IOM) estimates that 7.1 million residents have fled their homes but are still in Ukraine.
In addition to Ukrainian refugees, more than 210,000 non-Ukrainians living, studying or working in the country have also left, according to the IOM.
With more than a quarter of the population having been forced to flee their homes, volunteers and international aid -- including from Central Asian countries such as Kazakhstan and Uzbekistan -- have been vital.
At Kyiv's main train station, 15 evacuation trains run daily to bring refugees to western Ukraine and Poland.
More than 100,000 refugees have passed through the station, most of them from Chernihiv and Kyiv provinces, including Bucha, Hostomel, Borodyanka and Irpin, which saw ferocious combat when the war broke out.
Oleksandr Mikhailovich, a 60-year resident of Irpin, did not want to leave his home until the very last minute.
"I built my house with my own hands. I laid every brick ... All I had left was my house and my dog, Nona," said Oleksandr, 81, as he sat surrounded by old suitcases and his dog on a leash.
"Now in my old age the Russian soldiers have driven us out of our home," he told Caravanserai. "No one was left on my street. Everyone had gone."
Oleksandr said some volunteers came to his house, put him on a stretcher and brought him to the train station by car.
"They warmed me up and gave me plenty to eat," he said.
"I wasn't expecting to meet people helping like that -- with all their heart and soul," said Oleksandr, who added that he was headed to Khmelnytskyi to stay with one of his sons.
Helping others
Volunteers at the train station have scrambled to help evacuees since the start of the war.
Doctors and psychologists are also on-call at the station, and accommodations have been made for those with disabilities as well as for mothers and children.
Ruslan, 24, has been volunteering at the train station since the early days of the war.
The influx was much larger in the first 10 days, and the 15 trains that left the station each day were packed, he told Caravanserai.
"Early on, people abandoned their suitcases on the platform because there was no room for them on the trains," he said. "Mothers and their children were willing to ride 12 hours on the platform of the car as long as they could flee."
Russian forces have largely given up on seizing Kyiv, and have instead turned their sights to the south and east of the country, in particular the Donbas region.
Ruslan recalled one night when a hospital was evacuated from Chernihiv.
"It was 11 o'clock at night. Twenty buses and 15 ambulances came to the Kyiv train station," he said. "The [passengers] had been riding for a very long time -- 12 hours. To hide from the shelling, the convoy had taken a roundabout route along rural roads."
"I can remember four newborn babies. They'd come without their parents. The parents had either died or disappeared. A nurse was accompanying the kids," said Ruslan.
Doctors examined the mothers and children that arrived and sent those who needed serious medical assistance to a hospital in Cherkasy, he said.
Many of the children "had fluid in the lungs and inflammation", he said. "A lot of them needed blood transfusions."
"A special train to Lviv was scheduled in the morning for the others," he added.
"They say that in the modern world, people are unfeeling and stingy," Ruslan said. "The war has shown that isn't the case."
"In Ukraine so many are ready to share their last possessions in order to help. We see this every day."