ALMATY -- The collapse of the Russian economy since February has spelled catastrophe for millions of Central Asian migrants working in Russia as they are losing their jobs and facing even greater discrimination than before.
Hundreds of global companies have suspended their activities in Russia or have left altogether since President Vladimir Putin ordered the invasion of Ukraine February 24, leaving empty workplaces and idle employees behind.
Russian officials are scrambling to create jobs, but priority is being given to unemployed Russians, leaving migrant workers without a source of income and in some cases no means to return home.
"According to our estimates, about 200,000 people are at risk of losing their jobs," Moscow Mayor Sergei Sobyanin said in a blog post Monday (April 18).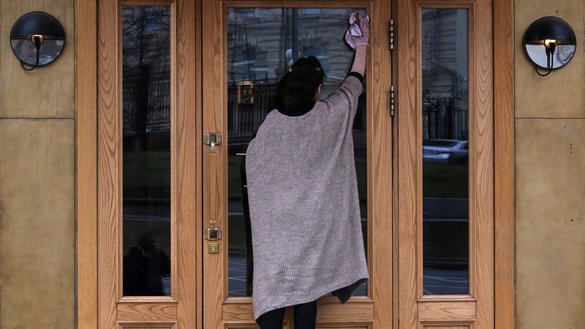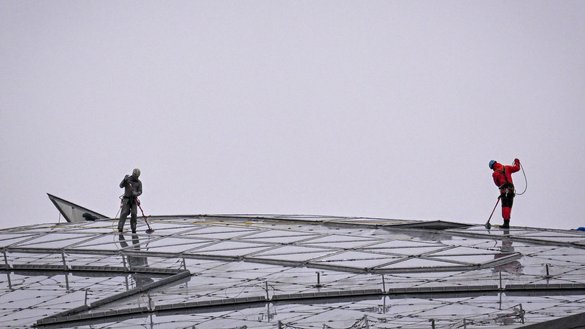 Moscow residents in between jobs will be offered the chance to get involved in public works in a number of city organisations, parks and elsewhere, he said, adding that some of the jobs will be temporary.
Given the exodus of companies in the finance and technology industries, those job seekers could include bankers, software engineers and other white-collar workers not used to migrants' traditional jobs in Russia.
'Tough times are ahead'
The full impact of sanctions and of the exodus of companies from Russia in protest of the war is still to come, economists say.
"Following Russia's invasion of Ukraine, the Russian economy has plunged into a deep recession, with output projected to contract 11.2% in 2022," the World Bank reported earlier this month.
The challenges -- unemployment, income losses, the ruble's depreciation, supply disruptions, difficulty in banking and transferring money, and skyrocketing prices for all goods -- are expected to be particularly acute for migrant workers.
Last month, Zarina Attokurova, who is from Osh, Kyrgyzstan, was laid off from her job as an office manager at a software development company in Moscow when the company began cutting staff.
"Our main customers were companies from Europe, but now we've lost them," she said. "Tough times are ahead."
Attokurova, 25, is looking for another job, but so far she has not had any luck because, she said, the local job market is shrinking.
She lives in a two-room apartment on the outskirts of Moscow with two roommates. Even if she watches every expense, she has enough savings to cover two more months' rent, at most.
"That means I won't be able to send money to my parents," Attokurova said. "That's terrible."
Oibek Khasanov, a construction worker from Tashkent who also works in Moscow, was put on unpaid leave by his employer two weeks ago. He lives in a dorm shared with other migrant workers.
"Construction has come to a standstill, and no one knows when it will start up again, if it starts up again at all," he said. "I wasn't paid for the last two months, and I've lost hope that I'll ever see the money."
Khasanov hopes to start a business repairing apartments and is putting together a crew with other Uzbeks, but even that is a tricky undertaking during a time of high supply and little demand.
Because of global inflation, with which the ruble's dive overlapped, prices of construction materials have surged, which has affected the purchasing power of homeowners who are planning repairs.
Russians taking migrants' jobs
Meanwhile, Russians who formerly scorned the jobs held by migrants are gradually taking them.
Migrants are heavily represented in construction, restaurant work, child care, street cleaning and cab driving, among other service fields.
"In the past, Russians didn't want to do the hard physical labour that we migrants did," Asilbek Egemberdiyev, editor-in-chief of the Kginfo.ru news site and a Kyrgyz specialist on labour migration who lives in Moscow, told the business newspaper Vedomosti in late March.
"But now more and more locals are agreeing to take on this work, and soon they'll start to push us out."
These fears are confirmed by the results of a survey done by Russia's largest job matching platform, hh.ru, earlier this month in Sverdlovsk province.
About 36% of respondents said they were willing to take a job vacated by a migrant who had left the country.
Attokurova the laid-off office manager brought up a trend that will further worsen the plight of migrant workers in Russia.
"Employers are now trying to hire locals -- Russians," she said. "The number of unemployed Russian citizens is going up, and naturally, they have priority."
Valentina Chupik, a rights activist originally from Uzbekistan who provides Central Asian migrant workers with legal support in Russia, confirmed this worrisome trend.
"Employers are already engaging in blatant discrimination and hiring Slavs," she said.
Working conditions for migrant workers who have come to Russia from countries such as Uzbekistan, Tajikistan and Kyrgyzstan will go downhill, first and foremost because of a decline in pay, she said.
The unfolding situation is spurring migrants to seek work in other countries, such as Kazakhstan and Turkey, Chupik added.
Since March 2020, more than seven million foreign citizens have received permits to work legally in Russia, the Russian Interior Ministry (MVD) reported last December, according to Interfax.
The real number of migrant workers, including those who work illegally, is much higher, it said.
Russian citizenship can mean being drafted
Deteriorating economic conditions may not be the worst prospect for migrants in Russia.
More and more men who were born in Central Asia and later received Russian citizenship are being asked to report to local conscription offices.
With the exception of Tajik and Turkmen natives (whose governments have agreements with the Kremlin), naturalised Russian citizens are eligible for the draft even if they already served in their native countries' armies.
Naturalised citizens who refuse to serve when drafted may lose their citizenship.
With the war in Ukraine, the Russian military is starting to call up reserve officers, including men who were born in Central Asia.
Rather than fight for the Russian army in Ukraine, some migrants in Russia are contemplating fleeing to other countries, Karimzhon Yorov, a Tajik-born migrant rights activist in Moscow, wrote on Facebook on March 4, the regional news website Cabar.asia reported April 6.
He discussed the case of three naturalised Tajik natives who feared being drafted, likely because they had not served in the Tajik army, which would have exempted them from the Russian draft.
"They asked me what would happen if they didn't visit the [draft office] or if they fled to another country," Yorov said. "Today three [Tajiks] asked me what would happen if they renounced Russian citizenship, how much time it would take. One of them was even ready to pay to do it."
"The Tajiks told him that they obtained Russian citizenship for a better life and for the future of their children, not for war," Cabar.asia reported.
Yorov has since deleted his post.
Meanwhile, the Uzbek government has warned its citizens that they are prohibited from joining foreign militaries or fighting as mercenaries.
"These days it's better for migrants to leave Russia and go home or find work in other countries," said Chupik, the migrants rights activist. "Living in this country is becoming dangerous."