KYIV -- The humanitarian situation in the besieged port city of Mariupol in eastern Ukraine remains "catastrophic" as Russian troops continue to hold many civilians hostage in the city, officials said Wednesday (April 20).
Kyiv Wednesday said it had agreed with Russian forces to open a safe route after almost two months under siege, as a Ukrainian official warned that Mariupol could fall into Russian hands within "hours".
During an interview broadcast Tuesday on CNN, Pavlo Kyrylenko, who oversees the Donetsk region's military administration, insisted Mariupol remained contested.
"The Ukrainian flag is flying over the city," he said. "There are certain districts where street fighting is continuing. I can't say the Russians are controlling them."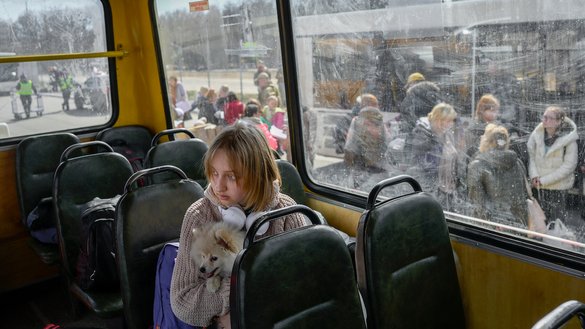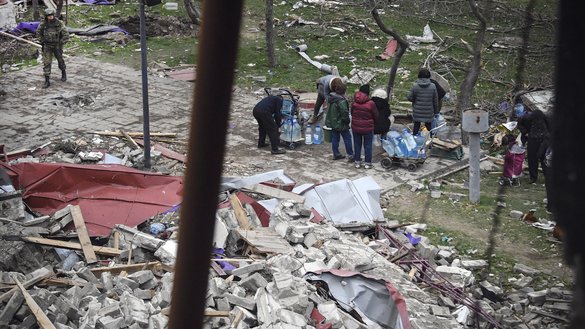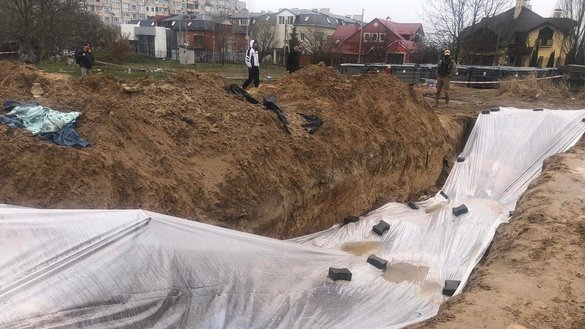 "Taking into account the catastrophic humanitarian situation in Mariupol... We have managed to get a preliminary agreement on a humanitarian corridor for women, children and elderly persons," Deputy Prime Minister Iryna Vereshchuk posted on Telegram Wednesday, according to AFP.
Previous attempts to evacuate civilians from Mariupol have failed to materialise as street fighting and shelling continue.
Russian soldiers have prevented organised convoys of humanitarian aid from entering the city, and have not been allowing in empty buses to evacuate civilians.
Moscow also has made several calls for the city's defenders to surrender.
The Kremlin's forces are fighting to oust the remaining Ukrainian troops from their last holdout in the vast Azovstal iron and steel plant in Mariupol.
Thousands of troops and civilians remain holed up in the plant, AFP reported.
An adviser to the mayor of Mariupol described a "horrible situation" in the encircled complex and reported that up to 2,000 people -- mostly women and children -- are without "normal" supplies of drinking water, food and fresh air.
Some of the heaviest fighting has focused around the strategic Sea of Azov port city, which offers a land bridge between Moscow-controlled parts of eastern Ukraine and the Kremlin-annexed peninsula of Crimea.
Humanitarian catastrophe
Feodosiia Ritsyk, 64, spent two and a half weeks in Mariupol after the war started, until she was evacuated to Lutsk in western Ukraine.
"When we left, there was no heat, electricity or water in the city," she said. "Looking for some way to survive, we chopped wood and built fires for cooking."
The water issue was not resolved until a rumour began to circulate around the district that there was a functioning source at the Illich plant in Mariupol -- one of the largest iron and steel works in Ukraine.
The source was a metal pipe from which drinking water trickled out around the clock, Ritskyk said: "To get a small bottle of water, you had to stand in line for a few hours."
Because of the water shortage, Azov Battalion commander Denis Prokopenko said, fighters are forced to boil and drink non-potable water meant for industrial use. The Azov Battalion is defending Mariupol.
"This is a genuine humanitarian catastrophe because the civilian population that remained in the city is in exactly the same situation," he said March 31 in an interview with Ukrainian journalist Dmitry Gordon.
The United Nations (UN) High Commissioner for Refugees Tuesday (April 19) said that 5,034,439 Ukrainians had fled since Russia invaded on February 24.
The UN's International Organisation for Migration (IOM) estimates that 7.1 million residents have fled their homes but are still in Ukraine.
With more than a quarter of the population having been forced to flee their homes, volunteers and international aid -- including from Central Asian countries such as Kazakhstan and Uzbekistan -- have been vital.
'Sowing panic and fear'
An evacuation agreement of civilians from Mariupol will need to take previous experience into account, observers said.
Kyiv-based political analyst Mykola Davydyuk, 33, said he witnessed the March 13 evacuation of civilians along a humanitarian corridor from nearby Irpin. He went there with two foreign journalists who were reporting on the events.
"The majority of the city was occupied by the Russians," he recalled.
But Ukraine's Ministry of Reintegration of Temporarily Occupied Territories came to an agreement with the Russians that the population could be removed, "and they [the Russians] did in fact begin this evacuation", Davydyuk said.
"But suddenly, around 11am, in the occupied part of the city where the Russian soldiers were, one soldier went out and started shooting," he said. "Then others followed him and started shooting people."
One bullet killed Brent Renaud, a US journalist and filmmaker who had come with Davydyuk to the evacuation site. His colleague, US photojournalist Juan Arredondo, was wounded.
"I think this is part of the Russian style of fighting," Davydyuk said, noting that there have been countless incidents of this nature.
"They deliberately sow panic and fear in order to show how harsh and cruel they are. They can tie someone's hands and then kill him, or shoot retirees who are standing in line for bread with white flags in their hands," he added.
Photographs and videos from Bucha, a town next to Irpin, drew global outrage when they were circulated on April 3.
The images show corpses of civilians, some with their hands tied behind their backs, lining the streets after the departure of the Russian troops.
"Why were these people killed? What did a man who was biking down the street do? Why would anyone torture ordinary civilians in an ordinary peaceful town to death?" Ukrainian President Volodymyr Zelenskyy said in a speech April 3.
"Why would anyone rip women's earrings from their ears and then strangle them? How could someone rape women and kill them in front of their children, and then stand over their dead bodies and taunt them?" he said.
"Why would anyone crush people's bodies with tanks? What did the Ukrainian town of Bucha ever do to your Russia?" Zelenskyy said.
Threats remain
Immediately after their invasion, Russian troops surrounded the Kyiv suburbs of Bucha, Irpin and Hostomel in their offensive to seize Kyiv, hoping to close off the capital from the west.
But their plans failed.
Now the Ukrainian army controls the capital and its outskirts.
For the time being, Kyiv Mayor Vitali Klitschko advises residents not to return to the city en masse. The continual air raid sirens and live missiles call attention to the significant threat to people's lives.
Other large cities the Russians were planning to close in on are experiencing the same problems, such as Chernihiv, Sumy and Kharkiv, all of which lie along the Ukraine-Russia border.
Russian soldiers have not managed to blockade them as they did Mariupol, but hundreds of innocent civilians there have died from missiles and air strikes.
Davydyuk, the political analyst, called for an international investigation into the Russian soldiers' actions in Ukrainian cities.
"They need to draw conclusions and assess what has happened," he said. "And we need to do everything we can to show them all of it and tell them about it so the culprits are punished."