ALMATY -- The tragedy in Ukraine, which has been suffering an unprovoked Russian invasion, has united Central Asian religious leaders in outrage.
Leaders of the Russian Orthodox Church justify Russia's war in Ukraine as an alleged preservation of moral values.
But Russian troops -- indifferent to the ostensible teachings of their country's largest church -- have been slaughtering their co-religionists in Ukraine since they invaded the country February 24.
In early April, Ukrainian authorities found the bodies of tortured and executed civilians after the Russians retreated from Bucha and Irpin on the outskirts of Kyiv.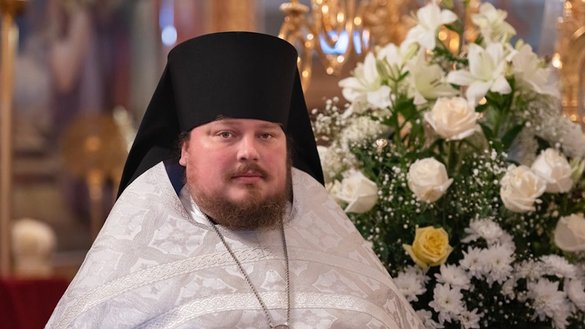 There was a brief respite from the violence on Orthodox Palm Sunday (April 17), as Russian forces who failed to occupy Kyiv were massing for an expect onslaught in eastern Ukraine.
In the Orthodox Svyato-Pokrovsky church of Kramatorsk, about 40 people -- mostly women wearing colourful headscarves -- occupied the largely empty pews as the sermon began.
"It's very hard and scary right now," said a congregant as she arrived at the red-brick church topped with four gleaming domes.
"We must pray for our soldiers to have strength and faith. We need it, and they need it," she told AFP on condition of anonymity.
Condemnation of the war
Religious leaders across the world, including representatives in Ukraine of the Moscow Patriarchate, are furiously denouncing Russia's aggression in Ukraine.
On the first day of the invasion, Metropolitan Onufriy, primate of the Ukrainian Orthodox Church of the Moscow Patriarchate, broke with Moscow and denounced the war, likening Russian President Vladimir Putin's actions to fratricide.
"We strongly condemn Russia's war against Ukraine and ask God to put an end to it as soon as possible," said Metropolitan Innocent of Vilnius and Lithuania, leader of the Orthodox Church in Lithuania, in a statement published March 18.
Metropolitan Eugene of the Estonian Orthodox Church of the Moscow Patriarchate also joined in condemning Russia's war against Ukraine.
"As leaders of churches that are part of the Council of Churches of Estonia, we condemn the shelling of humanitarian targets, including churches, and the endangerment of civilians," he said in part of an open letter signed by multiple clerics March 1.
"It beggars the imagination the amount of havoc this horrible invasion has caused in Ukraine and all over the world," Ecumenical Patriarch Bartholomew I, leader of the world's Orthodox Christians, said in Warsaw, Poland, on March 29.
The 82-year-old also denounced the war as "unjust" and "groundless", AFP reported.
The leader of the Moscow Patriarchate, Patriarch Kirill, has sided with the Kremlin.
'Sin of fratricide'
In Kazakhstan, a group of priests and deacons of the Orthodox Church publicly called on "everyone on whom the cessation of the fratricidal war in Ukraine depends to immediately cease fire".
"We grieve over the trial that our brothers and sisters in Ukraine have been unjustly subjected to," they said in a statement March 1, adding that a terrible judgment awaits everyone who gives orders to kill.
One of the clergy who signed the statement is Hieromonk Iakov Vorontsov from Almaty.
From the first days of the war in Ukraine, Vorontsov has used his Facebook page to categorically oppose Russian aggression, calling Putin a "war criminal".
"By ostracising the war criminal, we could protect ourselves and our Kazakhstan from the sin of complicity in fratricide. If we do not do this, the blood of thousands of victims of the war will be on our conscience," Vorontsov wrote March 3.
"I continue to believe that this is breaking God's commandments, one of which is most relevant: 'Thou shalt not kill'. We must keep these commandments, and justifying war is a violation of God's commandment," he told Caravanserai.
Icon painter Vladimir Kononov from Almaty sees great sin in what the Russian army is doing in Ukraine.
"I like what one of our contemporaries, Father Ioann Burdin, said. Violence cannot help overcome evil and establish peace on earth. Someone who commits murder is a sinner and is one even if he kills altruistically, or out of love for those close to him, or out of a sense of responsibility for their fate," he told Caravanserai.
"If someone, let alone an entire state, justifies and fosters the deliberate murder of civilians — this is the gravest sin," Kononov said. "This is what the Russian army is doing in Ukraine."