ALMATY -- Russia's stalled invasion of Ukraine, now in its second month, is raising questions over the capability of the Russian military and Moscow's traditional role as the security guarantor of Central Asia.
After failing to break through Ukraine's defences in the north and seize Kyiv, Russia has revised its goals, saying its aim is the "liberation" of the entire Donbas region.
The shift comes as Ukraine's Defence Ministry on Wednesday (April 20) said its forces have killed roughly 20,900 Russian troops, and following reports of numerous tactical mishaps.
More than 20 high-ranking military officers, including eight generals, have been killed in the invasion.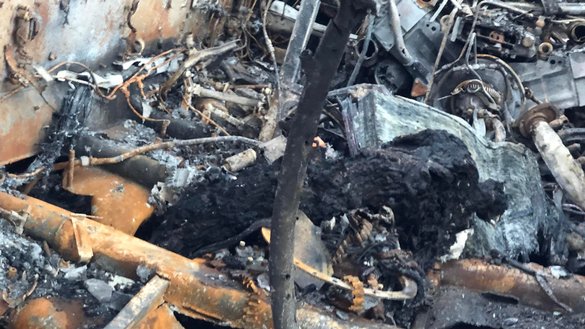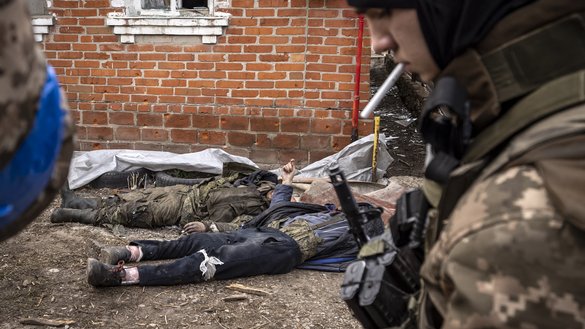 Russian troops early in the war reportedly used unsecured communication devices such as smartphones and push-to-talk radios.
At the same time, supply issues and fuel shortages prompted troops to abandon their vehicles.
The war in Ukraine has revealed how much the international community overestimated Russian military capabilities, Yuri Poyta, a Kyiv resident and head of the Asia-Pacific Section of the Centre for Army, Conversion and Disarmament Studies, told Caravanserai.
He pointed to the backwardness of Russian weapons, the low professionalism of officers and outdated Soviet approaches to military command-and-control, which are based on strictly vertical subordination.
"We also see poor co-ordination among different military forces, as well as the Russian military-industrial complex's enormous dependence on Western components, and the concomitant inability to set up a closed production cycle," Poyta said.
These weaknesses could directly affect Russia's ability to protect Central Asian countries, he said.
Russian forces in Central Asian countries are focused on waging classic warfare, which presupposes an enemy storming populated areas with tanks or infantry, he noted.
This approach is outdated since modern military conflicts have changed, Poyta said.
Fighting now has shifted to asymmetric tactics, flexibility and adaptability, and effective use of light anti-tank and anti-aircraft weapons, as well as the presence of a wide network of informants among the local population, he said.
A diminished role
For observers in Central Asia, such mistakes raise questions over Russia's unspoken role as security guarantor of the region.
Since the 1990s, Russia has exploited the threat of extremism and terrorism to maintain its military influence in the region. It hung on to military bases in Kyrgyzstan and Tajikistan and has regularly supplied weapons to the region's countries.
"The latest events in Ukraine demonstrate to potential militants dreaming of building an Islamic caliphate in Central Asia the backwardness of Russian weapons," Poyta said.
The invasion has also exacerbated socio-economic problems in the region, "making the domestic political situation more vulnerable to destabilisation", he added.
"Russia's role as the 'guarantor of security' and a reliable partner is significantly diminished, which will push Central Asian countries to look for alternative solutions."
Russian military units in Kyrgyzstan and Tajikistan are completely unprepared to fight sleeper extremist cells, a likelier threat than an invasion from outside, according to Poyta.
With Russia bogged down in the war in Ukraine, Moscow would be unlikely to be able to help with any incident in Central Asia, according to some observers.
Bishkek-based security analyst Kasybek Jolchuyev pointed to a months-long clash in 1999 between Kyrgyzstan and militants of the Islamic Movement of Uzbekistan (IMU), who infiltrated from Tajikistan into Batken province.
Three months of hostilities between Kyrgyz troops and the terrorists ended with a Kyrgyz victory, Jolchuyev said.
At the time, Russia was busy with the second Chechen war and did not send military reinforcements to Kyrgyzstan, he noted.
Even Kyrgyzstan's membership in the Russian-led Collective Security Treaty Organisation (CSTO) military bloc did not help in a crisis.
"When inter-ethnic bloodshed began in southern Kyrgyzstan in 2010, the Russian contingent stationed in our country did absolutely nothing," Jolchuyev told Caravanserai, referring to clashes between the ethnic Kyrgyz majority and ethnic Uzbek minority.
"And when our authorities turned to Moscow with a request to help restore stability, the CSTO refused, arguing that the military bloc would not interfere in Kyrgyzstan's internal affairs."
Based on that logic, Russia would also consider an attack by destructive movements and terrorist cells operating in Kyrgyzstan to be an "internal matter" that does not require a prompt response, he said.
"That's the guarantor for you."
Friend or foe?
For Central Asian nations looking on at Ukraine, the biggest nation-state threat is Russia itself, especially if they attempt to escape Moscow's sphere of influence.
Fears about where Russia could employ the same tactics it is using in Ukraine are rampant in Central Asia, especially Kazakhstan, where ethnic Russians are numerous in the northern provinces.
Russian authorities for years have been trying to spin a narrative that Russians in Kazakhstan need "saving".
In an article last November in the state-run newspaper Rossiyskaya Gazeta, Russian Foreign Minister Sergey Lavrov accused Kazakhstan of "xenophobia targeting Russian-speaking citizens" and threatened to take crucial "prompt action" should "dire situations" arise.
Both Kazakhstan and Uzbekistan have refused to support Russia's so-called "special operation" in Ukraine and are complying with Western sanctions.
Accusatory rhetoric from Moscow preceded the Russian attack on Ukraine, Erica Marat, a professor at National Defence University in Washington, pointed out.
"Central Asia, especially Kazakhstan, needs to think about possible scenarios for how [Russian President Vladimir] Putin might move from words to concrete actions," Marat said.