KYIV -- Atrocities committed by Russian troops in Ukraine are the product of endless propaganda and Russia's crumbing society, say observers.
Russian troops have been accused of widespread atrocities across the country, particularly in areas around Kyiv from which they have now withdrawn.
"Russian armed forces have indiscriminately shelled and bombed populated areas, killing civilians and wrecking hospitals, schools and other civilian infrastructure, actions that may amount to war crimes," Ravina Shamdasani, a spokesman for the United Nations (UN) Office of the High Commissioner for Human Rights, said Friday (April 22).
In Bucha, near Kyiv, a UN rights monitoring mission has documented the slaying of 50 civilians, including by summary execution, Shamdasani said.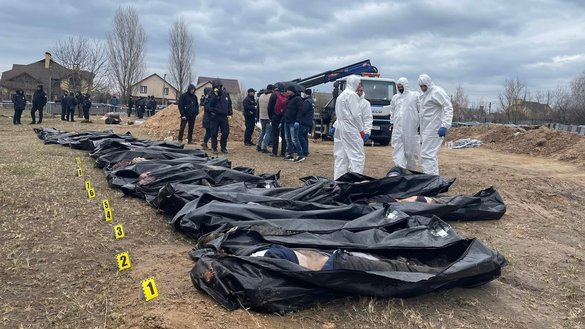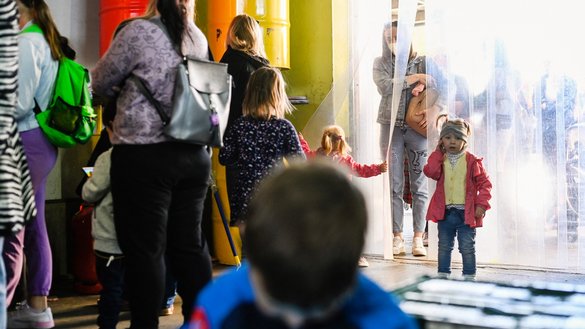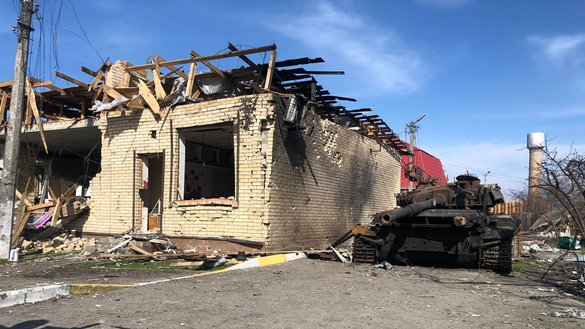 Elsewhere around the capital, investigators have collected more than 1,000 civilian bodies from streets, yards or temporary graves -- including some with tell-tale signs like bound hands and feet or gunshot wounds to the backs of their heads, officials said Thursday.
"It's all being investigated," Oleksandr Pavliuk, director of the Kyiv regional military administration, told reporters. "There is no final number of civilians killed."
Ukrainian President Volodymyr Zelenskyy on Tuesday also said investigators had received reports of "hundreds of cases of rape" in areas previously occupied by Russian troops, including sexual assaults of small children.
"Testimonials are being collected. Thousands and thousands of victims. Hundreds of cases of torture. Bodies continue to be found in drains and cellars," Zelenskyy told Lithuanian lawmakers via video link.
"Hundreds of cases of rape have been recorded, including those of young girls and very young children."
Having documented victim accounts, human rights organisations say rape is being used as a "weapon of war" in Ukraine.
Ukrainian ombudswoman Lyudmyla Denisova on April 11 detailed one such account to the BBC.
"About 25 girls and women aged 14 to 24 were systematically raped during the occupation in the basement of one house in Bucha. Nine of them are pregnant," she said.
"Russian soldiers told them they would rape them to the point where they wouldn't want sexual contact with any man, to prevent them from having Ukrainian children."
'Do whatever you want'
"Invaders have always sought to kill men and rape women so that they give birth to a new generation of soldiers. But here the level of the atrocities was simply monstrous," Oleksandr Ivanov, a Ukrainian psychiatrist, told Caravanserai.
"The most terrible reason is that the leaders of the army and the country instructed soldiers to 'do whatever you want'. So there is an element of impunity, and that is something that leads to insanity," Ivanov said.
Ivanov said that such atrocities would not have occurred had authorities not given the go-ahead, but he also pointed to Russian propaganda that has instilled a hatred for Ukrainians and other nationalities.
Since the start of the invasion, Russian television channels have been spreading Kremlin propaganda or saying nothing at all, including in Central Asia.
"For many years, TV told Russians about their racial superiority and the inferior role of the Ukrainians. They didn't take them for people. At first they were just 'little brothers' and then people with a 'fake country' and 'fake language'."
"Ultimately, it all ended with Ukrainians openly being called Nazis, which means they can be beaten, maimed, raped. All this is part of government propaganda," he said.
Central Asians, who have Asian eye shape and darker skin than Slavs do, have endured Russian bigotry for decades, even while doing jobs that Russians long considered beneath them -- until sanctions and economic decline forced the Russians to compete with the migrants for those jobs.
Ivanov pointed to a conversation between a Russian soldier and his wife that the Security Service of Ukraine (SBU) intercepted and posted on April 12.
The woman openly tells her husband to rape Ukrainian women.
"So, go and rape Ukrainian women there, okay? And don't tell me anything. Got it?" the woman can be heard saying in the recording.
"Rape and don't tell you anything?" the soldier replies.
"Yes, so I don't know anything. So what?" she says while laughing.
"So I can?"
"Yes, I give you permission. Just use protection!"
The couple, who were later identified by Ukrainian journalists, appear at first glance to be an ordinary couple from Oryol province, Russia, who moved to Crimea in 2018.
Their conversation is the clearest evidence of what is occurring in Russian society, which is clearly regressing into animal aggression, according to Ivanov.
"This woman has no conception that a Ukrainian woman is a person like her. For her, a Ukrainian woman is some sort of inanimate doll that you can bully as long as her man is pleased."
"In terms of humanity, these are deviants. But according to photographs ... this is an ordinary couple with a small child," he said.
'Savagery'
The reasons for the brutality committed by Russian troops can be traced to Russian society, theorised Ukrainian historian and political scientist Oleksandr Paliy.
"Well, where does all this savagery come from? A country where people do not have freedom of speech, where they are trampled underfoot by authorities, where law enforcement agencies ... sodomise people with bottles and batons."
"People are constantly bullied and humiliated. And they consider it normal. These atrocities are an acceptable norm for them," Paliy said.
"Why are [Russian troops] so afraid of Ukrainian soldiers but also brutally shoot civilians? Because the most cowardly are the cruelest," he added.
He pointed to Soviet leader Joseph Stalin, who was known to be afraid to fly on planes and refused to allow anyone to get close to him.
"Now look at [Russian President Vladimir] Putin, who makes his whole entourage take [COVID-19] tests before they can approach him. And look at his famous table, several dozen metres long! Cowards are the cruelest people," he said, referring to jokes and internet memes that appeared after photographs in February showed Putin sitting on one end of a 6-metre-long table.
Such a mentality can be seen in the looting committed by Russian troops.
Russian soldiers have stolen en masse commonplace household items -- washing machines, bicycles, perfumes, gold jewellery, children's toys and even fishing equipment, according to law enforcement.
In another telephone conversation intercepted and published by the SBU, the father of a Russian soldier asks him to grab fishing hooks from a seized residence.
"Take everything there is, but be careful, see, so they don't attribute the looting to you, damn it. …it's kind of like a trophy, but don't let anyone take photos of you there," the father tells his son.
"In one Ukrainian city, they [Russian troops] left an inscription -- 'Who allowed you to live so well?' They have nothing, they are not allowed anything, and so they think -- why are others allowed this?" Paliy said.
"The [Russian troops] are overwhelmed by envy. So they are scooping up everything they see in beautiful Ukrainian houses," he said.
'Punished sooner or later'
Russian troops will face punishment for their crimes, vow Ukrainian officials.
The law enforcement agencies of Ukraine and other European countries, as well as human rights activists, are collecting evidence to send to the International Criminal Court.
Ukraine's parliament has already recognised the Russians' atrocities in Ukraine as genocide.
"There are things that are obvious to all jurists and do not require proof. It is obvious that Russia committed an act of aggression against Ukraine," said Eduard Bagirov, director of the International League for the Protection of the Rights of Citizens of Ukraine.
Investigators will collect evidence for years, and there will be trials, he said.
"All the criminals will be punished sooner or later. What was secret will become clear. For example, now we know everything that Hitler said, who gave the orders, who carried them out. It will be the same with Putin and the soldiers who have killed [civilians]," Bagirov said.
"Everything will become clear."