ALMATY -- Nur-Sultan has scuttled a deal with Russia's state-owned Sber group to build a digital platform for the Kazakh government.
Sberbank CEO Herman Gref and then-Prime Minister Askar Mamin on September 3 signed a memorandum of co-operation on Kazakhstan's digital transformation.
As a part of the memorandum, the Sber group -- a group of companies with close ties to the Kremlin -- was to implement the GovTech digital platform for the Kazakh e-government (egov.kz) website.
Under the deal, Sber was to link all government agency databases to the same platform.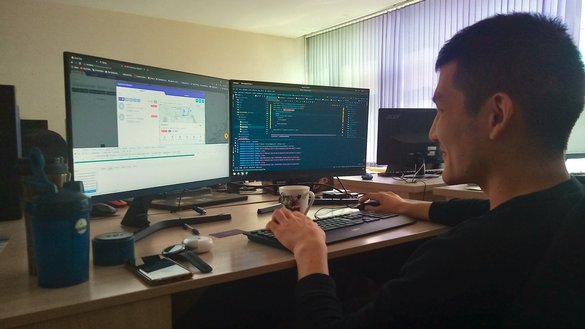 The website would have contained personal information, including Kazakh citizens' health data, their family members, physical address, and information about their assets and tax payments.
The platform's estimated cost was about $500 million (213 billion KZT).
However, several transformational events have occurred since September -- including the February 24 Russian invasion of Ukraine -- and Kazakhstan has changed its mind.
"There is currently no legal relationship with the Sber group to create a platform," Askar Zhambakin, the Kazakh vice minister of digital development, announced April 15, according to Tengri News.
"Now, in light of the geopolitical situation and a reexamination of our options, we have decided to work with NIT [National Information Technologies, a Kazakh firm] to build the platform, and we will be hiring Kazakh IT [information technology] companies to do this," Zhambakin said.
"A feasibility study is under way. By the end of this year, the first services of the new platform will be developed and up and running," he said.
It will take two to three years to develop and deploy GovTech, he added.
National security concerns
The idea of entrusting private Kazakh data to a Russian firm never sat well with many Kazakhs.
"Russia a priori should not be hired for this project because this is a national security issue," said Alikhan Kanapiya of Almaty, an export analyst at the United Nations' International Trade Centre.
Entrusting a foreign company to develop the new e-government platform was alarming in itself, Kazakh analysts warned last year.
Sber did not have a solution per se for creating a ready-made digital platform, according to Kanapiya.
"Sber isn't a leader in rolling out IT ecosystems, so it's not a given that Kazakhstan wouldn't end up with some sort of Frankenstein monster," he said.
The situation has only been exacerbated by the exodus of IT specialists from Russia in the wake of Moscow's invasion of Ukraine, Kanapiya added.
Thousands of skilled workers fled, making Russia less able to fulfil the contract. Many of those tech workers moved to Kazakhstan and Uzbekistan, where they have become readily available local talent.
Now the Russian government is trying to keep its remaining IT workers from leaving, said Kanapiya.
The government has passed no law yet prohibiting emigration, but for IT workers it offers draft exemptions and favourable mortgages. If positive incentives to stay do not work, border guards have instructions not to let IT workers leave, Canada-based Universe Today reported in March.
An independent Kazakhstan
Yerkegali Mashir of Almaty, CEO of the Azimut Solutions Group, supports pulling out of the deal.
Mashir last year had expressed disapproval of Sber's involvement in the project.
"I always advocate for having Kazakh IT companies create the things they have expertise in for the country and domestic business, first of all because when this happens, the money paid for the solutions and services goes toward growing our economy, not to other countries," he said.
"Second, these companies will help safeguard jobs and create new ones. And third, they'll help Kazakh developers build new experience," Mashir said.
Kazakhstan has IT specialists and companies that can easily build a digital platform from scratch, said Damir Karazhigitov of Almaty, a back-end developer at IT company Relog.
"You can write a digital core for the platform with no fuss because all the data to do it is open source," he said. "In Kazakhstan, programmers have heaps of public code libraries that are accessible through a Google search."
GovTech is an expensive undertaking, and if it is created by developers who live in Kazakhstan and will spend their salaries on goods and services at home, they' are consequently supporting the Kazakh economy, Karazhigitov said.
"In taking this step, we're showing our friends -- the European Union countries and the United States ... that we're trying to be more independent," he added.