TASHKENT -- A heartbreaking human drama is playing out along Ukraine's borders -- fleeing refugees pass the homesick going back, while others who left and then returned flee for their lives for a second time.
Women and children are still pouring out of a land being pummelled by Russian bombs.
For those at the borders and those who remained or returned home, humanitarian aid from friendly donors has been an essential lifeline.
'Creatures from Hell'
In the drizzle at Vysne Nemecke, a drab Slovakian border crossroads now overrun by trucks and tents, Tetyana Dzymik talked to anyone who would listen, AFP reported Wednesday (April 27).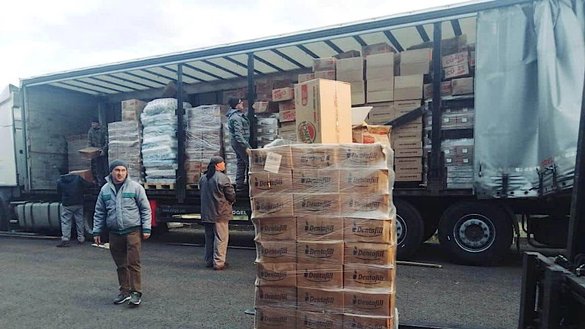 The 38-year-old art teacher fled her village near Bucha, a quiet commuter town near Kyiv now notorious after Russian troops were accused of massacring civilians there.
"Who does these kind of things? Not humans, only creatures from hell," she said through her tears.
Distraught, the words tumbling from her lips, she said how Russian soldiers ransacked homes in her village, smashing windows and doors, and defecating in bedrooms and sitting rooms.
Further south in Hungary, just beyond the Zahony railway crossing, Olesya Demechenko, 41, had finally reached safety and was having a bite to eat at the World Central Kitchen, a charity founded by Spanish-American celebrity chef Jose Andres.
She had come from Molochansk in southern Ukraine. There, she told AFP, the Russians chased the inhabitants away and pillaged their homes to make way for feared Chechen pro-Russian fighters, who are also deployed in Mariupol, 200km to the east.
In Medyka, Poland, a long line of humanitarian aid tents looks like a flea market at first glance. But here everything is for free.
Jehovah's Witnesses -- who are omnipresent along the border -- have set up opposite a Sikh food truck, while Israeli organisations rub shoulders with Egyptian Red Crescent workers.
A dozen kilometres to the west at the bustling train station in Przemysl, Poland, a jovial French Catholic missionary from Calcutta, Brother Francois, is handing out meals and blankets and providing information to exhausted and disoriented refugees.
"They've been uprooted; they have no idea what their future holds, but they still have their dignity, and that's extraordinary," he told AFP.
Uzbekistan supports Ukraine
Uzbekistan on April 8 sent a second batch of humanitarian aid to Ukraine, marked with messages in Ukrainian, Uzbek and Russian that say: "To the people of Ukraine from the people of Uzbekistan" and "Ukraine, we are with you!".
The shipment, weighing more than 34 tonnes, includes medicines, individual first aid kits and food. It moved from Katowice, Poland, to a European humanitarian hub situated in Transcarpathia province, Ukraine.
The shipment from Tashkent would immediately be sent to hot spots, said Viktor Mikita, governor of the province.
Uzbek citizens of various ethnicities -- Uzbeks, Russians, Koreans, Tatars and, of course, Ukrainians, as well as government agencies, participated in collecting the humanitarian aid, Uzbek activist Aziza Umarova wrote on her Facebook page.
Donors supplied dried fruits, powdered infant formula, clothes, bed linens, medicines, diapers and feminine hygiene items.
"Someone silently brought a medicine pack and some other small items purchased with his meagre pension," she wrote. "Those all came from the heart. So they are doubly valued."
Friends in time of need
The collection of humanitarian aid for Ukraine must be intensified, said Akida Mokhirova, a volunteer and activist from Tashkent.
"Today, more than ever, this country needs the help of the world community," she told Caravanserai. "A cruel war is under way, and people are in need of everything. And aid to Ukraine should be nonstop."
The aid sent from Uzbekistan to Ukraine symbolises the brotherhood between the peoples of the two countries, said journalist Sabokhat Rakhimova.
"Even a little support shown at such a difficult time, which is at least an expression of sympathy, is needed by Ukrainians right now," she told Caravanserai.
Approximately 90,000 Ukrainians live in Uzbekistan.
"There is an Uzbek proverb: 'You find out who your friends are in times of need,'" Rakhimova said.
"There is no doubt that the small humanitarian aid provided to Ukrainians by the Uzbek government will awaken a sense of pride in the hearts of our people. We hope that the two fraternal countries will soon celebrate victory. The victory of peace," she said.