TASHKENT -- Uzbekistan is forgoing Russian symbols typically used to mark Victory Day celebrations this year in rebuke for Russia's invasion of Ukraine.
Kazakhstan also cancelled Nur-Sultan's annual Victory Day parade, while Kyrgyzstan's State National Security Committee (GKNB) warned citizens against using the "Z" symbol in commemorative events to signify support for Russia's invasion.
Despite increasing isolation from former Soviet states, Russian President Vladimir Putin on Monday (May 9) insisted Russia was defending the "Motherland" by its war in Ukraine, as Moscow staged a military parade marking the 1945 victory over Nazi Germany.
The celebration in Moscow's Red Square was more pallid than in other years, with no foreign leaders sharing the dais with Putin and with markedly fewer troops and equipment on display than usual. The Kremlin also cancelled a planned flyover.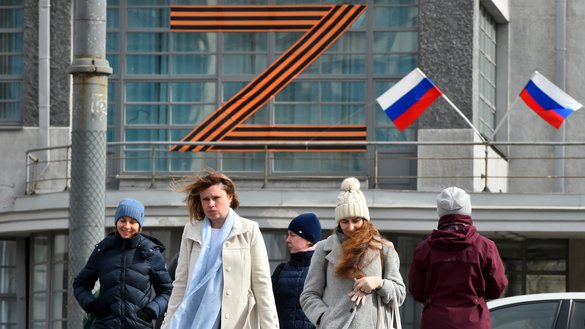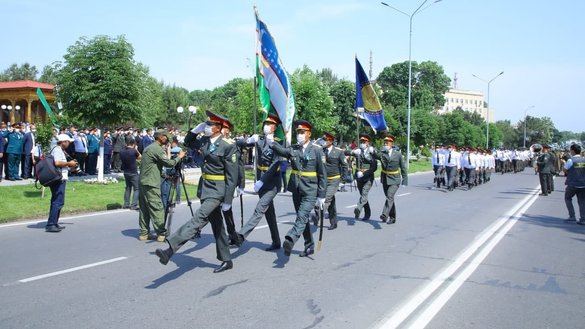 Observers attributed the diminished parade size "to significant losses sustained by Russia in its ongoing war in neighbouring Ukraine", the Moscow Times reported.
Ukrainian forces have killed about 25,650 Russian troops and destroyed 1,145 tanks so far, the Ukrainian Defence Ministry estimated Monday.
The Kremlin has not updated its conservative admission since March 25, when the Russian Defence Ministry said 1,351 Russian soldiers had been killed and 3,825 wounded since February 24.
Speaking at the start of the annual military parade in Red Square, Putin defended Russia's offensive as he looked to use the occasion to mobilise patriotic support for the "special military operation".
He made no mention of how the conflict is dragging on after more than two months, but acknowledged the "irreparable loss" for the families of dead soldiers.
Putin also did not make any major announcement of escalation as many observers had expected.
In an attempt to "exact revenge" for their losses, the Russian military and paramilitaries are committing war crimes in occupied territories of Ukraine, observers say.
These war crimes -- which include massacring civilians in Bucha and Irpin, looting Ukrainians' homes for consumer goods and shipping them back to Russia, and bombing the Mariupol drama theatre -- in fact evoke the horrifying memories of Nazi behaviour in World War II that serves as the focal point of the Victory Day parade.
Backing away from Russian symbols
Central Asia's most populous country wanted nothing to do with Putin's showboating.
The Uzbek Ministry of Defence late last month announced that a military parade would not be held in Uzbekistan to mark Victory Day.
"In Uzbekistan, May 9 is a Day of Remembrance and Honour and not a Victory Day," ministry spokesperson Oibek Mamadaliyev said during a news conference April 25.
Earlier, Alisher Kadyrov, the leader of the Milliy Tiklanish (National Revival) party, also spoke against Tashkent hosting an Immortal Regiment event, in which participants march holding portraits of their fathers and grandfathers who perished in World War II.
"…This is a demonstration of soft power and is a propaganda tool of the Soviet Union. We oppose such demonstrations!" he said April 4 on his Telegram channel.
Since the start of the invasion in February, a growing number of Uzbeks have demanded on social media a national ban on Russian Victory Day symbols, including the ribbon of St. George.
The ribbon is a Russian military symbol that commemorates veterans of World War II, but is also used to show support for the Russian government. It dates back to the late 1700s.
Uzbek authorities have replaced St. George's ribbons with ribbons bearing the colours of the Uzbek flag.
According to new traffic rules that came into force on May 1, drivers may not put stickers or signs on their cars, including Victory Day symbols such as the letters "Z" and "V".
Many Uzbeks welcome the changes.
Above all, May 9 should be a day to remember ancestors who gave their lives in the fight against Nazism, said Nuria Madaminova, a student at a Tashkent university.
The holiday's main purpose should be to explain the war and its consequences, and to spread a feeling of compassion and love among the public, she said.
"But it is sacrilege to hold military parades, to hand out St. George ribbons, and even more so to drive around in cars displaying the letters 'Z' and 'V', which have become symbols of war and the murder of children and women in Ukraine," Madaminova said.
"For Uzbekistan and the people of our country, this is immoral," she said. "For me, war, regardless of the type of war, is a tragedy. Russia did not learn the lessons of the horrors of World War II, and now it has turned into the aggressor."
Lessons from history
In recent years the May 9 holiday has taken a more political bent, according to Botirjon Shermukhamad, a lawyer from Uzbekistan who lives in Moscow.
"Previously, there was neither the St. George ribbon, nor the Immortal Regiment," he said. "But now, you can even see military vehicles inscribed with 'To Berlin' or 'We can do it again'."
"Of course, the war's end and victory are good," he said. "But, we must understand and remember what efforts and human sacrifices gave us this victory. Therefore, it is more correct to call this day a day of remembrance and honour."
Everybody has the right to celebrate the holiday, but Russia must not use it as propaganda to incite hatred of other people, let alone impose its own version of the holiday, said Shermukhamad.
"That's why I'm against the use of any symbology, especially military symbols," he said. "This is not a political holiday. Rather it is a day when humanity should remember the fallen and draw lessons so that such a tragedy does not happen again."
In light of the events in Ukraine, Uzbek citizens should recall the inhumanity and cruelty of the Russian conquest of Central Asia in the 18th and 19th centuries, said Dildora Tulyaganova, an Uzbek journalist who lives in Turkey.
"The blood of my people, the blood of my ancestors, the blood of those who were killed, raped and burned, is on the St. George's ribbon that is being distributed and pinned on in diplomatic missions," she said.
"The objective and true history of Uzbekistan must be taught in schools. It must be constantly talked about on TV, radio and other media," she said. "Now is the time for the intelligentsia to unite and take control of the situation."
Putin is using the the victory in May 1945 to legitimise his rule in the public's eyes, she said, calling it a pathetic and decayed ideology amid the war in Ukraine.
Nurbek Alimov, a blogger from Tashkent, said the St. George's ribbon is actually associated with orders and medals awarded to troops who fought against his ancestors.
"In recent years, and especially in recent months, it is a symbol of Russia's aggressive policy," he said.
"First, I don't support wearing it under any circumstances, and second, I denounce those who do," Alimov said.