ALMATY -- Many Central Asians who express pro-Ukraine attitudes, namely on daily discussions on social media, are increasingly becoming the target of Russia's information war.
The account of Olesya Ryzhkova is one such suspected troll.
The profile does not contain any information about the user, who posts every day -- often several times -- about the war in Ukraine and the situation in Russia.
All the posts follow the same narrative: Russia is combating a Nazi regime in Ukraine in order to liberate Ukraine's oppressed Russian-speaking citizens.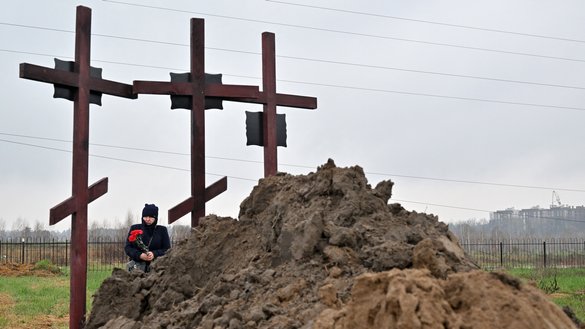 Ryzhkova apparently operates from Kazakhstan, where many of her purported Facebook friends live.
The account also tracks other people's posts on the Russian invasion of Ukraine and often attempts to refute information that is posted.
"That's not true," Ryzhkova commented on May 3 in response to Almaty-based journalist Sergey Duvanov, who said that there is more Nazism in Russia than in Ukraine.
"The people of Mariupol talk about how nationalists there were terrorising and raping young girls. We remember one scandalous court case where, after some pleaded guilty, the court released them on bail because they were taking part in combat."
She does not offer any evidence proving that these "incidents" occurred.
Ryzhkova also shares posts about the war in Ukraine by Russian House in Nur-Sultan, the Kazakh outpost of Rossotrudnichestvo, a federal agency set up to spread the Kremlin's soft power in Central Asia.
In the last few months, this institution, whose stated mission is to develop cultural co-operation between Russia and the region's countries, has taken on an active role in disseminating propaganda.
In particular, Russian House uses social networks as a place to broadcast documentaries filmed by the Kremlin-backed television channel RT about alleged "shelling and torture of Mariupol residents by Ukrainian soldiers".
Targeting Kazakhstan
In Kazakhstan, such trolls have taken aim at Nur-Sultan's cancellation of a Victory Day military parade to commemorate the defeat of Hitler in 1945.
One suspected troll under the name of Dmitry Makarov wrote that Kazakhstan "has officially thrown its veterans onto the trash heap".
Russian trolls are themselves showing contempt for the sacred values associated with the World War II victory because they are cynically using them to achieve their propagandistic goals, said Duvanov, the journalist.
"My grandfather, who fought in the Great Patriotic War [World War II], wouldn't have understood these propagandists, who don't have the slightest clue about those events or the symbols associated with them," Duvanov told Caravanserai.
"It's shameful."
Unidentified trolls in Kazakhstan are trying to build support for the Russian aggression and anti-Ukraine sentiment since the start of the invasion in February, Duman Smakov of Almaty, editor in chief of the Factcheck.kz site, told Caravanserai.
"There have been examples of intentional false stories about Ukraine's sovereignty and territorial integrity -- allegedly, when Ukraine gained independence in 1991, Kyiv didn't register its territory with the UN [United Nations]," Smakov said.
In another case, trolls promulgated a story claiming that someone allegedly drew the Ukrainian flag on the petroglyphs of Tamgaly Tas, an open air temple and historic monument in Kazakhstan.
There are also many false stories about so-called "Ukrainian neo-Nazis".
"Stories like these are very often posted on social networks and public Instagram pages in Kazakh, and it's obvious that they've been translated by an online translator because the sentences are convoluted and have words that Kazakhs don't usually use," Smakov said.
Propaganda and disinformation are spread through social networks and messaging apps by special creators of fake news whose target audience are those with weak critical thinking skills and limited media literacy, he added.
"We can't say for sure that these are Kremlin trolls because we don't have direct evidence, but there's no doubt that they are," Smakov said.
Countering information attacks
In late February, Radio Free Europe/Radio Liberty (RFE/RL)'s Kyrgyz service noted that the success of disinformation efforts against Kyrgyzstan could be chalked up to the poor quality of education.
The 2009 results of the Programme for International Student Assessment (PISA) showed that "four-fifths of Kyrgyz 15-year-olds were unable to fully read, analyse and interpret the information they read", RFE/RL reported.
Those schoolchildren are now between 27 and 30 years old and many of them "are susceptible to manipulation and inclined to view the world in black-and-white terms ('us-them', 'righteous person-sinner', 'patriot-foreign agent'), and are quick to pass judgment".
Analysts have long sounded the alarm over the effect of such manipulation.
Inga Sikorskaia of Bishkek, the programme director for the School of Peacemaking and Media Technology in Central Asia, lamented how foreign false stories create problems for both the Central Asian public and governments.
"We're becoming the victims of hybrid wars in the Central Asian media space," Sikorskaia said in an interview in late February with CABAR.Asia, a regional think-tank.
"So the whole region needs to band together to develop an action plan and effectively counter these information attacks."
Part of a global campaign
The efforts against Central Asia are part of the Kremlin's global information war.
Russia has turned an old factory in St. Petersburg into a so-called troll farm to spread disinformation and target Kremlin critics, including world leaders, according to UK government-funded research disclosed May 1.
The site in the Russian city is allegedly being used to spread lies on social media and in comment sections of popular websites, UK's Foreign Office said in a statement detailing what it called a "sick" operation.
The Foreign Office claimed it found paid employees of the troll factory were targeting politicians as well as musicians and bands, in countries including the UK, South Africa and India.
Traces of the operation have been detected across eight online platforms, including Telegram, Twitter and Facebook, but were particularly concentrated on Instagram, YouTube and TikTok, it said.
TikTok influencers are allegedly being paid to amplify pro-Kremlin narratives.
A Telegram channel called "Cyber Front Z" -- the letter Z signifies support for the war in Russia -- is said to play a key role in the operation.
Its headquarters are allegedly located in rented space in St. Petersburg's Arsenal Machine-building Plant, a company that manufactures military equipment and technology.
Researchers said the group seems to have learned from the tactics used by conspiracy theorists as well as from the "Islamic State" (IS) terror group.
The UK Foreign Office said the trolling operation has suspected links to Yevgeny Prigozhin, a close ally of Putin accused of controlling the notorious St. Petersburg-based troll farm, the Internet Research Agency.