BERLIN -- Celebrations of Victory Day held by Russians living in Europe this year demonstrated the reach of Kremlin propaganda abroad amid Russia's continued invasion of Ukraine.
All former Soviet states, including Ukraine, mark May 9 to celebrate the Soviet defeat of Nazi Germany.
This year, however, several Central Asian countries avoided major celebrations following Russia's unprovoked invasion of Ukraine and war crimes committed by Russian troops.
Victory Day parades and celebrations were cancelled in Kazakhstan and Uzbekistan, while Kyrgyzstan's State National Security Committee (GKNB) banned the use of the pro-invasion "Z" symbol.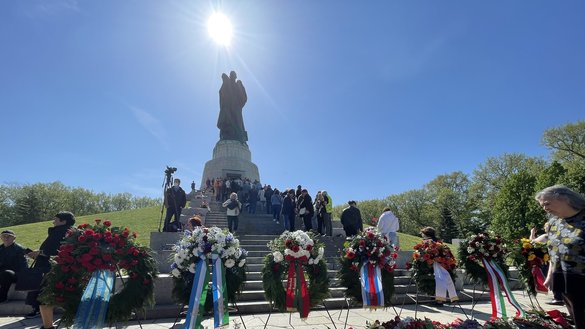 With the war in Ukraine and unceasing Russian disinformation over the invasion, Victory Day has become increasingly polarised.
Russian President Vladimir Putin, speaking at the start of the annual military parade in Red Square on May 9, insisted Russia was defending the "Motherland" by its war in Ukraine.
He defended Russia's offensive as he looked to use the occasion to mobilise patriotic support for the "special military operation".
He made no mention of how the conflict is dragging on after more than two months but acknowledged the "irreparable loss" for the families of dead soldiers.
'A new victory'
The holiday saw some Russians living in Europe publicly parroting Putin's remarks as well as disinformation disseminated by Russia's propaganda apparatus.
Ahead of Victory Day, authorities in Berlin barred the use of Ukrainian, Russian and Soviet symbols near and at memorials.
While Ukrainian celebrations in the city on May 8 were largely in line with the restrictions, Russian Berliners' celebrations were not.
Russians in Berlin gathered May 9 at the Brandenburg Gate for an "Immortal Regiment" event, during which they held portraits of their fathers and grandfathers who perished in World War II, then from there, they advanced as an organised group to the same memorial where Ukrainian activists had gathered the day before.
"All along the way they screamed, 'Soon we will have a new victory,'" Natalia Yarmola, a journalist who was covering events in Berlin for Ukrainian TV channel 1+1's Television News Service, told Caravanserai.
"We walked cautiously near the police station. Suddenly someone heard us speaking Ukrainian. Some man from the crowd came up to us and said that Ukraine is not a real state," she said.
"Then they started shouting at us that we were not humans, that all Ukrainians should be slaughtered, and that they were in favour of the 'special operation'," Yarmola said, referring to the Kremlin's euphemism for its invasion of Ukraine.
Enhanced security measures allowed the police to keep the situation under control and contain the crowd, she added.
"If it weren't for the law enforcement officers, who were always by our side, this conflict, this aggression, could have escalated into something much bigger," she said.
"On the way back, we encountered two Russians -- a woman and a man -- and the man started grabbing and grasping at Natalia Moseychuk, our TV presenter," said Yarmola.
"On that day, we heard all the narratives that we hear on Russian television," she said.
"I was amazed that this was said by Russians who have lived in Europe for many years. After all, they have access to different channels of communication here," said Yarmola.
Tension was also rife in Berlin's Treptower Park, which features a sprawling Soviet war memorial.
From the early morning hours, people brought flowers to a monument honouring Soviet soldiers, gathered in small groups and sang Soviet songs.
While the events at Treptower Park were peaceful, participants did not mince words.
"I now can't pull out of my bag the flags that I, as a citizen of the Soviet Union, have a right to, especially here and especially today," Vadim Koretsky, a visitor at the memorial complex, told Caravanserai.
"I brought them. I have them. No bastard here has the right to forbid me this, but they are doing it," said Koretsky, who has lived in Germany for 20 years and regularly comes to Berlin on May 9.
Instead of the forbidden Russian and Soviet symbols, this time he tied white armbands on his sleeves.
"The white armband means what it means in the current situation. This is the uniform worn by my country's soldiers at the moment. Specifically, in the 'special operation'. This is my personal message," Koretsky said.
When asked what exactly the Russian army was doing in Ukraine, the man said that it was "carrying out demilitarisation and pacification there".
Historical propaganda
Russian propaganda about World War II has been spreading for years, according to Yana Primachenko, a scholar and researcher at the Institute of History of Ukraine.
"This process started back in 2010. At that time, at one of his press conferences, Putin said that the RSFSR [Russian Soviet Federative Socialist Republic] accounted for 70% of the losses and human resources in the war, which means that the victory was solely thanks to Russia," Primachenko said.
"Today, they [the Russians] believe that they could have won [World War II] without Ukraine, without the rest of the union republics," she said.
Like news propaganda, Russian historical propaganda is based on manipulation and biased selection of facts, she added.
"The Russians made these calculations based on the ethnicity principle. That is, they counted all Russians as citizens of the RSFSR. But in the Soviet Union, none of the republics were ethnically homogeneous."
"For example, if we take Kazakhstan, then according to the 1939 census, Russians slightly outnumbered Kazakhs [in Kazakhstan]," Primachenko explained.
"And if we count based on the ethnicity principle, then Kazakhstan's contribution to the victory is the smallest, because only 130,000 [ethnic] Kazakh soldiers died."
"But, in reality, the number of conscripts from Kazakhstan who died during the war is at least twice as high," she said, referring to the many other ethnic groups in Kazakhstan that lost men in the war.