KYIV -- Russia's brutal interrogations of Ukrainian civilians at so-called "filtration camps" are reviving memories of Nazi Germany's ghettos and concentration camps, say Ukrainians who have been forcibly taken from their homes and escaped.
The United States on May 12 accused Moscow of forcibly taking into territory under Russian control tens of thousands of Ukrainians, often singled out for their resistance to the invasion.
Witness testimony attests to "brutal interrogations" in the camps, said Michael Carpenter, the US ambassador to the Organisation for Security and Co-operation in Europe (OSCE).
"Accounts of this brutality and forced displacement are happening right now, as we speak, and these actions amount to war crimes," Carpenter told the organisation in Vienna.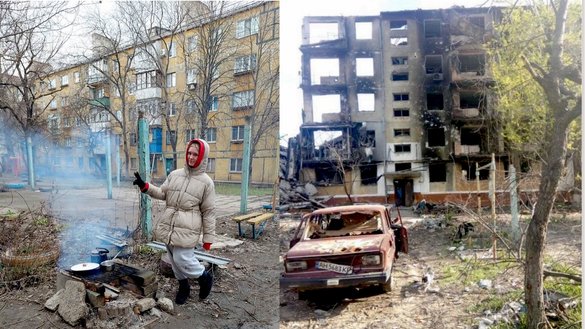 "We must not allow this evil to stand."
"The United States assesses that Russia's forces have relocated at least several thousand Ukrainians for processing in these 'filtration camps', and evacuated at least tens of thousands more to Russia or Russia-controlled territory, sometimes without telling evacuees of their final destination," he said.
Carpenter's remarks support allegations by the Ukrainian government, which estimates that almost 1.2 million Ukrainians have been deported to Russia or Russian-controlled territory.
Kyiv has denounced the "filtration camps" in which Moscow interrogates detainees.
Ukrainian President Volodymyr Zelenskyy said in early April, six weeks after Russia launched its invasion, that Russia had sent thousands of Ukrainians to Russian territory.
That figure has since ballooned to more than 1.18 million, including at least 200,000 children, Ukrainian ombudswoman for human rights Lyudmyla Denisova said May 9.
The Russians took away thousands of residents just from Mariupol, the strategic city that Russia flattened in a scorched-earth campaign, said Carpenter.
One witness said that "everyone was afraid to be taken to Donetsk", a city in eastern Ukraine controlled by pro-Russian separatists, according to Carpenter.
If a person is accused of being a "Ukrainian Nazi", a favourite epithet of Russian President Vladimir Putin, the Russians take him or her to Donetsk "for further investigation or murder", he quoted the survivor as saying.
"During the skirmishes the Russians went into homes and basements where people were hiding from the bombardments," said Marina, a Mariupol resident and editor at a Ukrainian television channel who asked not to use her last name.
"The Russians unceremoniously loaded them into buses without even telling them where they were going," she said. "I have some friends and relatives I still haven't been able to contact."
The buses ended up going to Russia, she said.
A number of Marina's relatives have now ended up without official papers in the Lipetsk, Kaluga and Leningrad provinces of Russia with no idea when or how they will return home.
21st century concentration camps
Russia's so-called "filtration centres" are "located in schools, vocational schools, correctional facilities and other sites in the temporarily occupied Donetsk and Luhansk regions", said Valeriya Chernysh, a 19-year-old dance teacher from Mariupol.
Chernysh, her brother and their parents were taken to the village of Nikolske in Donetsk province to go through the "filtration" process before they fled to Ukrainian-controlled territory.
"Russian FSB [Federal Security Service] workers do the filtration," she said. "They ask what you think of Putin. They photograph your retina and take fingerprints ... The filtration can take around five to six hours."
After "filtration", Russians divide the Ukrainians into three groups: those who support the Russian regime, those who have no specific position and those who do not support the Russian regime, according to Chernysh.
"They're taken away and interrogated, and I don't know what happens to them after that," she said. "Those who 'pass' the filtration process get a document or certificate they can use to either go to Russia or move around Mariupol."
"When reached the staging ground, we saw hundreds of people sleeping on the ground to get these certificates. There were thousands of Russian soldiers guarding them," Chernysh said.
"It really reminded me of the ghetto and the Nazis. It's like we're reliving all of that in the 21st century."
About 10% of Ukrainians, primarily men, who go through filtration end up in correctional facilities, according to Petro Andriushchenko, an adviser to the Mariupol mayor. The remainder either remain in Mariupol with certificates in hand or are taken to Russia.
"Everyone who goes through filtration and is deemed 'untrustworthy' in the filtration camps near Mariupol is sent to ... the former correctional facility no. 52 in Olenivka village, Donetsk province, or to the notorious Izolyatsia prison in Donetsk," he said on Telegram May 11.
The detainees include soldiers' relatives, former law enforcement officers, activists, journalists and individuals who aroused suspicion for reasons like having patriotic tattoos, he said.
Russians interrogate many of them brutally -- while many simply disappear, he added.
"I can say that this is a true 21st century concentration camp Russia created in the heart of Europe," Andriushchenko said.
Passport confiscation, exile
Those forcibly expelled from Ukraine face a difficult road home, say analysts.
The biggest problem is that once the Russians transport the Ukrainians to Russia, they confiscate their passports, according to Alyona Luneva, advocacy manager with the ZMINA Human Rights Centre, which provides legal aid to Ukrainians who were forcibly removed from their country.
"It's a war crime to transfer someone out of Mariupol, Izyum and Chernihiv province," she said. "The Russians are using deceit to confiscate identity documents."
"For example, they offer Ukrainians either asylum or immigrant status, and then they take their passport, ostensibly for that," Luneva said. "Then they just give them a certificate with a photo and that's it ... then they transport them to Russia, and they can no longer go anywhere."
"They need to be identified somehow, and we need to find out if they've requested to return to Ukraine or leave Russia," she said. "They have no money, connections, papers or prospects, and they're in temporary way stations."
"We know of 33,000 people who are in centres in Crimea, and they are trying to somehow contact us from those centres through volunteers," said Luneva.
Crimes against children
Of particular concern are the children among the illegally expelled Ukrainians.
Many of the children were forcibly deported to Russia or forcibly transported to Russian-occupied territories -- the so-called Donetsk People's Republic and Luhansk People's Republic -- along with relatives, said Dariya Herasymchuk, Zelenskyy's adviser on the rights of the child and child rehabilitation.
Moscow has plans for the orphans among the illegally removed children, she said.
"Russia is preparing to streamline adoption laws so Russians can adopt Ukrainian children," she said.
"It's unambiguous that these children were already deported illegally, which is prohibited by the Geneva Convention, while this law on streamlining adoption will only increase the number of crimes by Russia against Ukrainian children," Herasymchuk said.
"We're writing to every international organisation to block this process," she said.