China and Russia on Tuesday (May 24) held their first joint military exercise since the Kremlin's invasion of Ukraine, sending bombers over the seas in northeast Asia where a key meeting of foreign leaders was being held.
South Korea issued a statement confirming the exercise, saying that two Chinese military aircraft and four Russian warplanes had entered its air defence identification zone (ADIZ) off the country's east coast, the New York Times said, adding that joint exercises involving strategic bombers are complex and are typically planned well in advance.
Japanese defence minister Nobuo Kishi called the flights "provocative", saying that a Russian intelligence-gathering aircraft also flew off northern Hokkaido to the Noto Peninsula in central Japan on Tuesday.
The exercise occurred during a meeting of the Quad bloc -- United States, India, Australia and Japan -- that discussed China's growing military threat.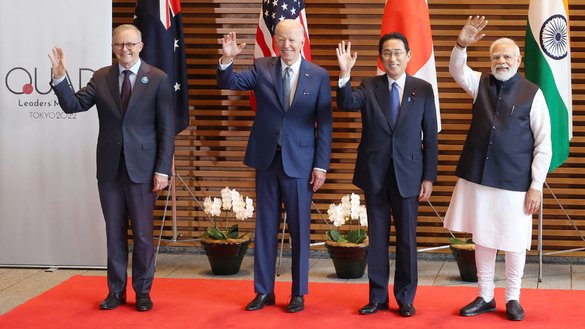 Speaking in Tokyo on Monday, US President Joe Biden compared China's threat to self-ruled Taiwan to the Russian invasion of Ukraine, delivering his strongest remarks to date on the issue amid rising tensions over Beijing's growing economic and military power.
Biden compared Taiwan's situation directly with Ukraine, which has received billions of dollars worth of arms and aid from the United States since the Russian invasion on February 24.
He said Western sanctions on Russia must exact a "long-term price", because otherwise "what signal does that send to China about the cost of attempting to take Taiwan by force?"
He warned Beijing was already "flirting with danger right now by flying so close and all the manoeuvres undertaken" -- referring to a growing number of Chinese sorties, naval exercises and other power projections in the Taiwan Strait.
China sent 18 warplanes including fighters and bombers into Taiwan's ADIZ on May 6 in the second-largest one-day incursion this year, after 39 warplanes entered the zone on January 23, according to AFP.
The final quarter of 2021 saw a spike in incursions by China into Taiwan's air ADIZ, with the biggest single-day breach on October 4 when 56 warplanes entered the zone.
Russian President Vladimir Putin and Chinese President Xi Jinping conferred in Beijing February 4, vowing to stick together in a "new era" of global political and military order.
"Friendship between the two states has no limits," they said in a joint statement released after the meeting. "There are no 'forbidden' areas of co-operation."
The Chinese regime reportedly learned in advance of the Russian plan to invade Ukraine but cared only about not having it happen during the Beijing Winter Olympics.
'Change the status quo by force'
Leaders of Japan, India, Australia and the United States warned Tuesday against attempts to "change the status quo by force" as concerns grow about whether China could invade self-ruled Taiwan.
A joint statement by the Quad bloc avoided any direct mention of China's growing military power in the region but left little doubt about where its concerns lie.
"We strongly oppose any coercive, provocative or unilateral actions that seek to change the status quo and increase tensions in the area, such as the militarisation of disputed features, the dangerous use of coast guard vessels and maritime militia and efforts to disrupt other countries' offshore resource exploitation activities," it said.
The four nations are attempting to build their loose grouping into a more substantive counterweight to China's rising military and economic power, despite their differences.
"As Russia's invasion of Ukraine is shaking the fundamental principles of the international order... (we) confirmed that unilateral attempts to change the status quo by force will never be tolerated anywhere, particularly in the Indo-Pacific region," Japanese Prime Minister Fumio Kishida said.
China 'carefully studying' Ukraine war
China is closely studying Russian's invasion of Ukraine and is likely adjusting its long-term plans for gaining control of Taiwan based on the lessons from the war, US Central Intelligence Agency (CIA) director Bill Burns said earlier in May.
"Clearly the Chinese leadership is trying to look carefully at what lessons they should draw from Ukraine about their own ambitions and Taiwan," Burns told a Financial Times conference.
Burns said he thinks Beijing has been "surprised" by the poor performance of Russian military forces as well as the tough resistance coming from the entire Ukrainian society.
"I think they've been struck by the way in which particularly the transatlantic alliance has come together to impose economic costs on Russia as a result of that aggression," he continued.
Beijing has been "unsettled by the fact that what [Russian President Vladimir] Putin has done is to drive Europeans and Americans closer together", Burns said.
"What conclusions get drawn from all that remains a question mark," he said.
"I think the Chinese leadership is looking very carefully at all this, at the costs and consequences of any effort to use force to gain control over Taiwan."