TASHKENT -- The Uzbek government is including English among the subjects for university entrance exams at institutions with foreign-language requirements, a move some educators say will help youth break free from Russian propaganda.
English-language exams for admission to the 2022-2023 academic year are required at six universities, Uzbek officials announced in March.
They include the University of World Languages, the State University of Oriental Studies in Tashkent, the Samarkand State Institute of Foreign Languages, Tashkent State Pedagogical University, as well as two other teachers' colleges in Kokand and Nukus.
The move comes ahead of plans to introduce an English-language exam requirement for all universities starting in the 2023-2024 academic year.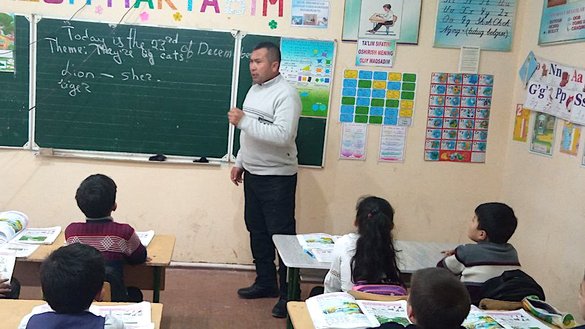 Knowing English will allow Uzbek youth to gain information from English-language sources, rather than from Russian propaganda, according to Uzbek educators.
The demand for English in Uzbekistan is higher than ever, and the recent change is a real boon, said Sabokhat Rakhimova, a freelance journalist from Andijan.
"Uzbek youth want to study in the country's universities that operate in English and receive their further education abroad," she said.
"Another side of the issue is the need to get information from English-language sources rather than from Russian media, which have essentially become a mouthpiece for the Kremlin's ideology," Rakhimova said.
"I believe that this is a correct and prescient decision, since young people will integrate into the international information space through English," said Gulchekhra Khursandova, 23, a native of Karshi who is studying English to pass admission exams this year.
"We will have the opportunity to receive alternative information, bypassing the Russian language," she said.
Importance of English
Pulat Akhunov, an Uzbek politician living in Sweden, favours changing the political elite's attitude towards the English language in Uzbekistan.
"Unfortunately, the political elite is Russian-speaking," he said. "Until it understands the English language's significance for the country, the situation will not change."
Changing the situation will also require a special government programme involving volunteers from abroad, a new approach to language study on television and radio, and support for the opening of private English schools, Akhunov said.
President Shavkat Mirziyoyev last May announced a new requirement for graduates of Uzbek secondary and post-secondary schools to know at least two foreign languages.
Since then, knowledge of at least one foreign language has been required also when applying for a job in government agencies.
Without such skills, further promotion is impossible, a source at the Ministry of Innovative Development said.
When hiring new employees, English proficiency is a serious factor, and if a job candidate has an International English Language Testing System (IELTS) certificate, then he or she is already ahead of most of the competition, the source added.
Cost of learning
Farkhod Abdulazizov, an English teacher at School No. 35 in Namangan, advocated for the creation of a government programme that allows young Uzbeks to learn English for free.
The cost of foreign-language courses in Tashkent ranges from 400,000 to 700,000 UZS (approximately $40-70) for one month. The fee for a three-month course can exceed 2 million UZS ($200).
In January-March 2022, the average monthly salary in Uzbekistan was 3.4 million UZS ($310), according to the government.
"Special magazines are needed [for students of English]. Not scholarly and methodological ones but journals that explain everything using popular language as is done in developed countries," said Abdulazizov.
Online courses are more effective in Tashkent and provincial capitals, where the internet is not as slow, he noted.
The country needs more native English teachers, he said, adding that they can better teach young Uzbeks as well as English-language educators.