ALMATY -- Fractures among member states of the Russian-dominated Collective Security Treaty Organisation (CSTO) were on display last week during a summit in Moscow.
The gathering on May 16 was the first face-to-face meeting of all the heads of state of the CSTO countries in two and a half years, and came amid Russia's ongoing invasion of Ukraine.
Kazakh President Kassym-Jomart Tokayev, Belarusian President Alyaksandr Lukashenka, Kyrgyz President Sadyr Japarov, Tajik President Emomali Rahmon, Russian President Vladimir Putin and Armenian Prime Minister Nikol Pashinyan attended.
The mood of the meeting was reportedly unfriendly.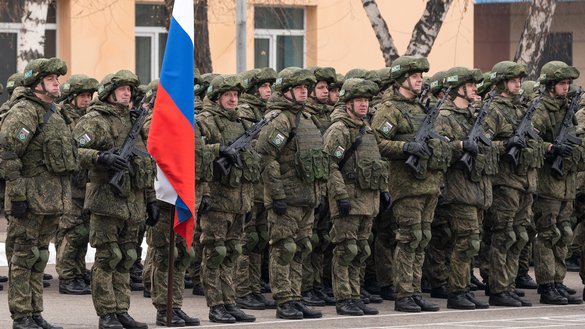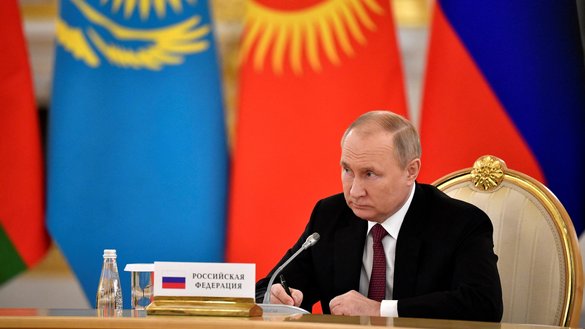 "It would be wrong to say that the ... meeting went seamlessly. The participants traded some mutual rebukes during the summit," reported Vedomosti, the Russian business daily.
Members of the union also noted the lack of unity or solidarity within it.
"Can we say today that in our organisation we stand together and are all bonded by solidarity and support? As recent events show ... it appears not," Lukashenka said.
Most CSTO members did not support Russia March 2 at the United Nations (UN) General Assembly, when they generally abstained on a vote held to condemn the Russian invasion of Ukraine.
Only Belarus and Russia among CSTO states opposed the resolution.
For his part, Putin reminded Kazakhstan of the help it received from the bloc's peacekeeping forces in January and said he expected close co-operation within the CSTO on foreign policy and in the UN.
Meanwhile, Pashinyan criticised the CSTO for not intervening after Azerbaijani troops invaded Armenian territory last year, and complained that some bloc partners were continuing to sell arms to Azerbaijan.
Putin, Lukashenka stand alone
Resentment has become evident within the CSTO, said Gaziz Abishev, a political correspondent from Nur-Sultan.
The alliance's leaders are on different wavelengths because they have different interests, he said.
"Putin started his 'holy' war that combines everything: his idea of 'gathering the lands' [the same phrase used for the expansion of ancient Muscovy], war with NATO, defence of Russia's national interests as he sees them and the quest to hold on to power," he said.
"Lukashenka has a similar agenda -- he nearly lost power in Belarus as a result of unrest ... and he has also been hit with sanctions."
Lukashenka, who has support only from Putin, is seeking allies, but Pashinyan knows that Lukashenka supplied Azerbaijan with arms during its war with Armenia and is upset with him, said Abishev.
Meanwhile, Rahmon is seeking to transfer power to his son, and Japarov is focusing on consolidating power in his own hands, he said.
Kazakhstan's agenda includes democratisation, reforms and the defeat of its oligarchs, he added.
The invasion of Ukraine, along with its economic repercussions, "has punched into the ribs of everyone within the CSTO like a piece of rebar", Abishev said.
Of course, Lukashenka would like Kazakhstan and the other CSTO members to rush to his and Putin's aid, he said.
"But Kazakhstan isn't interested in doing that because, in my view, the leaders of our country don't approve of the reasons and methods Russia is using in Ukraine," Abishev said.
Questioning CSTO membership
Lukashenka's comments are the words of an inept man who is aware that he and Putin have been completely isolated, said Arman Shorayev, an Almaty-based journalist and businessman.
"Kazakhstan doesn't actually see the CSTO as an entity that should challenge NATO because Kazakhstan's military doctrine articulates co-operation with both blocs," he said.
"Two days before the CSTO summit, Tokayev was in Turkey -- which is a NATO member -- and there he reached an agreement on joint military exercises."
Moreover, Turkey has taken responsibility for providing all the technology for a drone plant in Kazakhstan to jointly produce models that could outperform the Turkish-made Bayraktars, which are decimating Russian troops in Ukraine, Shorayev said.
The CSTO agreement stipulates that when one member country plans to attack a third country, it is required to notify the other members of the bloc, he noted.
"Putin flagrantly violated these requirements set by the organisation -- he attacked Ukraine without notifying anyone," Shorayev said. "Let him call it a 'special operation', but it's actually an invasion without a declaration of war."
That means Kazakhstan, like any other CSTO member state, has the moral right to suspend its membership or leave the bloc altogether, he said.
Since its founding in 1992, the CSTO has lost several disappointed members. Azerbaijan and Georgia, which had joined in 1993, left in 1999. Uzbekistan left in 2012.
"That means there's a precedent, and I think the next country to leave will be Kazakhstan," said Shorayev.
A 'toxic' bloc
The tension in the CSTO is obvious, with each state pursuing its own interests, said Askar Kaldybayev of Almaty, a lawyer.
Russia's leadership wants to fend off NATO by striking Ukraine, with Belarus's participation, he said.
From the perspective of international law, these actions should be characterised as aggression against a foreign state, he said, adding that the global community describes them as such.
"Other CSTO members, such as Kazakhstan and Kyrgyzstan, see that the world opposes Russia's and Belarus's actions, and they understand that being in a military and political union with those two countries will negatively affect their interests," Kaldybayev said.
No country wants to be hit with sanctions because it collaborated with Russia and Belarus, he said.
"The CSTO as a union with these two countries is therefore becoming toxic for the other countries," said Kaldybayev.