KYIV -- A former Russian colonel's realistic take on Moscow's "special operation" in Ukraine has analysts wondering if the Kremlin's propaganda machine is preparing the public for the invasion's inevitable failure.
While the Kremlin still maintains that the war is going well, Mikhail Khodarenok, a Russian military correspondent and retired colonel, said on the "60 Minutes" programme on Russia-1 that it will only get worse.
"The biggest failing of our military and political situation is that we are completely isolated geopolitically and, as much as we don't want to admit it, virtually the whole world is against us," he said May 16 during a live broadcast on the state-backed TV channel.
"We need to get out of this situation," Khodarenok told Olga Skabeyeva, the programme's host who is known to toe the Kremlin line.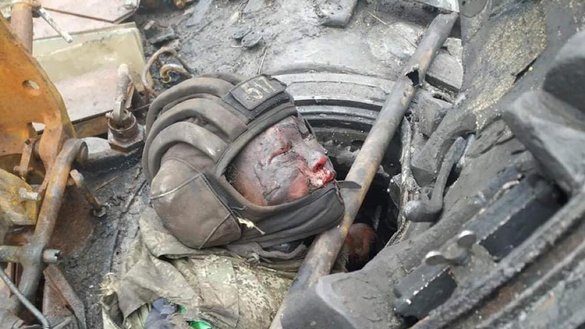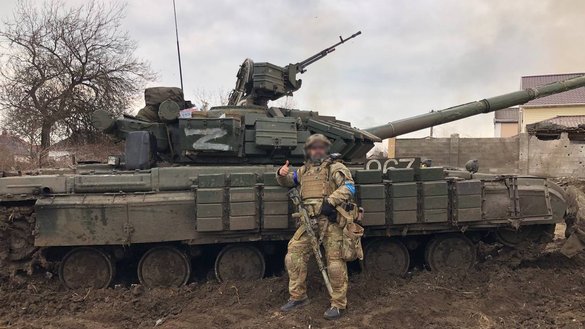 Ukraine is prepared to have up to one million Ukrainians go into combat if need be, said Khodarenok, who pointed out the Ukrainian army's strong fighting spirit and morale.
All these factors will exacerbate the situation for the Russian army, he said, adding that they need to be viewed as "the reality of the immediate future".
"The American Lend-Lease and European aid will kick in before long, so we need to accept that there will soon be a million armed Ukrainian soldiers."
"And we need to take that into account in our operational and strategic calculations, that the situation in this sense will clearly get worse for us," Khodarenok said.
Propaganda mouthpiece
Eduard Bagirov, a Ukrainian human rights activist who has made appearances on Russian talk shows in the past, including on Russia-1, said he was surprised Khodarenok was not immediately shut down.
"If you say anything they don't like, they cut off your microphone, or the audience starts yelling or applauding, other guests interrupt, or the hosts suddenly step in and don't let you speak. On those channels they dish out only the intended topic and directive," Bagirov said.
The talk show "60 Minutes", which during the war has become one of the Kremlin's main megaphones for spreading its propaganda in Russia, follows this blueprint, Bagirov said.
"I'm astounded that [Khodarenok] spoke for almost nine minutes nonstop, with Skabeyeva asking him few questions, and that he was allowed to talk without interruption," he said.
"If you were to abide by the Russian Criminal Code, he'd get 15 years. His comments cancelled out [Russian President Vladimir] Putin's comments that Russia will prevail. That shows that they wanted this to be said," he said.
Khodarenok's statements represent the opinion of Russia's military, said Bagirov.
"When someone like Khodarenok speaks out, he's representing the point of view of all military personnel. This isn't his personal opinion. It's the unspoken words of the entire military staff of Russia and of Russia's top leadership," he added.
"He's expressing the opinion that the senior generals and the troops cannot state," Bagirov said.
Every agency in Russia -- such as the Federal Security Service (FSB), Foreign Intelligence Service and Ministry of Defence -- has its own pool of talking heads who can give interviews and speak on its behalf, said Alexander Kovalenko, a military analyst in Kyiv.
Khodarenok is the mouthpiece of the Ministry of Defence, said Kovalenko.
"Khodarenok reflects the opinion of all troops in the Ministry of Defence. They understand the situation they've ended up in, that they're losing this war, and he's broadcasting that on their behalf," Kovalenko said.
"Everyone realises that Russia is in a self-defeating position. They need to prepare for capitulation. And now they've even started to acknowledge publicly that they've failed," he said.
Other statements similar to Khodarenok's are starting to show Russians the reality, laying the groundwork to inform them that Russia is experiencing major problems in the war and needs to get out with minimal losses, he added.
"This is all so that the public is prepared for a defeat, at the very least, and for inevitable events," Kovalenko said.
'That's not a victory -- it's a defeat'
Many Russians are now beginning to wonder why the war has dragged on for multiple months, said Ihor Petrenko of Kyiv, director of the internal policy department of the International Centre for Policy Studies.
"Russia initially said that it was fighting NATO on Ukrainian territory. It bragged about the army and kept saying there would be a quick victory," he said.
"People want to understand why the government was saying one thing but then things turned out completely differently. And now the leaders are trying to find a culprit," Petrenko said.
Statements like Khodarenok's on state TV channels show disagreement within the Kremlin, according to Petrenko.
Defence Minister Sergei Shoigu is in a precarious position, he added.
"These statements about the weak Russian army are [directed at] him. There are many questions for him and his expertise," Petrenko said.
"Right now we're seeing many liberal Russian channels and the press in general making a big issue of his work. The army is being plundered," he said, referring to widely reported corruption in the Russian military that left its troops under-equipped and unprepared to fight universal Ukrainian resistance.
"There are no results to show for it. They said the army was better than the US Army, but it's not achieving any results," said Petrenko.
While Russia's losses over the last three months in Ukraine are comparable to the Soviet Union's losses after nine years in Afghanistan, they still have not brought Russia the swift victory it wanted, he noted.
"Russia has lost its geopolitical and economic influence. In the Ukrainian territories where Russian soldiers are now, they can't maintain their own influence. That's not a victory -- it's a defeat," Petrenko added.