TASHKENT -- A five-day visit by a US delegation to several Central Asian nations last week has drawn the ire of the Kremlin and its propaganda outlets, say analysts.
The delegation, headed by US Assistant Secretary of State Donald Lu, visited Uzbekistan, Kyrgyzstan, Tajikistan and Kazakhstan May 23–27.
Lu was accompanied by a number of diplomatic, security and financial officials.
The delegation discussed topics including the effect of international sanctions on Russia, economic co-operation and regional and border security.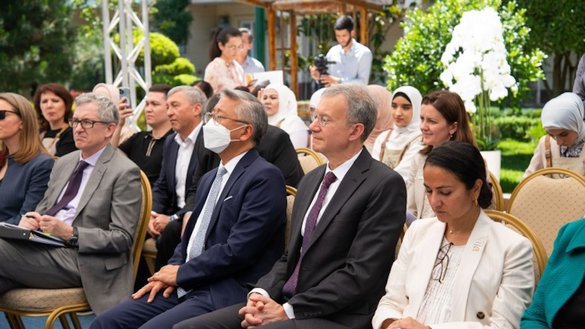 The talks noted the importance of the countries' co-operation within the C5+1 platform in areas such as infrastructure, energy, transport, environmental protection and the fight against climate change.
"The C5+1 is a platform that brings together the five states of Central Asia and the United States to discuss and work on issues of common concern," according to the US State Department.
As part of the visit, Lu attended self-defence courses for women and girls in Tashkent created with help from the United States.
He also visited an US-sponsored Afghan refugee centre in Vakhdat, Tajikistan.
"As a diplomat, it is my job to always advocate for a more peaceful world. For me, peace is not only the absence of war and armed conflicts but also the presence of freer, healthier, and safer lives of all of our peoples," Lu said in Tashkent May 24, according to the US embassy.
'A bargaining atmosphere'
The Kremlin and its propaganda outlets have viewed Lu's visit negatively, especially as Central Asian countries continue to refuse to side with Russia in regard to Moscow's invasion of Ukraine.
The United States is hardly seeking to win over Central Asian countries to its side in a confrontation with Russia, Andrey Grozin, director of the Department of Central Asia and Kazakhstan at the Institute of CIS [Commonwealth of Independent States] Countries, told Gazeta.ru May 23.
Instead, "they just want to drive a wedge and create a bargaining atmosphere that should [in Washington's view] induce an atmosphere of distrust between Russia, the Central Asian republics and China," said Grozin.
State Duma Committee on CIS Affairs First Deputy Chairman Konstantin Zatulin also hinted at "neutral" Central Asian countries' obligations to Russia.
"Today's Central Asian states have existed for at least 30 years, and they are headed by adults who should perfectly understand that having every desire to remain on the sidelines, they will not be able to do this, given all our ties and mutual obligations," Zatulin told Gazeta.ru, also on May 23.
If Central Asian countries decide to distance themselves from Russia, then Moscow may also repudiate certain obligations, warned Zatulin.
"Until recently, we have always fulfilled our obligations. Whether it was about potential threats from Afghanistan, whether it was about unrest in Kazakhstan -- we always gave a response."
"On the other hand, we don't need to crudely rein in CIS states even when they maintain relations with our adversaries. The important thing is that these relations do not harm us," he said.
"There should be an agreement between us on this issue," he said.
Russia displeased
Russia views such tours by US politicians resentfully, said Bishkek journalist Adil Turdukulov.
"Donald Lu's arrival also irritates the Kremlin. It's another reason to publish venomous commentary in the press. This is clearly being done at the Kremlin's suggestion," he said.
"It isn't just the personal position of these experts. They are expressing what the Kremlin cannot say using diplomatic language," Turdukulov said.
The Kremlin in the past has been sensitive to Central Asian countries' rapprochement with the West, and especially with the United States, according to Alisher Ilkhamov of Tashkent, director of Central Asia Due Diligence.
It has an especially negative view of military and strategic co-operation, he said.
"Recall the pressure that Moscow put on the authorities of Kyrgyzstan as it sought the closure of the US air base located in Manas," said Ilkhamov, referring to a US base used to transfer troops to Afghanistan that Kyrgyzstan closed in 2014.
"At this stage, the Russian leadership is particularly displeased that Central Asia countries have taken a neutral position on the war in Ukraine. That is, they have refused to directly participate in the 'military operation'," said Ilkhamov.
Uzbek Foreign Minister Abdulaziz Kamilov lost his post in April precisely because of pressure from the Kremlin after he stated in parliament in March that Uzbekistan supports Ukraine's territorial sovereignty and does not recognise the so-called "Donetsk People's Republic" (DPR) or "Luhansk People's Republic" (LPR), he said.
"Specifically this month [May], Moscow is making efforts to get shipments of military equipment and ammunition from Central Asian countries, and to use the territories of these countries to circumvent Western sanctions imposed on Russia because of its aggression in Ukraine," Ilkhamov added.
The latter objective is pursued under the pretext of "strengthening economic co-operation" but businesses are actually being set up in countries of the region, through which Moscow expects to purchase high-tech products necessary for its defence industry and for support of its economy, according to Ilkhamov.
"This creates both temptations for the region's ruling elites as well as risks that secondary Western sanctions will be applied to Central Asian countries," he said.
"Perhaps one of the goals of the US assistant secretary of State's visit is to warn the governments of these countries that such shady deals with Russia are unacceptable, and that secret shipments of military equipment and munitions to Russia are unacceptable," he noted.