ALMATY -- Amid broad sanctions that Western countries continue to introduce and expand against Russia in response to its invasion of Ukraine, Kazakhstan is looking for opportunities to reorient trade routes in order to bypass Russia.
Traditionally, Kazakh cargoes headed for Europe pass overland through Russia.
The US Agency for International Development (USAID) conducted a study tour of Kazakhstan, Azerbaijan and Georgia in May to find opportunities for increasing trade along the Trans-Caspian route.
The event was organised in co-operation with Transport Corridor Europe-Caucasus-Asia (TRACECA) and KazLogistics, the Union of Transport Workers of Kazakhstan.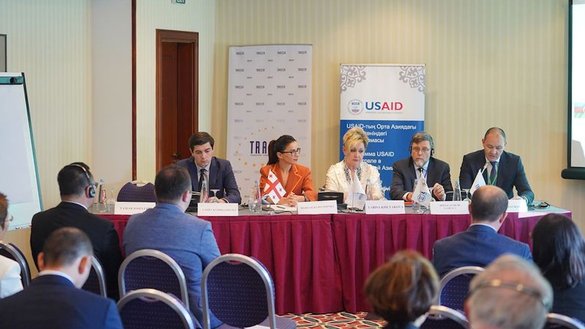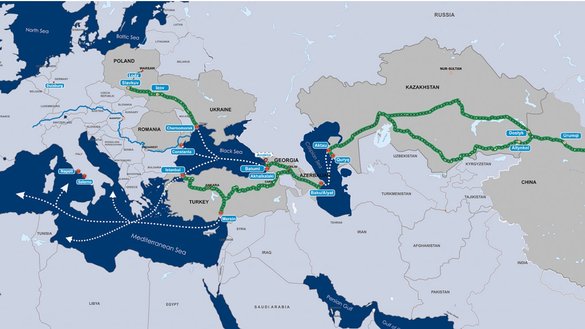 "Recently Central Asian governments have placed great focus on increasing the transport of cargo via the Caspian Sea, as traders encounter growing problems in moving their goods through the current transit routes [through Russia]," according to a USAID press release dated May 17.
The international transport corridor across the Caspian Sea is an alternative means for transporting goods from Central Asia to Europe and has great potential for trade and business development, said USAID Central Asia Regional Trade Officer Robert Parker.
"USAID welcomes the co-operation of these countries, and supports decisions that will lead to an increase of regional trade and investments," he said, according to the statement.
A delegation of more than 40 customs officials and staff of transport policy government agencies of Kazakhstan, Kyrgyzstan, Tajikistan, Turkmenistan and Uzbekistan participated in the trip organised by USAID.
Personnel from national associations of road carriers, logistics companies and freight forwarders, seaports and shipping companies from Azerbaijan, Georgia and Central Asian countries also joined the tour.
The delegation members studied the pricing policy of each port along the route, reviewed processes, and learned about digitisation initiatives, which will help them develop suggestions for further simplifying procedures.
USAID also piloted the shipment of pre-selected cargo along the proposed alternative route from Central Asia, through the port of Kuryk in Kazakhstan via Azerbaijan and Georgia to Turkey, to identify challenges facing carriers.
Strengthening regional ties
The Trans-Caspian route matters to landlocked Kazakhstan's economic security and has grown more important in recent months, as exports through Russian territory are becoming increasingly difficult because of sanctions.
Kazakhstan started to work seriously on realising the potential of the Trans-Caspian route at the end of February, after Russia invaded Ukraine.
It has focused its efforts on strengthening ties with other countries that could become transit routes for its exports.
In May, Kazakh President Kassym-Jomart Tokayev traveled to Ankara, where he was warmly received by Turkish President Recep Tayyip Erdoğan.
The two Turkic-speaking countries reaffirmed their desire to deepen their existing close relations in view of deepening geopolitical tensions.
At the same time, Tokayev enlisted Turkey's support regarding "strengthening the transport and transit partnership and better using the potential of the Trans-Caspian International Transport Route".
Kazakhstan is also actively deepening co-operation with Azerbaijan, which local media have recently covered as "a strategic partner".
In an interview with the news site Zakon.kz on May 30, Yerkin Tukumov, director of the Kazakhstan Institute for Strategic Studies, called Azerbaijan one of Kazakhstan's most important partners and allies.
Co-operation with Baku has "very great potential, especially in regard to the transport corridor", he said.
"It isn't just gas and oil pipelines. We are talking about a broader vision: East-West transit," Tukumov said. "Through Baku, we have access to Turkey, and Azerbaijan is one of the key countries for us."
Kazakhstan to increase cargo flow
Meanwhile, work is in full swing on a project to launch a container hub at Aktau on the Caspian Sea. Today Kazakhstan is using less than a quarter of the port's capacity.
The container hub will increase cargo flows that bypass Russia.
The project will be implemented in Aktau's Special Economic Zone (SEZ) in order to "develop cargo transportation along the Trans-Caspian International Transport Route", the Kazakh Ministry of Industry and Infrastructure Development said May 16.
Expected investors include global container operators, such as Singapore's PSA Group, Denmark's Maersk and Switzerland's MSC, with which Kazakhstan already has reached preliminary agreements.
The project's estimated costs amount to more than 10 billion KZT ($23 million).
Previously, shippers exported goods produced within the Aktau SEZ to Europe via Russia, until that route ceased operating as a result of the stringent sanctions on Russia.
The danger of dependence on overland Russian transit and the need to diversify export routes were further confirmed by the March 22 accident at the Caspian Pipeline Consortium (CPC) sea terminal near Novorossiysk, Russia, where, according to Moscow, a storm disabled two out of three loading devices.
Kazakhstan, which shipped more than two-thirds of its oil via the CPC pipeline, was forced to cut production. The month of downtime cost the Central Asian republic $337 million.
Foreign analysts and local observers have expressed doubt over Russia's explanation, especially since Western firms and consortium partners were not able to conduct their own investigation into the incident.
Russia actually contrived the "accident" at the sea terminal in order to pressure Kazakhstan, which has refused to support Russia's invasion of Ukraine, said Arman Shorayev of Almaty, a public figure and former executive at major Kazakh TV channels Khabar and KTK.
"This action by Moscow is not the best way to keep a partner," he said.
Reducing dependence on Russia
The Trans-Caspian route is expected to help Kazakhstan reduce dependence on Russia and diversify its export destinations.
During an official visit to Mangystau province on May 13, Prime Minister Alikhan Smailov instructed his subordinates to rely more on the seaports at Aktau and Kuryk by sending export cargo along the Trans-Caspian route.
"Mangystau province has huge internationally significant transport, logistics, infrastructure and service potential," he said, according to a statement by his press office. "However, the capabilities of the country's seaports are not fully used, and the average utilisation is just 21%."
"This situation must change."
Throughput capacity at Aktau, the largest port in Kazakhstan, is about 15 million tonnes per year. Authorities plan to increase annual transport through the Caspian Sea to 10 million tonnes by the end of this year, including the redirection of about 4 million tonnes of export cargo to the Trans-Caspian route.
These volumes require additional sea transport. At present, Kazakhstan, the leader in cargo transport in the Caspian Sea, depends on Azerbaijani ferries, which soon will be insufficient.
Kazakhstan is building four of its own ferries that will sail in the Caspian Sea, Minister of Industry and Infrastructure Development Kairbek Uskenbayev announced April 30 on his Telegram channel.
In addition, container production will begin by the end of the year.
Following a global trend, more and more strategic Kazakh exporters are switching to containers.
The Trans-Caspian route can unlock Kazakhstan's export and transit potential, moving goods through the country from China to Europe, said Yermek Syzdykov, a Nur-Sultan resident and member of the National Chamber of Entrepreneurs.
"We should have diversified our strategic export routes long ago, rather than concentrating them in Russia," he said.