BESHARIK DISTRICT, Uzbekistan -- Makhmud Eshonkulov, a 55-year-old Uzbek cartoonist, found his work entering a new phase on February 24, the start of Russia's invasion of Ukraine.
In one of Eshonkulov's cartoons from April, Russian President Vladimir Putin is depicted on a playing card as the Grim Reaper.
In another, the two-headed Russian eagle holds in its claws a nuclear bomb and the letter "Z" -- a symbol of the invasion -- instead of the traditional sceptre and orb.
Another cartoon riffs off Laocoön and His Sons, an ancient sculpture displayed at the Vatican.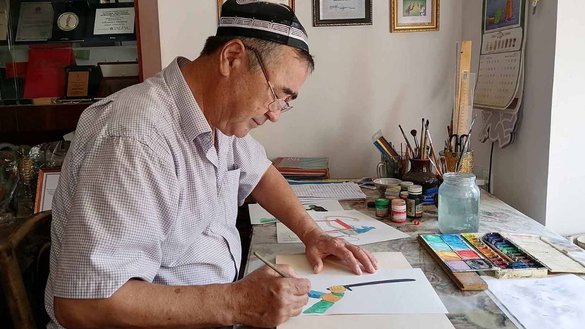 Rather than the Greek hero and his sons fighting sea serpents, residents of Central Asian countries tangle with an elongated ribbon of St. George -- another symbol of Russian propaganda -- in front of a Soviet flag.
"Civilians and children are dying in Ukraine now. Cities have been destroyed. The entire world condemns this aggression, and so do I," Eshonkulov said.
"People now hate Russia -- not the Russian people but rather these pro-Putin Nazis," he said.
Eshonkulov is one of few political cartoonists in Uzbekistan.
Before he began publishing in the satirical magazine "Mushtum" (Fist) in 1991, Eshonkulov held many different jobs, including as a tractor operator, a driver, a salesman and a gas station attendant.
These days he prefers his quiet kishlak (village) in Besharik District, Fergana Region, to the hustle and bustle of Tashkent.
Over the course of his professional career, Eshonkulov has participated in more than 350 exhibitions, festivals and competitions.
Importance of political art
Political and anti-war cartoons as a genre are understated and almost entirely undeveloped in Uzbekistan, said Vyacheslav Akhunov, an artist from Tashkent.
The genre has only two or three practitioners because Uzbek artists often deliberately avoid social and political activity and timely topics in favour of commercialising their work, he said.
Akhunov appreciates Eshonkulov's anti-war work because such examples are vital for continued development of political art.
Eshonkulov's personal stance commands respect, he added.
While the Uzbek government supports Ukraine's territorial integrity and does not recognise any self-styled republics there, the Russian embassy, Russian House and trade missions "teem with all sorts of FSB agents whose numbers have surged recently", Akhunov said, referring to Russia's Federal Security Service.
"The Russian embassy, through its moles from the intelligence agencies, is doing everything to uncover and register anyone who is now voicing an anti-war agenda or openly talking about war crimes in Ukraine," he said.
Russia's excesses and propaganda in Uzbekistan could lead to the loss of Uzbek independence in the future, Akhunov warned.
In a democratic society, individuals need to have freedom of expression, which includes freedom to parody, said Kamoliddin Rabbimov, a political analyst from Tashkent.
"There should be a huge number of artists in this space -- not one, or two, or five or 10," he said. "Cartoonists should be guided by intellectual freedom."
Eshonkulov's cartoons inspire fury and a smile of despair, said Sanat Melibayev, an art scholar from the Fergana Valley.
"Today people need ample courage to freely express their opinion on the war and those responsible for starting it," he said. "Not every artist has the nerve to take that step."
"But you also cannot stay silent when you see the horrors of the war in Ukraine. That is why Eshonkulov's drawings provoke such strong emotions," Melibayev said.
"They force you to reflect on the brutality of dictatorship and its consequences."
Portraying reality
For his part, Eshonkulov said he is using art to portray reality.
Political cartoons and criticism work toward the future, he said.
"When we criticise ourselves, society moves forward ... we know our shortcomings; we try to remedy them."
One more drawing by Eshonkulov depicts Putin attempting to bludgeon a map of Ukraine with a tank. In the next panel, the tank has disintegrated into smithereens.
"People all over the world oppose war. Here we are living in Uzbekistan. Who wants war?"
"That is why Putin is a Nazi. If things like the Russia-Ukraine war happen, no matter what, we will not stand by," Eshonkulov said.