KYIV -- Russian occupation forces in Ukraine are forcing Ukrainians to accept Russian passports, a move observers say is a violation of international law.
In occupied Mariupol, which still lacks communications and electricity, the Russians have started to equip document reception points with the ability to accept Russian passports, Petro Andryushchenko, advisor to the mayor of Mariupol, wrote on his Telegram channel June 2.
The occupation forces in Mariupol "are looking for locations for such points in intact buildings with the potential to connect electricity", he wrote.
"The actual annexation of Mariupol has begun."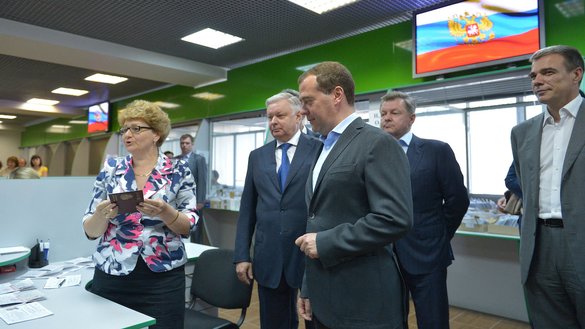 President Vladimir Putin on May 25 signed a decree simplifying the procedure to get a Russian passport for residents of the southern Ukrainian provinces of Zaporizhzhia and Kherson.
"The illegal issuing of passports... is a flagrant violation of Ukraine's sovereignty and territorial integrity, as well as norms and principles of international humanitarian law," the Ukrainian Foreign Ministry said in a statement.
The initiative is further evidence of Moscow's "criminal" war goals, namely the integration of provinces held by Moscow's army "into Russia's legal, political and economic field", the ministry said.
The official order came on the heels of a 2019 decree that allowed the same fast-track procedure for residents of the self-proclaimed Donetsk and Luhansk People's Republics, eastern Ukraine's breakaway provinces.
It also comes amid a raft of Russian measures aimed at annexing occupied Ukrainian territory.
"The European Union [EU]... strongly condemns any attempts by Russia to replace democratically elected and legitimate Ukrainian administrations," said the EU's top diplomat, Josep Borrell, in a statement June 3.
Borrell additionally denounced "attempts ... to introduce the Russian ruble as a parallel currency to the Ukrainian hryvnia, and to impose Russian curricula and education materials and change the language of tuition in schools in those parts of Kherson and Zaporizhzhia regions which are currently under the illegal control of invading Russian armed forces".
Violation of international law
Russian passports are being distributed in the occupied territories at gunpoint, leaving residents without a choice, according to Olga Skrypnyk, head of the Crimean Human Rights Group.
"These territories are controlled by the Russian army," she said. "They will force [locals] to take these passports. Without them, people will not be given humanitarian aid."
"Those who refuse may be beaten, intimidated or even killed. The Russian army's methods are terrible and cruel... taking a passport now essentially means survival," Skrypnyk said.
Passportisation is a violation of human rights that entails other crimes, such as discrimination, she said. Under the occupation, residents without a Russian passport will not be able to safely travel around the streets, work or receive any kind of assistance.
For Russia, this is an opportunity to gain a foothold in temporarily occupied territories, Skrypnyk added.
"The Russians want to keep the south of Ukraine," she said. "Passports are being issued in order to organise so-called 'independent republics' there. This requires the people's submission."
"In order to break their resistance, the Russians are forcibly distributing these passports."
"And those who resist simply disappear," said Skrypnyk.
Yevhen Yaroshenko, an analyst with human rights organisation CrimeaSOS, said he often receives inquiries from relatives of inhabitants who have disappeared in the occupied territories.
Most of those who have disappeared are volunteers or former soldiers, who -- even facing the threat of death -- refuse to pick up a Russian passport, he said.
Additionally, after Ukrainians receive a Russian passport, the Russian army threatens to draft them illegally, according to Yaroshenko.
"In this instance, Russia is committing two war crimes at once," he said. "The first is forcibly conscripting the occupied territory's population into the ranks of the Russian army, and the second is involving them in combat against their own state."
Propaganda in occupied territories
There is yet another side of compulsory passportisation: fierce propaganda, according to Vasily Slichko, spokesperson for the Centre for Countering Disinformation under Ukraine's National Security and Defence Council.
In Kherson province, communication is disappearing. Ukrainian mobile phone providers do not work and home internet is limited, he warned.
"They are deliberately creating an information vacuum that they fill with the information they need to carry out passportisation."
"For example, you get your pension only in rubles, because it's a ruble zone. The Russians are introducing [new] phone numbers, and now there will be a zone with only Russian numbers."
"The Russians have always done this when they seized other peoples' territories," Slichko said.
Russia used the same practice to issue Russian citizenship in other occupied territories -- in Crimea, Transnistria, Abkhazia and South Ossetia, he said.
According to Slichko, the propaganda's second objective is to show that Ukrainians in the occupied territories are supposedly eagerly taking Russian passports, thereby demonstrating loyalty to Russia.
Lessons from Crimea
Rafkhat, a 65-year-old resident of Crimea, received a Russian passport after Crimea was annexed in 2014.
Back then, from morning to evening, Russian propaganda persuaded residents that everything that was happening -- such as Russia's entry, the referendum, as well as passportisation -- was consistent with every right and the United Nations Charter, said Rafkhat, who gave a pseudonym for safety reasons.
"However, rumours were constantly spreading that those without a Russian passport would not be hired, would not be able to register marriages, or go to court," he said. "Also, it was unclear what would happen with pensions, and this issue worried us as well."
Simplified procedures meant residents only had to provide photographs, and a document reception point was set up in the village council building.
Rafkhat submitted documents for the entire family.
"They didn't require any data, proof of marriage, military registration, or residence registration. They didn't demand statements that we were terminating Ukrainian citizenship. They didn't demand that we hand over our Ukrainian passports," he said.
"It looked like they were handing out coupons of some sort of discount, not a passport," Rafkhat said. "When we received the documents, journalists came and took pictures of everyone. Much more time was devoted to this process than to actually receiving the documents."
In Crimea, which had about 2.2 million residents at the time of the occupation, passportisation happened in two months, he said.
"After passportisation, the re-registration of property began immediately," he said. "We had to re-register our house according to Russian laws, indicating the data on the Russian passport."
"Russia annexed, among other things, factories and enterprises, functioning infrastructure, and private property," he said. "It all had to be legalised under Russian jurisdiction."