CAIRO -- Russia-backed Syrian militias are facing a crisis due to Moscow's preoccupation with its war on Ukraine and its diversion of attention and support -- manpower, weapons and money -- to that arena, activists said.
This sudden turn of events has had a sharp impact on the situation in which these militias find themselves.
Since Russia invaded Ukraine on February 24, there have been a number of defections, with members of Russia-backed militias switching their allegiance to militias affiliated with Iran's Islamic Revolutionary Guard Corps (IRGC).
To capitalise on this trend and draw more potential defectors away from Russia-aligned groups, Iranian militias recently boosted the salaries they are offering.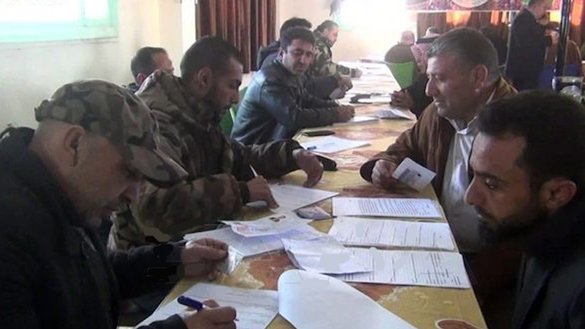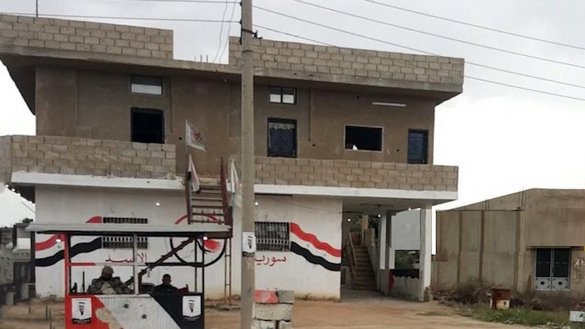 Deir Ezzor media activist Jamil al-Abed told Al-Mashareq the Russia-backed National Defence Forces have begun confiscating homes, shops and other property in Deir Ezzor.
So far, he said, the militia has confiscated three houses belonging to civilians who had previously fled the area for al-Asharah in rural Deir Ezzor, and a number of shops located in a commercial complex known as "Abarat al-Haram".
"It is known that the mall, which is located in the centre of Deir Ezzor city, is owned by a Syrian regime opponent named Radwan Lweis, and remarkably the militias immediately rented out these shops," he said.
"The aim of these moves, according to sources from the National Defence Forces militia itself, was to secure a source of funding in the wake of the near-total cutoff of Russian funding stemming from Moscow's focus on the war in Ukraine," he said.
"The militia's senior officers are concerned that the Russians could dissolve it or that it could collapse from non-payment of salaries," he added.
"This also prompted many militia members to accept reconciliation with the regime for fear of losing the security cover they had received from Russian forces when they joined the militia."
Dearth of financial resources
Russia-affiliated militias in Syria are suffering from a severe lack of financial resources, Syrian activist Ayham al-Ali told Al-Mashareq.
"This is evident from remarks being made by many elements of these militias, particularly the National Defence Forces," he said.
There is widespread discontent in the ranks of that militia, he added, "because their salaries have not been paid for the past three months".
Logistical support and food allocated to the militia have also begun to dwindle, al-Ali said, because it failed to pay what it owes to the merchants who supply it.
This state of affairs has seen dozens of militiamen leave to join the ranks of IRGC-affiliated militias, in the hope of receiving a monthly salary, he said.
"It seems that Iran is taking advantage of the situation and has raised salaries," he said, with promises of more raises to come in the coming period to lure more elements.
Ironically, this comes as Iranians across Iran are taking to the streets to protest their low wages, non-payment of salaries and unemployment, among other issues.
The sense of instability and restlessness "is not limited to the National Defence Forces, as it is also shared by the elements of the Russia-backed al-Qatarji militia", al-Ali said.
At least 400 elements have defected from al-Qatarji militia, which is responsible for oil transport operations and control of the crossings in Deir Ezzor, and have joined the IRGC-backed 4th Division, he said.
The militia is led by Hossam al-Qatarji, he said, adding that there are signs that "Iran is backing Mohammed Hamsho to supplant al-Qatarji in the region", which would deal "a severe blow to Russia".
Land and property theft
In the eastern province of Deir Ezzor, there have been three distinct phases in the theft of property belonging to Syrian regime opponents, Syrian journalist Mohammed al-Abdullah said.
The first phase involved the issuance of laws and decrees by the Syrian regime and its proxies, pursuant to which properties and agricultural lands were confiscated and used for housing regime loyalists and proxies.
The second phase involved the IRGC and its various affiliates, which confiscated dozens of homes and buildings for the families of fighters, and seized agricultural land, especially land cultivated with wheat, to generate a profit.
The third phase is "ongoing and involves the National Defence Forces militia, which is seizing the remaining properties belonging to regime opponents or defectors from the Syrian army", al-Abdullah said.
Any income that can be generated from these properties is intended "to offset the decline in Russian funding and secure additional sources of funding to pay the minimum salaries to its elements", he said.
This can be seen as a desperate measure "to ensure its survival", he said.