KYIV -- Ukrainians living in occupied Kherson province are doing their best to resist Moscow's propaganda efforts.
Kherson city, which lies near Moscow-annexed Crimea, was the first major city to fall to Russian forces after the Kremlin invaded Ukraine in February. The majority of the province has been under Russian occupation since early in the war.
Moscow has since launched a Russification campaign, trying to introduce the ruble, issuing Russian passports and opening a Russian bank at the end of June.
Russian authorities have also ramped up their propaganda efforts in the province and have largely suppressed critical voices.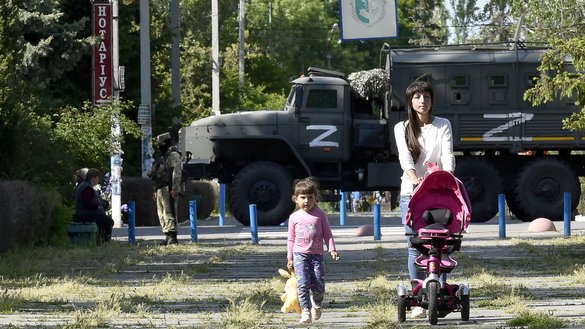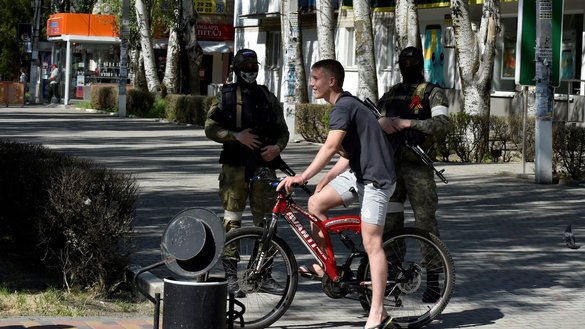 Ukrainians living in Kherson province have found it difficult to access their country's TV channels, which were jammed by occupying Russian forces.
The Russian military as early as March began broadcasting Russian TV from Kherson city and replaced Ukrainian broadcasts with Russian programming.
On June 21, they reconfigured the last of the seven TV towers in Kherson province.
The TV station and prison were the first two locations in Kherson city taken by the Russian military, said Serhiy Nikitenko, provincial spokesperson for the Institute of Mass Information, a Ukrainian NGO.
"They were interested in neither the administrative buildings nor city hall, but specifically the TV station and the prison," he said.
Ukrainians resist
Most Ukrainian journalists stopped working openly in Kherson in the first month of the occupation.
One of them was Yelena Vanina, a regional correspondent for 1+1, a Ukrainian TV channel.
"At first I broadcast from Kherson. Then we decided to stop because it became dangerous. [Management] asked me to pretend that I was not in the city," said Vanina, who left with her family only in June.
Many Central Asians who express pro-Ukraine attitudes, namely on daily discussions on social media, are also increasingly becoming the target of Russia's information war.
Everything that is happening in Kherson and its province played out in the same way as in Crimea and Donbas in 2014, she added.
"They have done everything the old-fashioned way. They didn't even change the training manual. They started with TV, blocked access to Ukrainian channels and are broadcasting their own channels instead," she said.
However, residents of Kherson province are resisting, according to Vanina.
"I wouldn't say that their propaganda is influencing anyone," she said.
Out of Kherson's five private TV channels, only one is fully co-operating with the occupiers, and local broadcast professionals are refusing to work with them.
"After a month, they announced that they were setting up their own TV channel at the captured TV station and calling for professionals -- journalists, camerapersons, directors -- to come work for their channel," Vanina said.
"There were zero applicants."
While Russian propaganda has been endless in Crimea, Kherson province has not seen Russian TV broadcasts for the past six years, said Nikitenko.
"This had a positive effect," he said. "[Residents] have been watching Ukrainian TV all this time. When the Russians put their TV channels back on, [the viewers] were disgusted with them because they saw the difference."
The Russians managed to publish their first full-fledged newspaper in Kherson four months after they entered the city, said Nikitenko.
"Before that, in Kakhovka, for example, they published a newspaper that they composed in plain old Word," he said.
Online alternatives
On May 30, the Russian military cut off the entire province from mobile communications and the internet.
"They have not restored mobile communications, but the internet is back up. All the providers were required to reconnect to Crimea," said Nikitenko, who has monitored Kherson province's information space since the first days of the war.
"Now some of these providers are blocking Ukrainian news and political websites," he said.
But even facing such difficulties, Ukrainians in the occupied territories can still find information from Ukrainian sources.
"Ukrainians can use a VPN [virtual private network]," said Andriy Shapovalov, director of the Ukrainian government's Centre for Countering Disinformation.
"That is, using a special programme on their phone and computer, everyone can once again open and become acquainted with Ukrainian news, watch a telethon or read a Ukrainian Telegram channel," he said.
"Explaining how to install a VPN on a smartphone or computer and use it correctly is one of the many tasks of the National Resistance Centre," said a representative of the centre who referred to himself only as Ostap for security reasons.
The National Resistance Centre is a guerrilla organisation that works with the Ukrainian population in the occupied territories.
"In addition to explaining how to bypass the occupiers' restrictions, our materials also provide detailed instructions on how to properly conduct sabotage," he said.
"And we are already seeing the effect. In Kherson today there is no broad agreement among entrepreneurs to comply with Russian rules and laws."
"The occupation's administration doesn't function. There is absolutely no trust in it. Nobody is reaching out to it. They [the occupiers] have spoken of Great Russia, but they themselves cannot carry out the most basic work," said Ostap.