ALMATY -- A controversial video criticising Kazakhstan's decision not to recognise the independence of the so-called "Donetsk People's Republic" (DPR) or "Luhansk People's Republic" (LPR) has pitted Russian media against Kazakhs.
Kazakh President Kassym-Jomart Tokayev, while attending the plenary session of the St. Petersburg International Economic Forum on June 17, told reporters that Kazakhstan would never recognise the self-proclaimed, Russian-backed republics in eastern Ukraine.
In response, Chechen President Ramzan Kadyrov, an ally of Russian President Vladimir Putin, recorded a video on June 19 in which he slammed Kazakhstan's position.
"Who saved Kazakhstan? Russia ... But when Russia's [help] is needed, everyone keeps quiet because they're afraid of sanctions," Kadyrov said in the video, referring to the deployment of Russian-led Collective Security Treaty Organisation (CSTO) troops in January to put down unrest in Kazakhstan.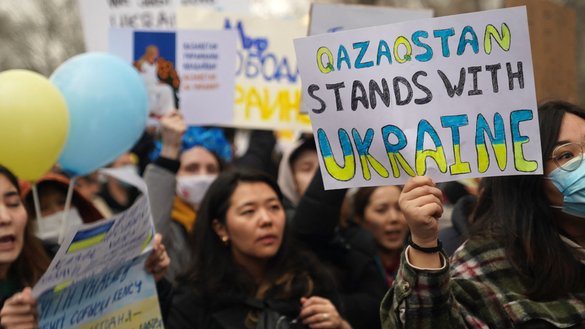 It was the only time since the CSTO's founding in 2002 that it deployed troops.
"There's an organisation known as the CSTO. Russia doesn't derive any benefit from it, but Russia helps everyone," he claimed.
"Russia saved Kazakhstan ... Whether or not you recognise our allies is of little concern to us. America, NATO and all the other states that spin around them and dance to their flute can no longer do anything," he added.
Refreshing Kadyrov's memory
Kadyrov's video sparked widespread indignation in Kazakhstan.
Sergei Ponomarev of Almaty, a blogger and journalist at the state television channel KTK, posted a reaction on his Facebook page the same day.
"I didn't expect the memory of the Nakh peoples over three generations to be so short," Ponomarev wrote, referring to several peoples of the North Caucasus, which includes Chechnya.
"In February 1944, the Soviet leaders, viewing nearly 500,000 Chechens as an untrustworthy people that was ready to cross over to Hitler's side, put them in cattle cars without food and warm clothing and shipped them off to Kazakhstan."
"It was the biggest resettlement of an entire people. The people weren't even allowed to get ready or take food, belongings or tools. They set out for the harsh winter steppes wearing the clothes on their backs," he said.
"The Kazakhs didn't allow them to die of hunger on the winter steppe. As they themselves were half starving, they broke their last piece of flatbread in half and gave a home to languishing Chechen children in their mud huts."
"The Chechens remembered the kindness shown to them and idolised Kazakhstan and the Kazakhs. Could someone please refresh Ramzan Akhmatovich's memory? Maybe for a moment he'll be ashamed."
Other commenters also condemned Kadyrov.
"Here we have a saying: 'Ask someone who has seen a lot'. Your aksakals [elders] will give you an answer if you ask about Kazakhstan even though you know all about it and have talked about it a lot, but for some reason you've changed your colours," wrote a user named Serik Nasyrov.
"The ancestors' spirits won't forgive you for this."
Arman Shorayev, a public figure and businessman from Almaty, filmed a video reacting to Kadyrov's statements.
"Why on earth did you decide that you have a right to lash out at the Kazakhs? Before you assail the Kazakhs, my dear Ramzan, ask your own elders, the majority of whom were born, grew up and ... survived thanks to the Kazakhs and the sacred Kazakh land," he said, also referring to the Chechen relocation to Kazakhstan.
"Who do you think you are in attacking the Kazakhs? If you don't know the answer to that question ... I hope you won't open your mouth anymore about my country and my ethnicity," Shorayev said.
Russian media retaliate
Eadaily.com, which typically reports on Eurasian Economic Union (EEU or EAEU) news, specifically targeted Shorayev for his remarks.
"The Kazakh Nazi blogger Arman [Shorayev], who is well known for his vehement Russophobic views, posted in the media space a video in which he spoke about Russian President Vladimir Putin unflatteringly, calling him a 'hooligan', and in so doing essentially insulted him publicly," reads the article published June 20.
Kadyrov himself also responded to the Kazakh bloggers.
"I'm more Kazakh than you are. My father was born in Kazakhstan, my grandfather worked in Kazakhstan and my grandfather was buried in Kazakhstan," he wrote on Facebook.
"Never in my life have I said anything bad about the Kazakh people. I was talking about a general policy," he said, again referencing the involvement of the CSTO troops in Kazakhstan in January.
Kadyrov's image and education level make him come off like a billiards player rather than a leader, said Dos Koshim, a political analyst from Almaty.
"He gets a lot of financial support from the Kremlin, so he does what the general public isn't expecting from him," he said.
"During the first Chechen war of 1994-1996 and the second Chechen war of 1999-2000, volunteers from Ukraine helped him," Koshim said. "He's a flighty person who is capable of saying and doing anything that occurs to him."
"Now it's so he can bow to Vladimir Putin, who pumps a lot of money into Chechnya," he added.