The Wagner Group -- the Kremlin's mercenary army -- has resorted to recruiting Russian prison inmates as casualties continue to mount in President Vladimir Putin's war in Ukraine.
In St. Petersburg, Wagner recruiters convinced dozens of prisoners to "volunteer" in Donbas, Important Stories (iStories), an independent investigative news outlet, reported July 4.
The recruiters visited the Yablonevka prison colony in St. Petersburg July 1, urged the assembled inmates "to defend the motherland", then had the prison trusties continue the recruiting.
The trusties told the other convicts to fight "Nazis" in Ukraine.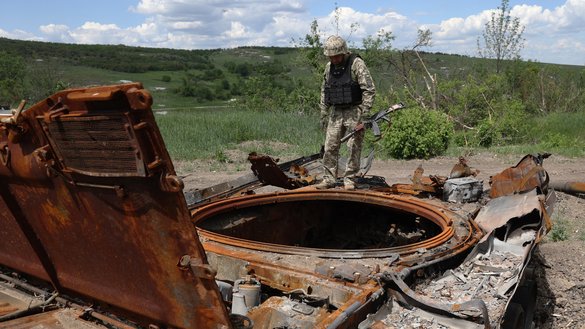 A relative of one of the convicts recounted the sales pitch heard by the prisoners.
"There the [Nazis] are very well trained. You will go in the vanguard, help find the Nazis; therefore, far from all of you will return," he told iStories.
"At first [the trusties] said about 20% would return. Then that 'almost no one will return'," he said.
For six months of service, each "volunteer" fighter is offered a set amount of roubles and amnesty -- if he comes back alive.
If the fighter dies, they promised to pay his family a much higher sum.
"All of this is verbal; nothing is written down," the relative said.
At the Yablonevka prison camp, "about 200 men initially said they would sign up, but in the end about 40 enlisted", he added.
Unreliable payment
The Wagner Group has long been documented using unscrupulous tactics to recruit mercenaries.
Syrian recruits especially have found Russia's track record of payment to be unreliable.
Syrian mercenaries began to flow into Ukraine to fight alongside Russian forces shortly after Russia invaded on February 24.
Up to 20,000 mercenaries from the Wagner Group, as well as from Syria and Libya, were fighting alongside Moscow's forces in Ukraine, a European official said in April.
Many Syrian fighters in the past had little say as to where they were deployed and often received only a fraction of the money that their recruiters promised them, according to a May 2019 study conducted by the Syria Justice and Accountability Centre (SJAC), in collaboration with the Syrians for Truth and Justice (STJ).
Observers learned of cases of unpaid compensation after Syrian mercenaries were killed in Libya and in the disputed Nagorno-Karabakh region in Azerbaijan.
The Wagner Group's recruiting methods have also been compared to those of the "Islamic State" (IS), which have included using money to entice poor recruits and finding vulnerable youth through the internet.
Initially, appeal for adventure and the mirage of utopia were two of the pillars of IS recruitment. But after the fall of the IS "caliphate" in March 2019, the group -- like Wagner -- has been capitalising on economic desperation to lure recruits.
In both cases, these hapless recruits are immediately sent to the frontlines to face deadly situations.
Staggering losses
The latest recruiting push comes as Russia bears staggering losses in its war in Ukraine.
Although it was the largest invasion in Europe since World War II, Russia's 160,000 troops barely outnumbered the Ukrainian defenders at the start.
Military analysts say attackers should aim to outweigh defenders by three to one, and Moscow's forces failed to establish air superiority over Ukraine.
Russia's strength was divided into three thrusts: against Kyiv, in the east and in the south.
Ukraine's dispersed forces were able to take a heavy toll on their opponents, thanks in part to years of NATO training, as well as supplies of anti-tank and anti-aircraft weapons from Western allies.
Russia has given an official toll of troops killed only on two occasions, the last on March 25 with a figure of 1,351 which analysts consider far too low.
According to the latest update by the Ukrainian military, Russia has lost more than 37,000 troops and sustained hardware losses that include over 1,600 tanks, 217 planes and 187 helicopters.
Western sources contacted by AFP usually give a much lower figure on Russian casualties -- from 15,000 to 20,000 soldiers killed -- as do specialist sites on hardware losses like Oryxspioenkop, which rely on visual proof.
"Russia has now likely suffered losses of one third of the ground combat force it committed in February," the British Ministry of Defence tweeted in mid-May, with estimates as high as 25,000 Russian soldiers killed and tens of thousands more wounded.
Open-source intelligence material evaluated by the Oryxspioenkop blog at the start of June suggested Russia had lost about 739 tanks, 428 other armoured vehicles, 813 infantry fighting vehicles, around 30 fighter planes, 43 helicopters, 75 drones and nine navy vessels -- including the Black Sea flagship Moskva.
Worldwide malign influence
Wagner first emerged in Ukraine in 2014.
Since then, its mercenaries have been involved in conflicts around the world, including in Syria, Mozambique, Sudan, Venezuela, Libya, the Central African Republic (CAR), Mali and Chad.
The hired guns have been accused of war crimes in nearly every hot zone in which they are deployed -- including in Ukraine, Mali, Libya and Syria.
In the CAR, Wagner mercenaries "appear to have summarily executed, tortured and beaten civilians since 2019", Human Rights Watch (HRW) said in a statement May 3.
In April, UN High Commissioner for Human Rights Michelle Bachelet denounced "serious human rights violations" in the CAR, including killings and sexual violence against civilians, committed by rebel groups but also by the military and their Russian allies.
In Mali, where Wagner Group mercenaries are guarding the presidential palace, controversy has flared over a March operation in Moura that left hundreds dead.
The Malian army and witnesses interviewed by the press and HRW described the operation as a massacre of civilians, with rapes and looting carried out by Malian soldiers and foreign fighters believed to be Russians.