KYIV, Ukraine -- Russian authorities are attempting to quash dissent over Moscow's so-called "special operation" in Ukraine as they continue to keep news of casualties at a minimum.
Nonetheless, protests have started to simmer in Buryatia, a mountainous Russian republic in eastern Siberia from which the Kremlin has been actively recruiting soldiers for the war in Ukraine.
In a rare public protest, the wives and mothers of soldiers from the region on June 28 recorded a video demanding that Alexey Tsydenov, the head of the Republic of Buryatia, bring home their relatives who are fighting in Ukraine.
"The servicemen are psychologically and physically drained. They all have light and medium concussions," said one of the 16 Buryat women.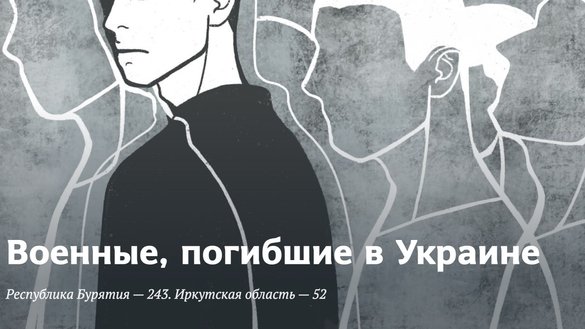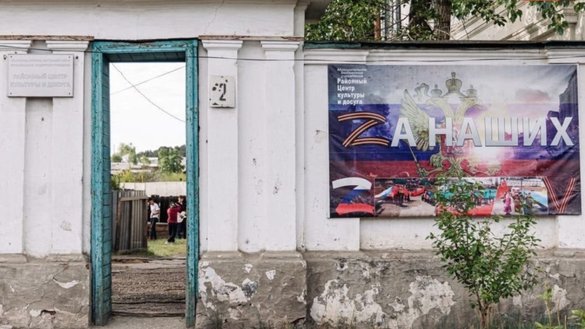 "The soldiers have been in the field from January 2022 until now. Many of them have colds. They need doctors to examine them," she said.
The woman said that the group's relatives are Buryat soldiers from the 5th Tatsinskaya Tank Brigade who "in January left for exercises in Belarus" and since February 24 have been "participating in the special operation" in Ukraine.
In Russia, calling the war in Ukraine anything other than a "special operation" is punishable by up to 15 years in prison.
"We are asking you to consider rotating out the soldiers of military unit 46108 and sending them to a permanent duty station," the woman said.
The video was posted on the Instagram account of Vera Partilkhayeva, one of the women in it.
"Everyone is afraid. We've been ordered to remain silent. May the death of every soldier in this unjust war be on your conscience," she wrote in the caption.
The video and the account were taken down later that evening, according to Yelena Trifonova, a writer and the editor of the Russian online publication Lyudi Baikala (People of Baikal).
Trifonova also could not reach Partilkhayeva by phone.
"You can still find the video online, but Vera Partilkhaeva's account, which it was posted on, has been completely deleted. She isn't in contact, and neither are the other women in the video," said Trifonova.
"Our sources told us that the FSB [Federal Security Service] intervened and government officials visited the women," she said. "Everyone has been ordered to keep quiet."
Russia has given an official death toll only on two occasions, the last on March 25, when it said 1,351 troops had been killed, which analysts consider far too low.
Russia has lost more than 37,500 troops, according to the latest Ukrainian military update.
Western sources usually give a much lower figure on Russian casualties -- from 15,000 to 20,000 soldiers killed -- as do specialist sites on hardware losses like Oryxspioenkop, which rely on visual proof.
Either way, the estimates show the Russian army has sustained enormous losses, according to Alexander Kovalenko, a military and political analyst for the website InfoResist.
"If we rely on the official numbers of the Ukrainian General Staff ... that's massive -- it's double the number of losses during the Afghan war [of 1979-1989]," he said.
"There should have been some sort of reaction from the relatives, but there hasn't been," Kovalenko said.
Casualties under wraps
As the mismanaged invasion's fifth month drags on, there remains little support for Russia from the international community, including in Central Asia.
Kazakhstan will never recognise the self-proclaimed, Russian-backed republics in eastern Ukraine, Kazakh President Kassym-Jomart Tokayev told reporters in St. Petersburg on June 17.
Sanctions imposed in June on an Uzbek company for supporting the Russian military have also sparked widespread outrage among Uzbeks who are upset that Russia is using their country for its own arms industry.
At home, Russian authorities are trying to maintain public support for the "special operation" despite heavy casualties.
At least 30 soldiers from the 5th Tatsinskaya Tank Brigade -- the unit mentioned in the video -- are known to have died, according to Trifonova.
Lyudi Baikala is the only local publication tallying the deaths of soldiers from Irkutsk province and the Republic of Buryatia in the Russia-Ukraine war.
Trifonova and her colleagues have been painstakingly searching what little public information exists, speaking with relatives and counting graves.
Their lists contain the full name, age, rank and all the information they are able to find out about each individual.
"Sometimes according to official records a person didn't die, but relatives say he did," she said. "By the beginning of the fifth month of the war, we were aware of about 230 soldiers from Buryatia who died in Ukraine."
"The number is growing," she said, adding that her publication does not even count those who are missing.
Russian authorities are doing everything they can to keep the number of dead soldiers under wraps, according to Trifonova.
To prevent the public from thinking hard about the war and its consequences, officials are staging lavish celebrations in Irkutsk, she added.
"There are funerals going on all the time in the villages, but no one is writing, filming or talking about it," she said.
"Meanwhile, celebrations are happening constantly on the streets ... The government is using festivities to muffle people's fear -- anything so they won't think about the war or ask about the people who have died," Trifonova said.
The families' silence is tied to generous death benefits, according to Trifonova.
Most of those who have died are men from small villages, who generally graduated from ninth grade, entered vocational school and then were drafted. For such men, who have little or no job prospects, the army is the stablest employer, she said.
Soldiers earn between 40,000 and 50,000 RUB ($684 and $855) per month, and if they die, their relatives receive compensation that is tremendous by local standards, she said.
"A mother or wife will get 7 million RUB ($119,709) for a dead son or husband, whereas the typical wages here are 12,000-15,000 RUB ($205-$257) per month," she said. "For that amount of money you can buy two apartments in Ulan-Ude [capital of Buryatia]."
"No one will give back your son, but they [the government] have to give you money," Trifonova said.
"The [bereaved] Russians are paying for this out of their own pocket," said Kovalenko, the analyst.
"That very same Buryat mother ... doesn't understand that the 7 million RUB is money she herself earned over her whole life; it's just that the state took the money from her, essentially robbing her."
"To pay for death and war, Russia skimps on medicine, education and science," Kovalenko said.
Fear of imprisonment
The fear of imprisonment is also keeping citizens' mouths shut, according to Trifonova.
The Russian authorities immediately clamp down on any unwelcome pronouncements about the war, she said.
On April 16, Roskomnadzor, the Russian censor, blocked Lyudi Baikala at the behest of the Prosecutor General's Office.
"We still don't know why we were blocked -- we haven't received any documents. We've sued. We're trying to dispute it," she said.
"It's true that so far no one has managed to do that and we probably won't either, but at least we'll find out why we were blocked."
Her colleagues have been detained and interrogated repeatedly, said Trifonova.
"You can't hide things -- they'll come out anyway, no matter how hard the government tries to stop it. We're all human, and we're afraid for ourselves, our colleagues and our relatives."
"I believe that sooner or later the truth will burst into the open," Trifonova said.