ALMATY -- A draft decree aimed at preventing Russia from using Kazakh territory to evade western sanctions has come under fire by Russian media.
The Kazakh Finance Ministry recently published for public discussion a proposed order regulating the implementation of sanctions-imposed restrictions on the supply of certain types of goods to Russia, Kommersant reported July 6.
The two-week period for discussion expired some days ago, so the draft is no longer viewable online.
Under the decree, Kazakh authorities would not certify electronic invoices for such goods, preventing them from crossing the border.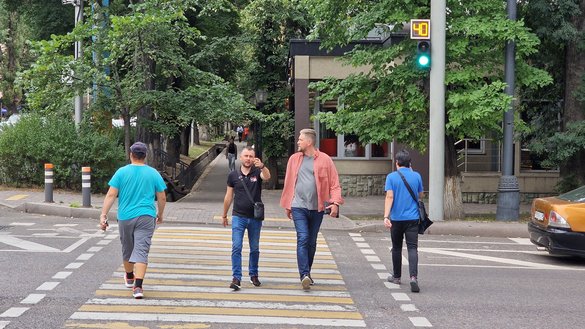 "After a rather long period of uncertainty regarding sanctions compliance by Russia's EAEU partners, the situation is becoming clear," Kommersant said, referring to the Eurasian Economic Union (EEU or EAEU).
The Russian Union of Industrialists and Entrepreneurs called the document "a potential barrier to trade within the union", it said.
"Without a certified copy of the EI [electronic invoice], goods on the list may not be exported from the Republic of Kazakhstan to Russia ... Moreover, certification of copies of EI may be refused," Trans.ru reported.
"The reasons for a possible refusal include cases when the country of origin of goods on the list is a state that has banned the export of certain types of products to Russia," it added.
'A stab in the back'
Although the Ministry of Finance later withdrew public access to the draft decree, its very existence outraged Russian news websites.
"The publication of the draft order provoked an even larger response than [Kazakh President Kassym-Jomart] Tokayev's statements at the St. Petersburg International Economic Forum that Nur-Sultan would never recognise the 'quasi-states of the DPR [Donetsk People's Republic] and LPR [Luhansk People's Republic]'," wrote Vzglyad, an online Russian newspaper.
Kazakhstan will never recognise the self-proclaimed, Russian-backed republics in eastern Ukraine, Tokayev told reporters while attending the forum on June 17.
"Geopolitical overtures to the West are one thing, but a very specific stab in the back of a key partner in the EAEU is something different," Vzglyad wrote.
"Kazakhstan's open support of Western sanctions on Russia and Belarus will actually signify a course towards Nur-Sultan's withdrawal from the EAEU and increased distance from Russia," it added.
Russian officials appeared indifferent to the draft order, apparently because Moscow had already taken steps to express its overall displeasure with Kazakhstan.
"Our governments are in constant contact. So no decisions have been made yet," Putin spokesman Dmitry Peskov said of the matter, as reported by RBC on July 6.
"For now, on the contrary, the absolute intention to further expand our co-operation is being declared," he said.
Distancing from Russia
Meanwhile, the Novorossiysk Primorsky District Court on July 5 suspended the activities of the Caspian Pipeline Consortium (CPC) for 30 days, citing "violations" of environmental requirements noted in a petition by Rostransnadzor, Russia's transport regulator.
The CPC pipeline, which runs from the Tengiz oil field in Atyrau province, Kazakhstan, to Novorossiysk, Russia, is the main method to deliver Kazakh oil to Europe.
Ultimately, however, the CPC appealed to the Krasnodar Regional Court, which on July 11 overturned the previous ruling and instead fined the CPC 200,000 RUB (about $3,250).
The harsh July 5 ruling came a day after Tokayev pledged to help the European Union (EU) stabilise the energy situation.
"Either they are, against our will, saddling us with the side effects of Russia's struggle with the West for the right to forcibly keep neighbours in its orbit by tearing pieces of flesh from the bodies of independent states if necessary. Or, despite the recent personal meetings between heads of state and government, they are using economic blackmail to negotiate with us," Gaziz Abishev, a political correspondent from Nur-Sultan, wrote on his Telegram channel.
"Sooner or later, any project will become the victim of either the geopolitical ambitions of or uncontrollable domestic political processes in Russia," he said.
Kazakhstan needs "to continue to smile, endlessly praise Russia's greatness and emphasise our fraternal relations and the absence of an alternative to close co-operation", Abishev wrote.
"But we need to clearly and consistently develop alternatives, even when they cost more."
'Prepare for the worst'
Kazakhstan needs to find an alternative to its ties with Russia, other local analysts agree.
"A country that has attacked a fraternal people -- the Ukrainians -- is capable of anything. Kazakhstan should hope for the best but prepare for the worst," said Alikhan Kanapiya, an Almaty resident and export specialist with the International Trade Centre.
"I think that Russia will act quietly and do something small but damaging to our economy," he said.
The ban on shipping sanctioned goods to Russia through Kazakhstan was to be expected, said Kanapiya.
"Everything was been moving toward this," he said. "I think that the government is even late with this initiative -- it should have been done when Russia started the war in Ukraine."
"At all levels, Kazakhstan has stressed its commitment to comply with international requirements in the current situation, and that it will comply with the sanctions regime and will not encourage any product deliveries to Russia that would violate the sanctions," Kanapiya said.
Barred by sanctions from directly importing many products, Russia has decided to import components of mechanical engineering via Kazakhstan, ranging from cables to complex equipment for mining and manufacturing, said Zhanybek Aigazin, a Nur-Sultan resident and director general of the Applied Economics Research Centre.
"But these are all dual-use products, since some of them are used to produce lethal weapons," he said. "Over time, the sanctions may have a very painful effect on machine building in Russia and not just that [industry]."