TASHKENT -- Russian entrepreneurs attempting to escape Western sanctions implemented in the wake of Moscow's invasion of Ukraine have been ramping up activities in Uzbekistan, putting Tashkent itself at risk of enabling Russia.
In the first half of 2022, the number of businesses that launched in Uzbekistan with Russian capital surged, especially after the start of the war in February.
The establishment of such ventures came after many Russians -- including those who feared the draft and information technology workers who could work remotely -- fled their country.
Many relocated to post-Soviet countries including Armenia, Georgia, Kazakhstan and Uzbekistan and began shifting their businesses abroad later on.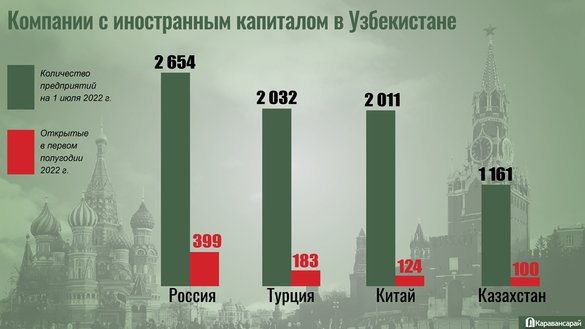 Russian funding created 23 companies in Uzbekistan in January, 28 in February, 56 in March, 103 in April, and 189 in May and June, Nova24.uz reported July 12, citing the Uzbek government.
That means that 399 Russian companies sprouted up in Uzbekistan in a matter of six months, putting Russia ahead of China and Turkey. The latter two countries traditionally have the most foreign and joint ventures in Uzbekistan.
Western sanctions have not slowed business co-operation between Uzbekistan and Russia but have instead intensified it, Russian Ambassador to Uzbekistan Oleg Malginov told Uzbek online publication Podrobno.uz in an interview published July 8.
From January to May, trade between Russia and Uzbekistan exceeded $3 billion, almost 34% more than in the same period last year, Malginov said, citing Uzbek government data.
Exports to Russia jumped by almost 43%, to about $940 million, while imports of Russian goods grew by 30%, to more than $2 billion, he said.
Regarding financial and bank payments after the SWIFT payment transfer system expelled Russia's major banks, the two countries are now resolving the issue by, among other things, shifting to payments in their own currencies and using the SPFS system, Russia's equivalent of SWIFT, he added.
Sanctions risks
Uzbekistan's position is precarious, say analysts.
The Russian newcomers living or operating in Uzbekistan are an uneasy mixture of those who detested the invasion and those who simply want to escape the burden of Western sanctions on Russia.
Indeed, the Kremlin is trying to bypass those sanctions with such "investments", according to Alisher Ilkhamov, director of the London-based Central Asia Due Diligence.
"Moscow envisioned being able to evade the sanctions by using the territory and jurisdiction of the nearby, loyal states -- first and foremost the ones in Central Asia," he said. "The newly registered companies would carry out trade operations as Uzbek legal entities."
However, an Uzbek company was the first in the post-Soviet region to be slammed with secondary sanctions for violating the sanctions regime, he noted.
The United States added Uzbek company Promcomplektlogistic to its list of sanctioned companies for supplying microcircuits to Radiavtomatika, a Russian company earlier sanctioned for supplying products to Russia's defence industry, the US State Department said in a statement June 28.
"The situation shows that the country lacks genuine sovereignty and is still dependent on Russia," Ilkhamov said.
Many of the newly opened businesses are likely shams and were created to siphon out money and gain access to accounts in dollars and euros, said Anvar Nazirov, a Tashkent-based economist.
"Because of the sanctions imposed by the European Union and the United States, medium-sized, and particularly small, Russian businesses have not had access to hard currency [dollars and euros]."
"Russian businesses that have lost access to raw materials and hard currency are closing and then reopening in Uzbekistan," Nazirov said.
Uzbekistan does not benefit from accepting the Russian ruble, he noted.
"We can't buy anything from them now: Russia [no longer] has an automotive or mechanical engineering industry, or other industries, or any technologies. All of Russian industry is dying," he said.
"When you trade in rubles, that helps strengthen the ruble first and foremost. That doesn't help Uzbekistan at all."
A balancing act
Uzbekistan does not want to clash with Russia by officially objecting to the relocation of Russian businesses to its territory, said Kamoliddin Rabbimov, a Tashkent-based political analyst.
"There's geopolitical caution in this. There's also a degree of self-interest because Russian businesses are nevertheless established and investment will fulfil some of Uzbekistan's economic interests," he said.
However, such economic ties mean Uzbekistan could be blacklisted by the West for directly or indirectly helping Moscow evade sanctions.
"The West understands that we are now in a vulnerable position in a geopolitical sense," he said. "Russia is an aggressive state, so Uzbekistan is forced to manoeuvre in order to avoid the Kremlin's direct wrath."
"Uzbekistan doesn't want to act like Kazakhstan, where President Kassym-Jomart Tokayev is already on the path toward direct confrontation," he said, referring to a recent flare-up in ties between Kazakhstan and Russia.
Uzbekistan is among a handful of countries that might help Russia flout sanctions -- and might be hit by secondary sanctions as a result, said Nazirov.
"This is an enormous risk for Uzbekistan with very unfortunate consequences for it," he said.
"Uzbekistan needs to be very careful here."