BRUSSELS -- The European Union (EU) on Thursday (July 21) blacklisted 10 Syrian nationals, accusing them of recruiting mercenaries to assist Russia in its invasion of Ukraine.
Russia invaded its neighbour February 24.
The names of the Syrians -- along with two private security firms -- were added to the EU sanctions list and published in the 27-member bloc's official journal.
Those on the blacklist include Cham Wings airline owner Issam Shammout, who reputedly is a close ally of Syrian President Bashar al-Assad.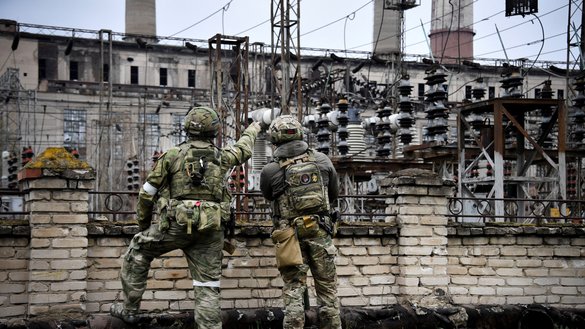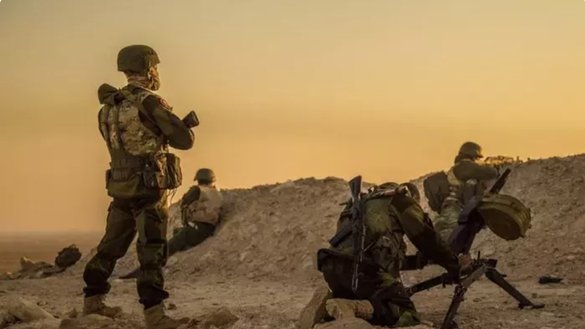 Cham Wings is under US sanctions.
An army colonel, Saleh al-Abdullah, is accused of recruiting soldiers from his 16th Brigade, which operated with Russian forces in Syria, to fight in Ukraine.
Muhammad al-Salti, commander of the Palestine Liberation Army, a Syrian-regime backed force that is active only in Syria, was said to be engaged in the recruitment of Palestinian refugees to fight in Ukraine alongside Russia.
Two private security companies, Sanad Protection and Security Services and Al-Sayyad Company for Guarding and Protection Services, which directs a subsidiary known as the "ISIS Hunters", also were hit with sanctions.
Sanad is supervised by the Russian private mercenary outfit Wagner Group and protects Russian business interests in Syria, including oil, gas and phosphate extraction, says the EU.
Al-Sayyad Company also is linked to the Wagner Group and is accused of being "active in the recruitment of Syrian mercenaries to Libya and Ukraine".
Private security companies, many of them affiliated with foreign powers, have proliferated in Syria in recent years.
While it is not unusual for private companies to provide guard services and protect money transport and individuals, in Syria's case, these companies have become a gateway for states and actors to pursue their own objectives.
Mercenaries fuel Russia's war
Syrian mercenaries began to flow into Ukraine to fight alongside Russian forces shortly after Russia invaded on February 24.
Their training and transportation have been handled by Russian forces stationed in Syria, the Wagner Group and Al-Sayyad Company, sources in Syria said.
In March and April, sources from the Syrians for Truth and Justice organisation told Al-Mashareq, 500 mercenaries were recruited in Syria to take part in the war in Ukraine on the side of Russia.
The new recruits were transferred to Ukraine in small units, each comprising 25 fighters, through the Russian-controlled Hmeimim air base in Latakia province.
The Syrian regime's security services helped Russian forces identify Syrian volunteers with experience in urban combat who had previously fought in Syrian militia groups or armed forces under the supervision of Russian officers.
Up to 20,000 mercenaries from the Wagner Group, including from Syria and Libya, were supporting Russian forces in Ukraine, a European official said in April.
In addition to Ukraine, Russia's mercenaries are present in Syria, Venezuela, Sudan, the Central African Republic, Mali, Libya, Chad and Madagascar.
"Wagner comes in, further destabilises the country, ravages the mineral resources and makes as much money as they can before they choose to leave," US Navy Rear Adm. Milton Sands, the commander of Special Operations Command Africa, told the Washington Post in early March.
"The country is left poorer, weaker and less secure. Every time."
Mounting casualties in Ukraine
The Wagner Group has become increasingly desperate for recruits as casualties mount in Ukraine.
Some 15,000 Russians have died in the five-month-old invasion of Ukraine, the US and British intelligence chiefs said this week, as they assessed that President Vladimir Putin was suffering far greater losses than expected.
The 15,000 dead was "probably a conservative estimate" and marked a "very bloody nose" for Putin, who expected quick victory, Richard Moore, chief of Britain's MI6, said Thursday.
US intelligence estimated Russian losses "in the vicinity of 15,000 killed and maybe three times that wounded", said US Central Intelligence Agency Director Bill Burns, speaking a day earlier.
As casualties mount, Russia has been accused of using Middle Eastern youth as cannon fodder for its wars, replicating its use of mercenaries in Syria and various African nations in its assault on Ukraine.
This strategy is designed to minimise the risk to Russian soldiers and reduce the number of Russian casualties, in order to prevent unrest in the Russian interior, observers said.
Money plays a major role in the recruitment process, said the NGO Syrians for Truth and Justice, which recorded testimonies and interviews with relatives of Syrian recruits who were sent to Ukraine.
Many Syrians who sign up to become mercenaries are in desperate need of money, but Russia's track record of payment has been unreliable by some accounts and is likely to be even more so going forward, sources said.