KYIV -- Serhiy Shyshkovskiy, a history teacher at a school in occupied Kherson, continued teaching online for as long as he could despite Russia's invasion of Ukraine in February.
Kherson city, which lies near Moscow-annexed Crimea, was the first major city to fall to Russian forces after the Kremlin invaded Ukraine in February. The majority of the province has been under Russian occupation since early in the war.
Moscow has since launched a Russification campaign, trying to introduce the ruble, issuing Russian passports and opening a Russian bank at the end of June.
Now the effort involves pressuring parents and teachers to accept new school curriculum.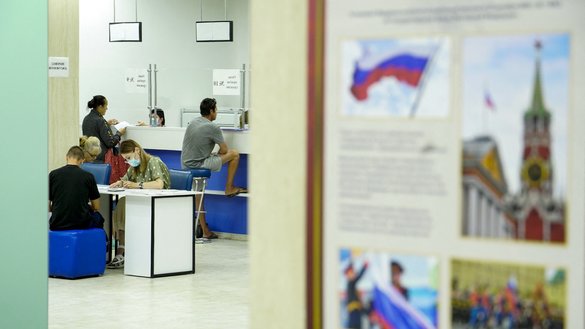 "The FSB [Federal Security Service] came to see me several times. They searched my house from top to bottom," Shyshkovskiy told Caravanserai.
"They opened all the cabinets and even the shelves that held underwear. I don't know what they were looking for. I have a young child, and after a few of those nighttime searches, my family and I decided to go somewhere safe," said Shyshkovskiy, who fled Kherson alongside his family in late May.
Before the war, some 500 students attended the school where Shyshkovskiy worked.
Now there are only 100 -- the rest have fled.
Shyshkovskiy still gets occasional phone calls from the parents of students who are living under the occupation.
"The parents ask me what they should do because they are being pressured aggressively. They're being told that they're required to send their children to school, but to do that, they need to get a Russian passport."
"They're being threatened that if they don't enrol their children in the Russian program, they'll lose their parental rights," Shyshkovskiy said.
This is "blackmail, pure and simple," he said.
'Pure propaganda'
The Russians are using the same exact "educational programme" model that they tested out during the occupation of Crimea in 2014, said Volodymyr Molchanov, a political analyst from Kherson.
On July 4, Russian authorities appointed a so-called government for the occupied portion of Kherson province, including officials who will be in charge of the Russification of the education system.
"Moscow named Mikhail Rodikov as head. He was in charge of the Russification of the educational process in Crimea," Molchanov said. "Now he's expected to be transferred to Kherson."
"But the process has already begun," he said.
The occupiers "brought in Russian literature from Crimea and threw all the Ukrainian materials out of the Olesya Gonchara ... library", he added.
"Everyone sees how children who go through the Russian educational system turn out," Molchanov said, citing Russian soldiers' penchant for looting.
Meanwhile, Russian occupation authorities have removed Ukrainian history from the list of school subjects.
"The word 'Ukraine' doesn't appear at all in textbooks there," said Shyshkovskiy, the history teacher.
"It's all Russian territory, and the language is only Russian. What's in the textbooks is pure propaganda."
"They've razed all the Ukrainian monuments in Kherson, and they want to make children hate everything that is Ukrainian and destroy the Ukrainian national identity," Shyshkovskiy said.
For their part, Ukrainian officials are working to set up remote learning for children who used to attend the 1,174 schools under Russian occupation.
"More than 1,000 schools are in temporarily occupied territories. We're preparing for those children to enrol in schools," Yuriy Kononenko, director of the Department of General Secondary and Preschool Education of Ukraine's Education Ministry, said on July 7 on Hromadske Radio.
Teachers under pressure
Between 10 and 15% of faculty have remained in schools in occupied Kherson, and about 20 school principals in the whole city, Shyshkovskiy estimated.
Many have those who stayed behind have told him that the occupation authorities are requiring them to take retraining courses on the new Russian programme.
"Teachers are being intimidated with threats of being sent to jail. The occupiers say that the teachers are allegedly violating the Geneva Conventions and depriving children of the opportunity to get an education," Shyshkovskiy said.
"They say that if the teachers don't go to work and start following the Russian curriculum, they're impeding the educational process. All the responsibility is on ordinary people. You co-operate, or you'll go to jail," he said.
A shortage of Ukrainian teachers and their refusal to co-operate with Russia have forced occupation authorities to bring in their own teachers, he added.
"The Trans-Urals, Buryatia, Dagestan: teachers from there were promised 7,000 RUB ($121) a day. But they're refusing because they're afraid -- there's a war going on here."
"Something like 10 teachers came from Crimea, supposedly to train [teachers] in the Russian programme. But whom are you supposed to train if you don't have enough of them?" Shyshkovskiy said.
Teachers from Mariupol, which fell to the Russians in May, have had similar experiences.
"Teachers have told me that people come to their homes and tell them to go to work," said Lyudmyla Boltinova, a Ukrainian language teacher from Mariupol, who fled abroad.
"There's a teacher shortage, and these [occupiers] are using psychological pressure. Retraining courses are being put together in Mariupol now so teachers have the corresponding certification from Russia," Boltinova said.
Schools as bases
The near-complete absence of intact schools in Mariupol is also a problem, according to Boltinova.
"There's no internet access or water in the city. There's a month and a half to go [before school starts]. How are they going to heat the school? How are they going to have water in the bathrooms?"
"Equipment, some laptops, have been collected from schools that were destroyed, but there's no electricity. How will kids attend school?" Boltinova said.
Some 1,971 schools have been damaged since the start of the invasion on February 24, including 194 that were destroyed, according to the Ukrainian Prosecutor General's Office.
Russians will not be able to get more than 20% of schools up and running in Kherson province, say analysts.
Meanwhile, Kyiv has vowed to launch a counter-offensive to retake the strategic region.
"The Russians are using schools as places to station their units. The schools are comfortable because before the war Ukraine did nice renovations in many schools -- there are places to put equipment, so the Russians first and foremost are settling into those buildings," said Molchanov, the political analyst.
"Combat is going on constantly around the schools," he added.
Even so, the Ukrainian teachers who have left the occupied territories vow eventually to go home, back to their schools and students.
"I want to return to my students. I spent my whole life in Mariupol, and I want to go back to my city," said Boltinova, the language teacher.
"I believe that Ukraine will win and that the world will help us to do so."