QAMISLHI, Syria -- Syria's semi-autonomous Kurdish administration has handed over 146 women and children related to "Islamic State" (IS) militants to Tajikistan, a Kurdish official said Monday (July 25).
Tajikistan previously repatriated 84 children from Iraq in April 2019.
Thousands of foreign fighters flocked to join IS after it overran swathes of Iraq and Syria in 2014, often bringing their wives and children to live in the so-called "caliphate" declared by the group.
The Kurdish-led Syrian Democratic Forces (SDF), backed by the international coalition against IS, dislodged the extremist group from the last scrap of territory it held in Syria in 2019.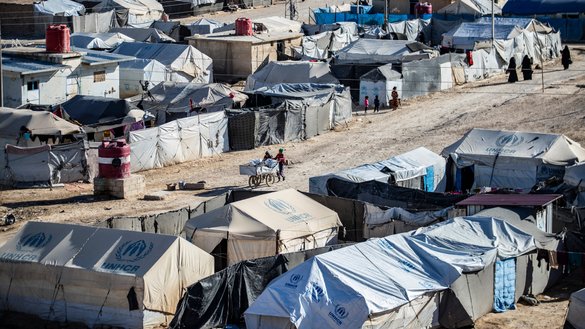 Kurdish authorities in Syria, which administer some of the large displacement camps in the northeast where IS relatives and sympathisers reside, have repeatedly called on countries to repatriate their citizens.
But nations have mostly received them only sporadically, fearing a domestic political backlash.
Only 25 of almost 60 countries have repatriated their citizens from al-Hol, according to a 2021 Human Rights Watch study.
Central Asia repatriations
The Kurds handed over "42 women and 104 children, including orphans, who were held in al-Hol and Roj camps" in northeast Syria to Tajik Ambassador to Kuwait Zubaydullo Zubaydzoda, Kurdish foreign affairs official Fanar al-Kaeet said.
Zubaydzoda is handling the repatriation process for Tajikistan.
Tajikistan has been in contact with Syria's Kurds "for months" to repatriate its citizens, al-Kaeet said during a news conference in Qamishli, Syria.
The women "did not commit any crimes or terrorist acts in northeastern Syria", he added.
Kurdish-led forces escorted the women -- some in colourful clothing, others in long black robes -- and children as they were bused out to Qamishli airport.
Some women hid their faces.
Young children timidly peeked through the bus windows, from behind thick curtains that concealed the other passengers.
Kazakhstan, the first Central Asian country to begin repatriations, brought home more than 700 Kazakhs from Syria and Iraq between 2019 and 2021 as part of Operation Jusan (Bitter Wormwood).
Uzbekistan repatriated more than 318 Uzbek women and children from Syria and Iraq in three installments.
The Tajik government in February 2020 said it planned to repatriate hundreds of its citizens being held in camps in Syria after the collapse of IS.
Extremist hotbed
Rights groups have long decried grim living conditions and rampant criminality in the Syrian camps holding IS relatives and displaced persons, which have become a focus of extremist recruitment and resurgence efforts.
Despite the best efforts of the camp's Kurdish administration to maintain order, al-Hol remains a hotbed for extremism, former US Central Command (CENTCOM) commander Gen. Joseph L. Votel wrote in a July 21 Washington Post op-ed.
"We did not intend for it to be a long-term displacement camp because consolidating these Islamic State family members for an extended period could mean planting the seeds of future violence," he wrote.
"We knew a massive, concerted effort to repatriate, rehabilitate and reintegrate these families was required."
"There are reports that violence in the camp is rising dramatically," he noted.
Hardline IS women in al-Hol have formed hesba ("religious police") units -- vigilante groups who enforce the group's harsh interpretation of sharia and mete out punishments -- and have been indoctrinating the camp's children.
In May, the United States sanctioned an international network of financial facilitators that had been helping IS recruit children from camps in Syria, including al-Hol.
More than 100 people, including many women, have been murdered in the camp in just 18 months, the United Nations (UN) said June 28, demanding countries repatriate their citizens.
Al-Hol camp is increasingly unsafe and the child detainees are being condemned to a life with no future, UN resident co-ordinator in Syria Imran Riza said.
Around 56,000 people, mostly Syrians and Iraqis, remain in the camp, along with citizens of other countries. Some camp residents maintain links with IS.
Some 94% of the detainees are women and children, Riza said.
"It's a very harsh place, and it's become an increasingly unsafe place," he said.
There have been "around 106 murders since January last year in the camp" and "many" of the victims were women, he added. "There's a great deal of gender-based violence... There's a lot of no-go areas."