ALMATY -- The European Bank for Reconstruction and Development (EBRD) is working to help Kazakhstan develop alternative freight routes that bypass Russia in the wake of Moscow's invasion of Ukraine.
The invasion, which began February 24, prompted Western sanctions against Russia that have complicated trade in the region.
The EBRD is investing up to 50 billion KZT (about $105 million) in Kazakhstan's national railway operator, Kazakhstan Temir Zholy (KTZ), the bank said in a statement July 25.
"The investment will help Kazakhstan's state-owned railway operator to restructure its balance sheet and implement a range of crisis response measures, including the reorganisation of its transit freight operations, to cope with the after-effects of the pandemic and ongoing geopolitical turmoil," it said.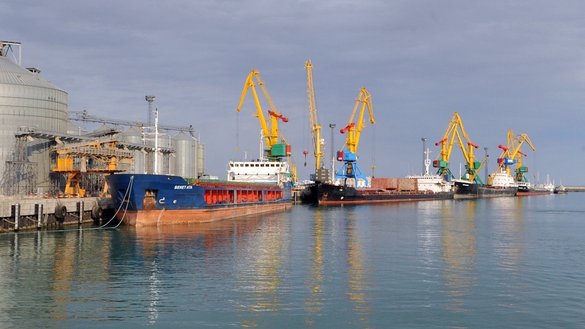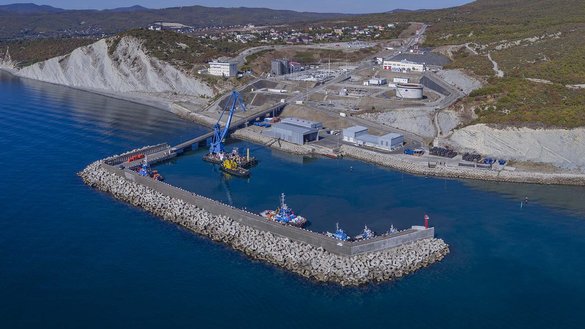 The EBRD is making the investment through a national currency bond issue that will be listed on the Kazakhstan Stock Exchange.
KTZ, which operates a 16,000km railway network and manages more than 1,720 locomotives and 46,200 freight cars, will use the EBRD capital to modernise key infrastructure along the Middle Corridor for rail container transit.
Until recently, as much as 95% of freight operations between China and the European Union took place along the Northern Corridor, which passes through Russia, the EBRD noted.
Now the Middle Corridor, which links Kazakhstan to Azerbaijan, Georgia and Turkey through the Caspian Sea, has become more important because of Russia's intensifying economic isolation.
Because international carriers are increasingly seeking alternatives to the Northern Corridor, demand for transport via the Middle Corridor is surging.
Regional and international connectivity
"By investing in the local bond issue of Kazakhstan Railways, the EBRD is improving the sustainability of a major domestic company," Huseyin Özhan, EBRD head of Kazakhstan, said in the statement.
"It is also contributing to better regional and international connectivity and trade security, as the Middle Corridor offers one of the few realistic alternatives for China-Europe rail freight transportation."
A freight train can cross from China to Europe in 20-25 days on average via the Middle Corridor -- also known as the Trans-Caspian International Transport Route, which is about twice as fast as a ship.
Rail transport has become more attractive in recent years, but realising its potential requires investment.
To that end, Kazakhstan has been bolstering ties with the Middle Corridor transit countries.
In May, Kazakh President Kassym-Jomart Tokayev visited Ankara, where he conferred on trade with Turkish President Recep Tayyip Erdoğan. The two countries, which both speak Turkic languages, confirmed their dedication to deepening their relations.
This year, Kazakhstan also began working on a project to commission a container hub at the Aktau port in the Caspian Sea, which is operating at less than one-quarter of its potential.
The container hub will make it possible to increase cargo traffic along the Middle Corridor.
The estimated cost of the project is more than 10 billion KZT ($23 million). The government is also planning to start manufacturing containers for freight transportation by the end of this year.
Kazakhstan plans to build four of its own ferries that will sail in the Caspian, Kairbek Uskenbayev, the minister of industry and infrastructure development, wrote on his Telegram channel in April.
Local exporters are using Azerbaijani vessels to transport goods.
'Opportunity' to cut Russian ties
Ties between Russia and Kazakhstan have become increasingly strained over the latter's invasion of Ukraine.
Kazakhstan has both refused to support the aggression of its northern neighbour and has committed to abiding by Western sanctions against Russia, prompting anger and retaliation from Moscow.
The Kremlin has shut down the Caspian Pipeline Consortium (CPC) pipeline -- which carries Kazakh oil to Europe -- three times this year alone in an attempt to pressure Nur-Sultan
"Each time, Russia said that the CPC marine terminal was shut down for weather or the disarming of World War II-era mines, but those are manufactured reasons," said Aidar Alibayev of Almaty, an economist and former chairman of Kazakhstan's Association of Pension Funds.
"The real reason was that the countries have different positions on the Ukraine crisis."
Trade with Russia under these circumstances is unprofitable for Kazakhstan. Russia is manipulating the ruble's exchange rate, so that only its economy benefits, said Alibayev.
"The situation with the ruble and tenge does not reflect the market, and the exchange rate works against Kazakhstan because it is unprofitable for Kazakh entrepreneurs to buy goods in Russia or export there," he said.
The Russian economic crisis is also dealing a blow to Kazakhs' purchasing power, he noted. "As inflation rises, the consumer basket in Kazakhstan is constricting in terms of both quality and selection."
In the coming years Kazakhstan will continue to back away from close economic ties with Russia and focus on expanding trade with the global community, say some analysts.
"It's just business, nothing personal," said Yermek Syzdykov of Nur-Sultan, a member of the National Chamber of Entrepreneurs.
"We cannot wreck our own economy or bear responsibility for things we did not do," he said.
New opportunities are now appearing for Kazakhstan on the European energy market that will allow Kazakhstan to at least partially replace the major supplier, Russia, whose isolation will only be exacerbated in the future, Syzdykov said.
"An opportunity like this rarely comes along, and we can't pass it up," he added.