KYIV -- Troubled by its mounting military losses in Ukraine and keen to hide the true number of casualties, the Kremlin is looking for ways to dispose of the evidence, observers say.
One tactic the Russian army has adopted is to cremate the corpses, and special mobile crematoria were delivered to the temporarily occupied territories just for this purpose.
The mobile crematoria were set up outside the city in the frontline zone, but the pungent, unmistakable odour was noticeable even from a distance, said Volodymyr Molchanov, an activist from Kherson.
"If you look at a map, you can see that the Russians put the crematoria on the right bank of the Dnipro river at a decent distance from the city in order to avoid attracting attention," he said. "But everyone knows what's going on, and they're complaining about the distinctive smell of burning flesh."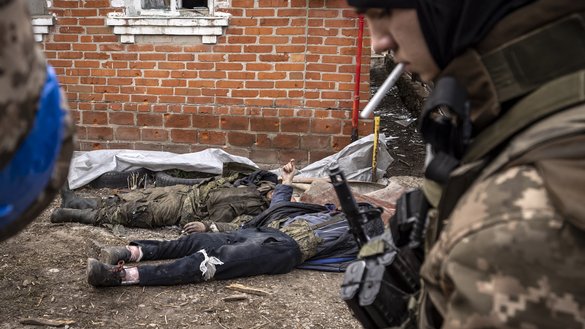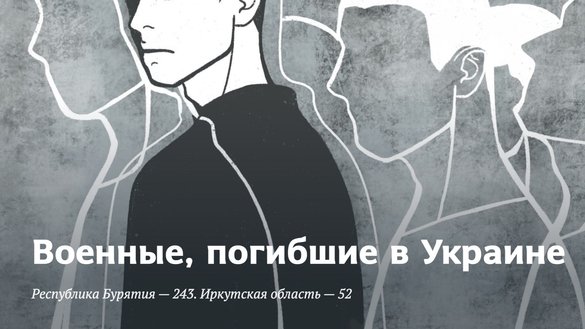 The situation in Donetsk is even more chilling because the number of Russian casualties is much higher, say observers.
"At first the Russians cremated the bodies in mobile crematoria that they brought along," said Pavlo Lysyansky of Kyiv, director of the Institute for Strategic Studies and Security. "But there's very small capacity there. For example, you can't cremate 10 bodies at once, so the mobile crematoria aren't very suitable."
Lysyansky, a human rights activist in eastern Ukraine -- particularly in the Donetsk and Luhansk regions, which are temporarily occupied by the Russian army -- said he has been contacted by ambulance drivers who have taken corpses to a new "disposal" location.
"Would you believe, they were cremating their own dead soldiers at a metallurgical plant in Donetsk? It's abominable," Lysyansky said.
Numerous new unmarked graves have also cropped up in Donetsk province, he said, but even the local residents do not know who is buried in them.
"They cremate some corpses and bury others in unmarked graves," Lysyansky said. "In particular, the unit commanders are doing this to conceal the combat losses. The fewer casualties there are, the higher the rank a commander will receive."
'No body, no case'
Cremating the bodies of Russian soldiers is not merely a short-term order from the top but is standard Russian army policy, said Molchanov.
If there are no trucks that can take away 'cargo 200' [military jargon for soldiers' corpses] -- for instance, in Kherson there is currently a problem with the bridges that vehicles can use -- they use mobile crematoria," he said.
The "problem with bridges" is repeated Ukrainian shelling of them to make them too fragile to hold trucks.
"They [the Russian army] just burn the corpses instead of burying them," Molchanov said.
In another way to hide losses, commanders retroactively create fictitious orders to support their claim that a soldier went on reconnaissance and did not return, Lysyansky said.
"No body, no case," he said. Consequently, the status "missing in action" becomes available to the commanders.
"There are many reasons why this is beneficial, but one of the main ones, of course, is to hide the losses so the troops won't get demoralised," he said. "If you honestly reveal how many Russian soldiers are dying in Ukraine, it will be much harder for the Russian draft bureau to put together new forces -- men simply won't go to fight."
About 43,000 Russian soldiers have already perished in Ukraine, the Ukrainian staff said on Facebook on Thursday (August 11).
As many as 80,000 Russians have been killed or wounded in Ukraine since the war began on February 24, a senior Pentagon official estimated Monday.
The losses are "pretty remarkable considering the Russians have achieved none of Vladimir Putin's objectives at the beginning of the war," US Under Secretary of Defence Colin Kahl told reporters, referring to the Russian president.
Last month, the US and British intelligence chiefs estimated at least 15,000 Russian soldiers have died in the first five months of the war.
Russia has given an official toll of troops killed only on two occasions, the last on March 25 with a figure of 1,351.
Avoiding payments
There is also a financial reason for simply "disposing of" Russian soldiers' bodies instead of honouring the fallen, according to Iryna Vereshchuk, deputy prime minister of Ukraine and minister of reintegration of temporarily occupied territories.
The Russian commanders are doing this to avoid compensating the soldiers' families, she said.
"It's connected to the payments, and they're hiding their losses," Vereshchuk said July 8 on a Ukrainian television news broadcast. "If they cremate someone, it means [for official purposes] he wasn't killed --- he 'disappeared'. The Russians will keep doing this because the number of casualties is rising, and that's hard to keep under wraps."
At stake is 7 million RUB ($116,000) for each bereaved family, the amount that Russian law states must be paid to the family of a soldier who dies in combat.
"[The Russians] don't care about their soldiers. When the soldier is missing, no body means no money," Oleg Nikolenko, a spokesperson for the Ukrainian Foreign Ministry, told the Irish Times in an interview published July 27.
Attorney Vera Yastrebova, presently based in Odesa and the director of the Eastern Human Rights Group, works with women from the occupied territories and helps them with legal defence if the Russian military drafts their husbands or sons.
Many mothers and wives are unable to find their relatives, she said.
"There are numerous missing men. The morgues are overflowing, but it's very rare that bodies are handed over to someone," Yastrebova said.
Women who try to ask about their missing relatives are subject to harsh intimidation and are monitored to prevent public protests, she said.
"They're not even allowed to have loud processions at funerals. In the so-called Donetsk People's Republic and Luhansk People's Republic [in Russian-occupied Ukraine], the local KGB oversees this," she said.
"Ten people at most are allowed at funerals. Everything is very strict. If any woman starts asking questions or tries to find out what happened to her husband or son, she's immediately thwarted," Yastrebova said.
Cannon fodder
Russia has never respected its soldiers whether they are alive or dead, said Ukrainian political analyst and historian Oleksandr Palii.
It is a characteristic of this "great" country that it simply uses its population as cannon fodder, he said.
"In Chechnya the Russians also destroyed the bodies of their casualties -- this was reported on widely at the time," he said. "There were reports saying that the Russians dropped the bodies of dead Russian soldiers from helicopters into a gorge. They probably did that so they wouldn't need to waste time and resources on transporting the dead bodies."
As casualties mount, Russia has been accused of using Middle Eastern youth, Central Asians and ethnic minorities from remote parts of Russia as cannon fodder for its wars, replicating its use of mercenaries in Syria and various African nations.
This strategy is designed to reduce the number of Russian casualties, especially in politically influential cities like Moscow and St. Petersburg, and to forestall unrest, observers say.
Kremlin-backed mercenaries are also attempting to recruit Central Asians to fight in Moscow's invasion of Ukraine, according to government sources and regional media.
They reportedly are resorting to "bait and switch" tactics.
Recruiters from the Wagner Group use online job postings advertising a monthly salary of at least 100,000 RUB (more than $1,600), plus compensation for travel expenses, according to MediaHub, a Kyrgyz investigative news outlet.
The job is supposed to be in a private security company -- typically civilian security guard positions.
Upon calling a phone number listed in the ads, candidates hear that the originally posted vacancy has been filled. Instead, they are offered a job involving "the performance of tasks in the zone of the special operation in Ukraine" for 240,000 RUB ($3,907) a month, in addition to "bonuses".
Such ads have targeted both Kyrgyz and Uzbek audiences.
The ads make no mention of any compensation in the event of injury or death, but they do indicate that, if desired, new hires may provide the passport details of another person (such as a relative) to receive wages in their stead.